We didn't know the value of something until we lost it. As we all know, an airpod case is extremely important. But what do we do if we lose the airpod case? No worries, we will walk you through the ways to help you find the Airpod case. Hence, losing an airpod case makes anyone dread it, as airpods are useless without their case. Apart from charging, it is also used to reset and pair your airpods.
Further, there are some tricks, such as if you have set up Find My with an iPhone, Mac, or iPad that you are using with your Airpods, then Find My can assist you in locating the case only when the airpods are inside the case. But if you haven't set the My Find before missing, then you will not be able to find them. Also, the app has some restrictions because it's not able to function when the Airpods are not linked to an iOS device via Bluetooth. However, it will direct you to the location and provide hints as to where you can find them the airpods. Now let's discuss some workarounds to locate the Airpod case in the next section.
2 Ways to Find Airpod Case with Airpods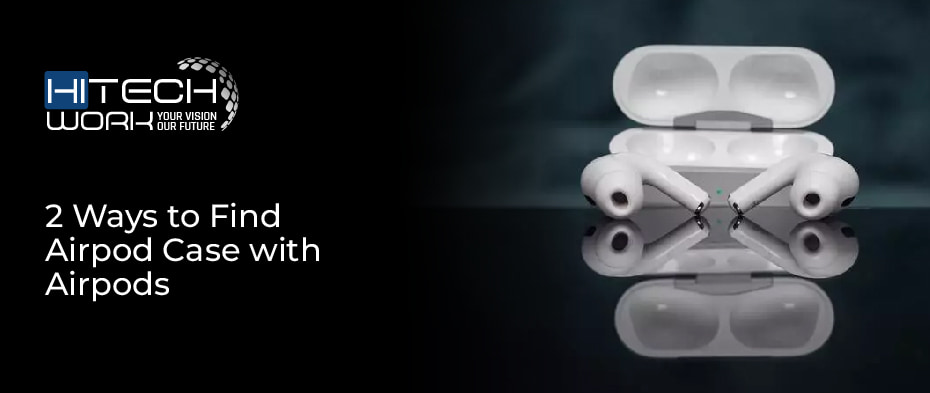 If you have misplaced your airpods or airpods case, you may be able to locate them if you use the Find My App on an iPad, iPhone, or Mac that you have logged in to with the same Apple ID. Although the app just tracks the location of the airpods, not the case, so with the help of airpods inside them, you can easily track the airpod case.
Instigate the "Find My iPhone" app on your iOS device.
Here, you will see a list of all the paired devices, so choose your Airpods from the list.
Now, ensure if it is displaying a green light beside next to your airpods. It will show that the case is nearby.
But, if you see the grey dot, t means your case is lost, and will also mention to you that the case is out of range.
Now, start to play a sound with a green dot to play loud music on your Airpods and track them by following the music.
If you don't have internet, you can just click on the car icon to see the last location.
Remember, It occurs if the airpods & case are not charged or powered off. You will see "No location found" as their last known location when it occurs. But the app will give you the last location of your airpods.
Using "Lost Mode" to find Airpod Case
Another feature that assists you in locating the airpods and their case is Lost mode, which was released with iOS 15, whereas the above features utilize your own devices. Hence, the mode extends throughout the whole network of iOS devices. But, the question is how it works when you lose your airpods and run the last mode. Then, all iOS phones and devices opting into the network will conduct a huge search. When your Airpods are found within the network, a popup will be sent to you, guiding their location.
Remember that the mode focuses on airpods, not the airpod case. Luckily, closed airpod cases (which are powered off by the network) will probably be opened at some point by any individual. Lost mode alerts you when anyone opens the airpods, no matter where you are:
Launch Find my App and click on Devices.
Choose Airpods that are in the lost case.
Then, under the "Mark as Lost," click on Activate.
Now, click on Continue. In addition, you can add a number/email for the case finder to contact you with.
Now, click on Activate to entirely activate the lost mode.
How to Replace the Misplaced or Stolen Airpod Case?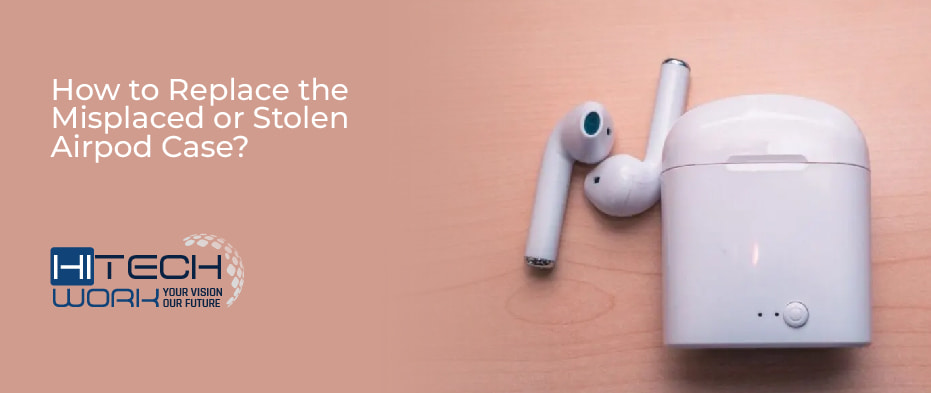 If nothing works in finding the airpod case while you're wearing the airpods, Although the find my app is not about locating the case, it is designed to track airpods. So, in such a case, no other tool will help find the airpods case unless you search for it by yourself manually. But, after searching, the best way to fix it is to replace the airpod case. Here are some guidelines on how you can replace the lost case.
Buy a replacement case for the Apple Airpods
If you lost an Airpod or a charging case, Apple now gives a free-replacement option. So it's good to get the serial number and contact Apple support for a replacement if you still cannot locate your Airpod or charging case or if something is broken.
First, locate the serial number of your airpods.
Open the settings> Bluetooth.
Then, pick your Airpods on the list.
Next, click on the More info option next to your airpods to see the serial number.
Now check it on the original packaging.
After that, open the Apple Get Support Website and log in with your Apple ID.
Further, apply the guideline to replace the Airpod case.
Aside from being certain that you are getting a valid replacement, Apple also gives a warranty for their replacement parts. A replacement charging case for standard airpods will cost you $59 or $79 (depends on whether it has wireless charging or Magsafe charging), and a replacement charging case for airpods pro will cost $99. It depends on how long you had the Airpods before you misplaced them.
If I can't find an Airpod case, is it possible to buy one from other brands?
If you do not want to spend a lot of money to buy the apple airpod case, third-party airpods cases are available. You can get the various cases from other brands for a fraction of Apple's out-of-warranty replacement fee.
But, these cases will not mean to work properly with Apple airpods. They may cause several issues, such as over/undercharging due to various charging voltages. This could result in uneven connections or bugs when pairing your Airpods to other devices. Apart from that, the custom apple silicon H1 chip may spot the use of non-Apple certified tech accessories.
If your AirPods Go Missing, Set an alert
It must be bad if you can't find your Airpod case. But, you can get a replacement from Apple at a certain time; after getting a replacement, you must have to take care of your case. If you have iPhone 12 or later, you can set up separation alerts to ensure that your Airpods (3rd generation), Airpods Pro, and Airpods Max are not left in an unforeseen location. Now let's move to the steps.
Launch the Find My App, open the devices tab & select your Airpods.
Now, click on Notify when left behind under the Notifications.
After that, click on Notify when left behind.
Yes, Apple gives airpods cases separately, in case you doubt. It usually costs roughly $70. I hope you have got what you are searching for and are able to get back your Airpod or Airpods case. Likewise, you can also find the "i" icon on Apple watch to pair your watch manually.
Setting Up AirPods in a New Case
If you have replaced either your Airpods or new case, they'll need setting up before you can pair them again. You just have to put them back into their charging case will not function. So thanks to their instinctive design, you can quickly set them up with the below steps.
Open the Bluetooth in Settings on your iOS device.
Click on "i" beside your Airpods.
Now, click on Forget this device and click again to verify.
Next, insert both airpods into the case.
After that, open the lid and ensure the status light turns into flash amber.
Further, hold the setup button on the back of the case for 10 seconds, and then the light will be turned white.
On the home screen of iOS, view the case with your Airpods inside, and press it next to your iOS device. A setup animation should emerge on your screen.
Now, choose to connect to pair your new set up Airpods with your iOS device.
Tips for Preventing Airpod Case Loss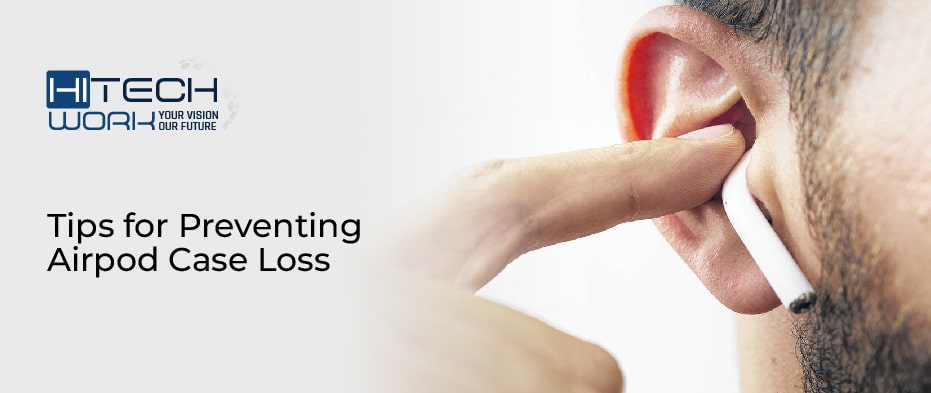 Now, to avoid the hurdle to find the Airpod case, we have gathered some accessories that will help you keep the Airpods within your reach.
Cover Your Airpod Case with Anti-lost Straps
You can use the airpods case cover with the anti-lost straps for the case. They not only give protection to the case with shock-gripping silicon but also act as a keychain that you can suitably attach to your handbag or backpack. This is the most reasonable option as it does not engross nay technology. Although, this isn't perfect as it depends on your carefulness to keep them fastened.
Use AirTag Cover for Airpod Case
The other way to secure the airpod case is to adapt Apple's AirTag for your Airpods. Since it came in the spring of 2021, other brands' accessory makers have pushed to make all types of creative accessories to match with the AirTag. One of the accessories is the 2-in-1 shielding skin care for the airpods pro & AirTag case combo set. No fret, they also have it for the 1st & 2nd generation airpods. Soon, it will come for the 3rd generation airpods too.
Apart from securing your airpods case, you can put an AirTag in it to aid the track of the Airpods. Although, AirTag uses apple's vast Find my Network to find itself. It makes use of Apple-designed U1 chip yoking ultra-wideband technology to allow accuracy finding. In addition, it can also pop sound with its in-built speakers like Airpods.
Conclusion To Find Airpod Case
We all panic when we lose important gadgets, like airpods or airpod case, which is no less than a nightmare. You have to be cautious with your gadgets. If you lost your case in any circumstances, we have mentioned some ways to track the case with the AirPods in it. If you can't find the AirPods case, go for the replacement option. Also, you can use some cover to protect your case by using AirTag and anti-lost straps that help to keep the case within your reach. Don't forget to share your lost & found airpod case stories with us.