Don't panic about losing AirPods cases despite the reason. See How to Find Your AirPod Case? Here you will see all the possible methods for recovering it, plus some useful tips.
Hence, apart from charging, the case is also essential for pairing and resetting your AirPods. Thus, there is a condition to recover them: one of the AirPods is inside the charging case when you lose it. But also, there are different cases, like when you are looking for a specific case only or its name not appearing on the Find My app.
However, you can still recover them on all devices. However, there are some situations where you cannot recover your AirPods, so you have to replace them. For that, you have to contact the Apple Store and share your problem. They may replace your lost or stolen AirPods case but charge a fee. Therefore, proceed to the next section of this article to learn more.
Is it Possible to Find Your AirPod Case in All the Scenarios?
Yes! It is relatively possible. Here are the different methods to look for your lost AirPods case. So, go through the below section and use it anyway according to your situation:
·         Find the Airpods Case with the AirPod Inside.
A lost AirPods case is possibly unlucky to find without AirPods inside. It is better to find the AirPods inside the case if the case is lost or missing. This is the best possible scenario to find the AirPods case. Hence, you have two options to find them without relying on a third-party app.
Using Direction Feature
So, let's see the step-by-step guide to looking for the AirPods case through the Direction feature:
Firstly, open the Find My app on your iOS Device.

open the Find My app

Then, choose your AirPods under the Devices tab.

choose your AirPods

A map will show the location of where they are and their last spot.
If your AirPods case is open, you may play a sound that will generate an audible signal that helps you locate them.
On the other hand, you can select the Directions tab for both open and closed case to open a map that guides you to your AirPods.
Find The Airpods Case Is Through Lost Mode Feature:
The Lost Mode feature was launched with iOS15. But the above feature uses your own devices. While the Lost Mode feature works for all iOS devices.
Initially, launch the Find My app and click on the Devices
Then, select your AirPods that are missing in the AirPod case.
Under the tab of Mark As Lost, click on Activate


how to find one lost airpod




Now, click on the Continue
As an optional, you may add a phone number or email for the AirPods case finder to contact you.
At last, click on Activate tab to fully activate the Lost Mode.

how to find my airpods case on android
Note: Remember, the emphasis here is on the AirPods, not the AirPods case, but you can also find the case with the above tricks due to AirPod.
·         Recovering the Case Only
To look for an AirPods case, you might need some luck here. As it is easy to find an AirPods case if both earbuds and anyone are inside the case. But you can still locate the case's last location with the help of Apple's iCloud if you want to recover the case only. Hence, see the tracking method to search for the lost AirPod case:
Initially, open the Find My app on your phone.
Now, select your AirPods from the list of your paired devices.
It means it is nearby if it is showing green light along with AirPods name. Or if it is showing grey light, it means it is out of range, unfortunately. Nevertheless, you can still track their last location. Go to their previous position by clicking the Car button.
You need to find the location precisely because you have only the case, not the AirPods inside
Pro Tips: All the steps as mentioned above are also applicable if your AirPods case is dead. You may use Precision Finding to locate them if you are within close range and if you are using AirPods (3rd Generation), AirPods Pro, or AirPods Max and have an iPhone 11 or newer.
·         Find your AirPod Case without iPhone.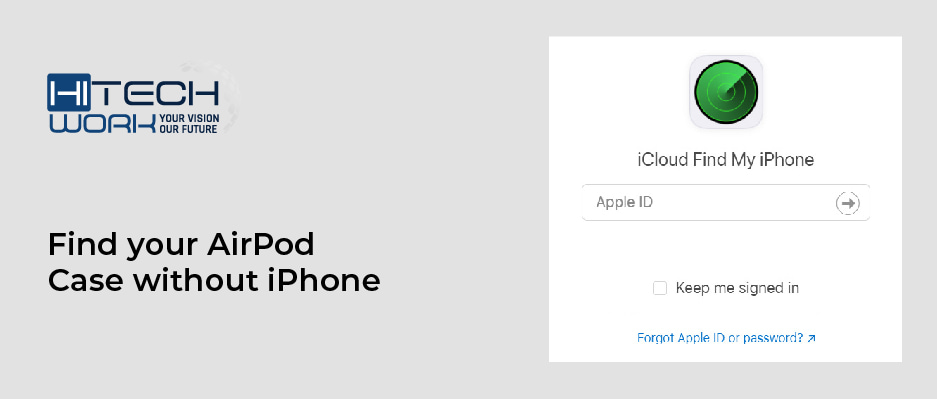 It is upsetting if both your iPhone and AirPods are lost or missed. In such a situation, you have only one option: a computer. Through which you can find your AirPods. So, follow the below steps:
First, access the iCloud
Enter your Apple ID and log in to your account. Select anyone connected to AirPods if you have multiple IDs.
Now insert the Apple password.
Tap on the All devices tab, and then click on your AirPods.
Now, you can find the device's last location under each device, and it will show Offline.
·         Find AirPods Case If It Is Missing from the Find My iPhone App
You may be disappointed to hear that you cannot find the AirPods if they disappear from the Find My iPhone app. It shows that your AirPods case is out of range. Therefore, connecting through Bluetooth is not possible.
Still, the app will show you the last location where your AirPods were last connected. Again, it will not show you the exact location and will only give you an idea of the spot where you lost them. So, try your luck and find them manually if you've lost them at home.
·         Find the Lost Airpods Case with Serial Number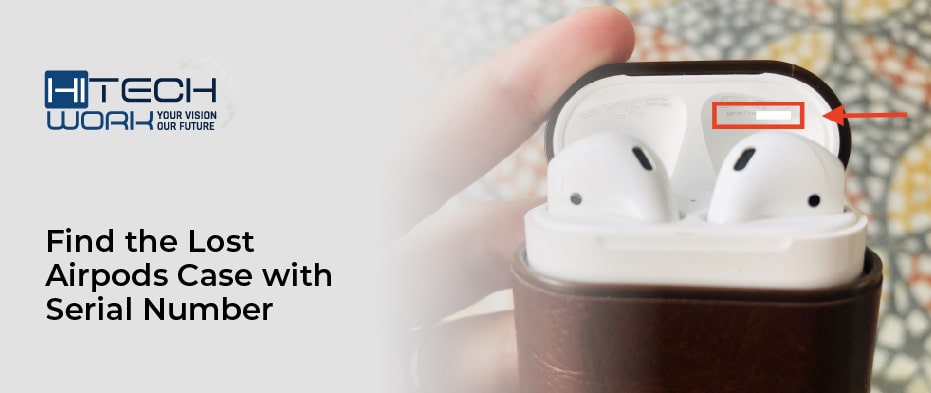 Sorry to say, there is bad news for you: you cannot find the lost AirPod case with a serial number. Even if you have Apple Care protection, you can try your luck. However, your chances of recovering your AirPods are still slight because Apple Care or another company will be unable to locate your missing AirPods through the serial number.
Hence, the only possible option you have with a serial number is to replace it by contacting the Apple store. They will replace your case but charge a fee.
Why Don't You Use Preventive Accessories For Your Airpods To Avoid Losing Them?
As you know, prevention is better than cure. Here are some practical accessories to keep your AirPods within your limit to save you from this issue. Hence, let's go through a few of the accessories list:
Anti-lost straps.
AirTag cover.
Tile trackers.
 Final Thoughts
Missing your AirPods or the AirPod case is a terrifying experience. However, you can recover them quickly, but make sure to be careful about them.
Hopefully, now you will know all the methods to find the AirPods case if you have lost it and also some valuable tips that will reduce the chances of losing them. Hence, if anything is missing or you want to share your lost and found story, you can share it by commenting.