Below are some quick fixes for any issues you might encounter with your new Xbox Series X/S. Microsoft has published a blog post detailing the known issues with its Xbox Series X/S consoles.
So far, the most prevalent problem appears to be an issue with the 4 K/120hz displays – you can fix this by turning off your VRR or lowering the resolution, but a few other fixes should also prove useful!
Common Xbox Series X Problems
4k/120Hz display
When the Xbox is configured for 4K120 + VRR, some users report corrupted images and no audio when using a 4K/120Hz TV with VRR. The problem is found with LG, Samsung, and Vizio TVs, according to Microsoft.
To get around it, several options depending on your equipment.
If the issues continue:
Check the box for 'Allow variable refresh rate' to configure the console for 4K/60 with VRR. Navigate to 'Settings,' 'General,' 'TV & display options,' and 'Video Modes' to get there.
By unchecking the 'Allow variable refresh rate' box, you can configure the console for 4K/120 without VRR. Under 'TV & display options', you'll find the resolution and refresh rate under 'Display.'
Choose 1080p/120Hz VRR or 1440p/120Hz VRR if you want 120Hz and VRR.
You can fix a corrupted image by following these steps:
Restart your console and select one of the video modes above.
Disable VRR on the TV if the image is still corrupted after restarting. You will find instructions on how to do this in your TV's manual or on the manufacturer's website.
To get back to a default state, you will need to perform a video mode reset if you are still experiencing issues after trying these steps. Once it has been reset, you can configure one of the above options. Under 'Your screen is blank after you turn on the console -> Reset your display settings', follow the steps.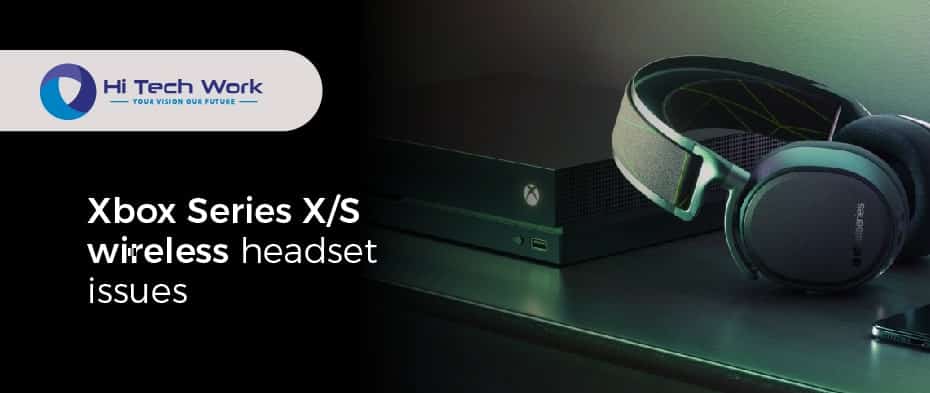 Xbox Series X/S wireless headset issues
Some users operating on a pre-20h1 or current 20h1 Windows operating system may encounter issues when using an Xbox Wireless Headset.
The following steps should be followed by users who are running on 20h1+ or above and are still experiencing issues. This will ensure your software is compatible with your headset.
Make sure you are on the latest update by going to Settings > Update & Security > Windows Update > Check for updates > View optional updates.
These are the current builds for 20h1 and 20h2.
Third-party headsets
Some users with third-party headsets cannot make use of the analog volume controls that come provided with them. There is no fix for this issue yet. However, you can adjust game and voice volume in the Xbox Audio Mixer.
To do this, go to Guide > Audio. Alternatively, you can use a previous generation controller that does not encounter any of the above issues.
Owners of SteelSeries headsets may notice that this will trigger the Xbox to turn on when they turn on their headsets. It's a cool feature, but it may become annoying if you use the headset across multiple devices.
You must connect your SteelSeries headset to a computer and download the SteelSeries Engine in order to change this setting. Click on the Artics 9x Critical banner after installing the engine and follow the on-screen instructions.
EA Play app
With this issue, Xbox Series X/S users are unable to launch or install the EA Play app.
Currently, there is no workaround for this issue. Microsoft is working with their app partners to find a solution. Only Xbox One gen devices will be able to run the EA Play app.
To claim your 10-hour trial, Microsoft advises players to go to the store and search for your game. A 'Free Trial with EA Play' button will appear.
If players want to play the full games included with their EA Play subscription, they can be accessed through 'My Games & Apps,' 'Full Library,' and 'EA Play.
Controller disconnecting
Some players report that some controllers disconnect while in use. This is not a battery issue.
Currently, there is no official solution. There has been a report that connecting the controller manually (through the charging cable) to the console re-establishes the connection. Restarting the console has also been successful for some players.
Game captures
It appears that some players' game captures are too dark.
This issue has been fixed in a recent update; however, it persists for a few users. You can only turn off HDR when taking a screenshot if your game captures are too dark.
This can be done like so:
"To disable Auto-HDR, turn on your console and press the Xbox button on your controller. Go to Power & System > Settings > General > TV & Display Options > Video Modes and uncheck "Auto HDR."
For your changes to take effect, you will have to restart any games that are currently running.
BBC iPlayer app
The BBC iPlayer app did not load or install upon launch on the Series X/S. Microsoft and the BBC collaborated closely on the development of a compatible version of the iPlayer app.
Game clips
Game clips have several issues that are not yet resolved, but they will be resolved soon. These are:
Players encounter a "trim failed" error when trimming 4K videos.
An Xbox Series X sometimes fails to upload 4K videos to Xbox Live due to an error or blank screen.
From an Xbox Series X, sharing 4K videos to Twitter can result in an error or blank screen.
At this time, there is no workaround, but Microsoft is aware of the issues and will be addressing them in a future console OS update. For now, 1080p trimming will still work. By selecting 'Settings,' 'Preferences,' 'Capture & share,' 'Game clip resolution,' and '1080p', players can access 1080p.
DVD and Blu-ray playback
Some players encounter a black screen when they insert a DVD or Blu-ray into their console.
It is recommended that you remove the disc from the console, restart, and then re-insert the disc.
Disc drive
Some users have reported some malfunctions happening with the disc drive.
Clicking sounds and certain discs failing to play have been the most common problems. However, discs have become stuck in the drive, either fully or partially so in some cases.
Consider ejecting the problem disc and trying another disc. If it works, then you have a problem disc. Unfortunately, if the problem persists, the best course of action is to contact Microsoft. In addition, if the disc becomes stuck, Microsoft should be contacted immediately. Opening your Xbox manually voids your warranty.
HDMI-CEC
After a recent Xbox Series X/S system update, some users report that their CEC settings are not being applied.
In order to fix this, you will have to toggle the CEC settings on and off on the console for everything to be applied again. Navigate to Settings > General > Power mode &startup> TV & AV power options > HDMI-CEC.