Are you looking for ways to get among us on Chromebook? Then you've come to the right place; we will guide you on how you can play among us on Chrome book.
As we are all aware, among us has taken the world by storm, and everyone wishes to play this intense trickery game. Its popularity has also reached Chrome book users, and many are curious if they can play among us on a Chrome book. You must download the game's Android version from the Google Play store to play it on a Chrome book. Moreover, you can also play the Steam version by downloading the Linux version on the Chrome book.
However, among us was first released on Android and iOS in 2018 and is accessible to play on smartphones, but it costs only $2 to remove the ads. On Steam, the game charges a flat $5. So choose wisely if you install the android version for a cheap price if you bear with ads. Now let's move forward to install and play a game that made everyone crazy.
Play Among Us on a Chromebook Using Android App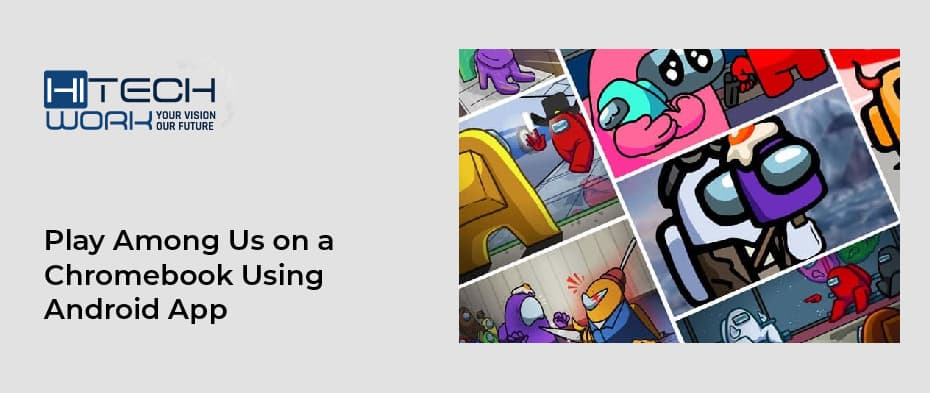 Among us begins as a mobile game but stretched out to include PC. But there are some limitations to playing on a Chrome book.
First, you have to install the game and need administrator rights to download it. You can open the play store to install the android app on your laptop. Although this way works for only some Chromebooks, it depends on the model, as the Chrome book that comes in 2017 or afterward comes with android app support. So check whether your chrome book update or settings supports android apps. If your chrome book is included on the Android app list, apply the below steps to start playing.
If you did not use Android apps on chrome before, launch settings and switch to the Google play store. It will let you use the play store on your Chrome book and download android apps.
Launch Google play store in your Chrome book settings.
Then, log in to your account.
Enter "Among Us" in the search bar of the play store.
Then, choose the game icon and start downloading.
Now, open the game and play among us in multiplayer mode with online players or make an offline mode. So, with a few steps, you can play among us on a Chrome book via the play store.
Note that your chrome book does not support android apps, and then you would not be able to play among us in this way. Hence, you can try updating the chrome OS and then allow it on the play store; this may work on your system.
Play Among Us on a Chromebook Using GeForce
Those users who do not have a school-issued Chrome book can easily play among us with the GeForce cloud gaming service. You have to purchase the game on Steam, and you can straight away play the game just on your browser. Now here's the big setback, you can view a free GeForce now account, but that locks you down to gameplay sessions of only an hour.
Moreover, you also get standard access, which renders long wait times to play that single hour. Although, the founder subscription may put you at the front of the waiting list and expand the session time. Further, you get to play on a server Packed with RTX GPUs.
Luckily, the chrome OS version does not need an app. Despite this, you can stream Among Us within the chrome browser. Now apply the below steps.
Make a GeForce Now
Then open geforcenow.com and tap on Login, located in the upper-right corner.
After signing in, tap on the Hamburger icon next to games in the upper-left corner.
Now, choose settings in the rollout menu and Steam under the game sync option.
Next, log in to your steam account.
On the games page, among us appears under My Library. So tap the green play option to steam this game to your Chrome book.
If you own a free account, it will either be tossed in a very long line or see a pop-up saying, So in both circumstances, Nividia recommends upgrading to the founder's subscription and presents a big green upgrade option you can't ignore.
Use Linux to Play Among Us on Chromebook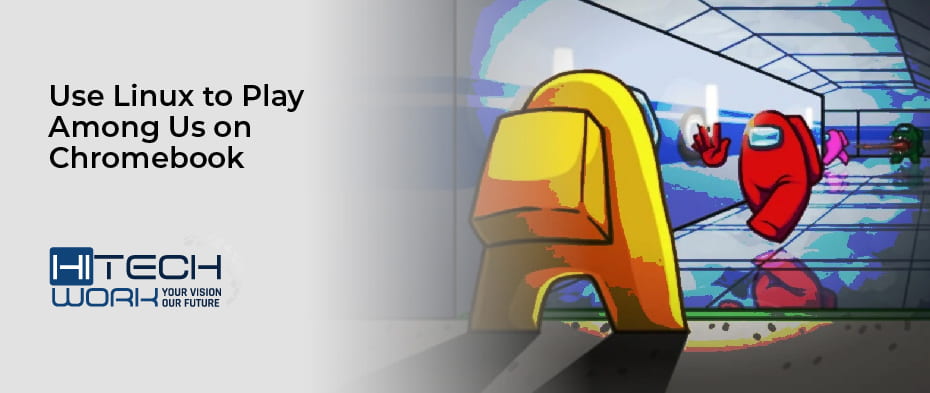 If cloud gaming is not for you, you can also use another way to get among us on your Chrome book via Linux. First, you have to download the Linux version of Steam, and then you will have to purchase among us from Steam. But the Linux version may throw some performance issues, so we suggest you use the android app version; if the android app does not work, then go for it.
However, Google clarifies Linux support as Beta, which is not present on all Chromebooks. So if you are unsure whether your Chrome book can handle Linux or not, go and check the list of supporting devices that Google provides.
However, it is a long process to get among us in your chrome books; you need to install Linux, then Steam, and then the game. It's not as simple as using the android apps on Chromebook. Now follow the below guide to get among us by using Linux.
Install Linux
Downloading Linux on Chrome book is the first process to get among us, so install it by applying the below steps.
First, you have to tap System Clock, followed by the gear icon on the pop-up menu; it will view the setting
Second, choose Linux (Beta) listed on the left side of the screen.
Third, now choose the Turn on
After that, tap on Install to get the Linux.
When you install Linux on your Chrome book, the Linux terminal appears on the screen. If necessary, you can also make changes to the Linux download in the settings window, as shown above.
Install Steam
After installing Linux, it's time to download Steam by following the steps below.
First, if you closed the Linux terminal, you must press the shift+Ctrl+T keys at once
Second, enter the following command and then hit the enter key.
echo 'deb http://httpredir.debian.org/debian/ jessie main contrib non-free' | sudo tee -a /etc.
Third, you have to enter the following command and then hit the enter key: sudo dpkg –add-architecture i386
Then, you have to type the following code, and then press Okay: sudo apt update
Now you are almost done, now enter the following code and hit the enter key: sudo apt install steam
Once it gets Installed, sign in to your account. You can also see the program on the Launcher's Linux apps folder.
Install Among Us
Now, it's time to download among us on Chrome book. Here's how you can do it. Note the steps to install among us directly on Chrome book. Unfortunately, the game only supports mobile and tablet remote play.
Open Steam and tap on Library from the menu bar.
Now, choose among us listed on the left side.
When you choose the game, tap on the blue install option on the screen's right.
Next, follow the guidelines to download the 251MB file.
It's time to open the game from Steam or find it in the Linux apps folders on the Launcher.
Play Among Us on Chromebook without Installing
To play a game, we have to download it, but if you are adamant about not installing the game, you can install an APK of it. But you have to find it online. If you have decided to install an APK for the game, remember that it has some disadvantages. The main one is that Google will no longer provide support for the Chrome book because you must change two settings to make it work.
Allow developer mode
Turn off protected mode
Allowing developer mode also has the added side effect of erasing all contents from your Chrome book. We don't recommend you try this way—however, your wish.
Final Words
Among us has been a well-known internet sensation ever since it came out on different platforms. Most people don't know that a Chrome book can also host this game and allow you to enjoy the thrill of playing. Hence, the abovementioned methods are some of the ways which allow you to get and play among us on Chrome book. But we recommend you go with the first method, using the Android app on Chrome books. Let us know which method you prefer to play on Chromebook in the comments.