Getting an Instagram inactive username is not easy because Insta is a social networking platform that dominates the market and holds millions of active user accounts. Additionally, people love to share their pictures, videos, and reels on this platform to increase their followers and conversion rates.
Finding out the right username is an absolutely super challenging job. If you are not using any tool like Insta username generator, then you cannot create your kind of username, and you must not create any weird or funny name for your official account. However, it happens; naturally, many people lose interest or forget the account's login details. As a result, the account becomes inactive, and now you can create a new username, but you cannot use that username. Therefore, we have explained the guide for you to get the Insta username and alternatives to claim that username.
Knowing About Inactive Instagram Usernames
Do you know what an inactive Instagram username is? There are two types of Inactive users are available on Instagram such as.
Someone creates an account on Instagram and takes a username. Now they are not sharing a post or story for a while, but the account is still there, and you can see it. In that case, you cannot take that username because it is already taken.
Another type of Insta inactive username is if someone creates an account and takes a username. Now the account is deleted for some reason, and you can't see his account on Instagram. In that case, you can take their username because it is already taken but now has been deleted.
How to Get an Inactive Instagram Username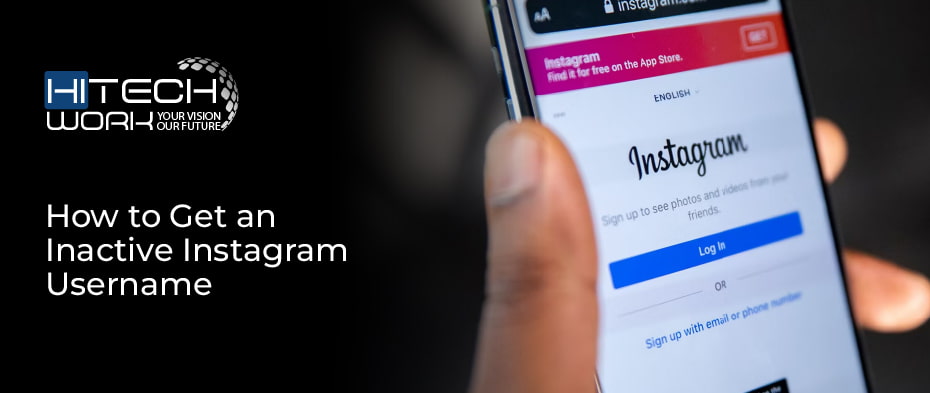 A tricky part of Instagram is appealing a username. It is possible to claim the username of an inactive account, even if they stop logging into it. However, there are some rules and workarounds involved for the Insta account. Instagram users can't fill out a form so they can request a username, and it's just not that simple. Fortunately, Instagram deletes inactive accounts, which may not be an option for you. So here in this guide, we include some methods and tricks to get an inactive username.
Report an Inactive Instagram Account
It is a legal action to file a report on Instagram. You can easily get an inactive username on Instagram to file a report of an impersonation account. But first, you have to check whether the username you want is available or not for the registration. To check it, open the website Instagram username checker. Here are the steps you have to follow when reporting someone's account.
Open the Instagram username checker app that checks the Instagram username on your device (Android and iPhone).
Type the username that you want to get and tap on the Submit
Now the app will answer whether the username is available for registration.
Open the Instagram username report form if its answer is not available for registration.
Now you will see the four options, where you choose the one that suits your situation.
Then fill out the detailed information and hit the send option. That's it.
"You will see an email pop-up within 24 hours from Instagram."
Buy the Inactive Username
You can buy an Instagram username from the internet market, where the sellers sell the username at the cost of approximately a hundred to ten thousand dollars. If you decide to purchase the Instagram username, remember that buying it from an authentic source is very important. Because the Instagram server closed and banned many accounts that stole the usernames because some hackers take away the usernames from someone's account and sell them to unaware users.
Claim an Inactive Username with A Trademark
Another method is to get an inactive username on Instagram server to file a patent application on its official website. This method will take time, but many users respond well when asking the patent to transfer their account. You can easily report the inactive Instagram user when you get the patent.
When you get the trademark option, you can easily file a trademark report to the inactive user and claim that the name is truly yours. You may have difficulty processing this method if the user is active on Instagram.
Wait Until the Instagram Server Deactivates That Account
Instagram has prohibited fake accounts and followers. This server will remove those accounts that are not permitted to their terms and conditions. So, it is most probably the cause of the fake followers, spam accounts, and long inactivity for the account deactivation.
Furthermore, if your Instagram account is removed or banned from its server, the Instagram server will not send you any notification. Therefore, you must be up to date with that account activity and follow and check it regularly.
Alternates To Getting an Inactive Username on Instagram
Here is another way to get an inactive username on Insta instead of these methods. Try to choose a similar name with the addition of numbers, an underscore, and periods, and use the titles whatever you want on Instagram.
You can use up to 30 characters for your username, including underscore, period, and more (Hitech_work123). And this additional feature allows you to choose your desired name. Furthermore, if you have a business account so you can add the location of your city, add your surname and add the type of your business to your username.
Frequently Asked Question
Q: How can I ask for an inactive username?
Ans: Unfortunately, Instagram does not have a feature that asks for an inactive username. But if you want to take a username already active on Instagram. So, we shared with you some alternates that you can use.
Q: Does the Instagram server indeed delete inactive users?
Ans: Yes, it's a fact that the Instagram server deletes the inactive users. The server will remove the account if you are not logged in for a long time. So, it is very important to log in to your Instagram account to avoid to ban from this server.
Wrapped Up
Instagram is the most popular social media platform where you can connect with people worldwide. On the Instagram platform, finding a right or good inactive username is tricky sometimes, but here in this guide, we share all the methods and alternatives of how you get an inactive name on this server. Hence, if you have any questions, don't hesitate to comment below.