The enthusiastic audience on Youtube is always keen on watching their interesting and amusing videos, with diverse collections getting uploaded regularly. With complete awe of regularly watching new and exciting content, its viewers feel excited and well informed. If you want your Youtube videos on repeat, then How to loop a Youtube video is one of the widely beneficial features being its frequent user.
Until recently, the loop feature on YouTube incorporated playing videos indefinitely with a repeat option in the Video Settings Menu. Out of them, playing many instructional or edutainment videos are even worth repeatedly watching. Therefore it seems an incumbent step to master technical skills or concepts that demand youtube videos on Loop.
YouTube haslately inaugurated numerous ways to loop videos or creator editions to facilitate better the wider audience encompassing the youtube developers and community. Now you can easily update the youtube App to run your videos repeatedly without assistance from compilations or plugins to reload or replay videos whenever it finishes playing.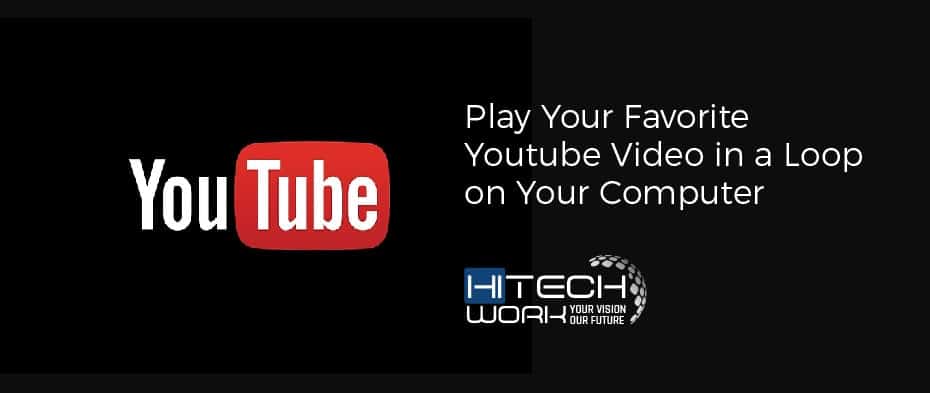 Play Your Favorite Youtube Video in a Loop on Your Computer
Looping a Youtube video is not typically embeddedin your Youtubeplayer. That's why you might need an arduous effort to search for how to loop your Youtube video using its default player. However, sometimes setting your video content in a loop to get you a memory recall or revision can be a good option.Using it on your laptop or desktop, you can easily play your videos in a loop using the contextual menu.
Go through the YoutubeWebsiteto play your desired video in a loop.
Next, you need to right-click on your video.
It will lead to selecting the "Loop" option in its contextual pop-up Menu.Click on it to loop your video.
That's how you can easily play your videosrepeatedlyon your desktop PC.
Use Chrome Extension to Play Your Favorite Videos in Loop
"Looper for Youtube" is yet another convenient extension supported in GoogleChromeBrowserto enjoy playing your favorite videos again without any painstaking effort of creating them in Loop. With such a straightforward extension, you can repeatedly add your Youtube videos for automatic Loop via the" Loop" buttonbeneaththe videoplayer. It even lets you specify the number of repetitions you want for a specific video or its particular portion. Let's get started on adding it tothe browser.
Go through the Chromeweb store to add the "LooperforYoutube"extension to your browser.
Navigate the Youtube website once you've added the extension and open up your video.
The loop function, by default, activates for an indefinite number of times; however, you can even specify it accurately. Click on the "Loop" button to open up the looping option for your video. On the other hand, you can use the keyboard shortcut "P" to activate the loop option. Check on "Loop for (n) times" and "Loop a portion from 00:05 to 14:00″.
That's how you can play your youtube video in a loop.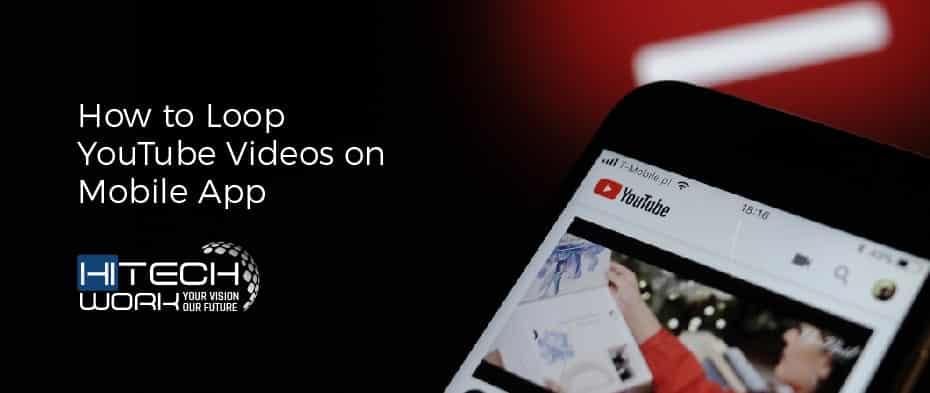 How to Loop YouTube Videos on Mobile App
Smartphones do not havea native or built-in way to loop the Youtube videos. Therefore it always takes an extra effort to search for a way to repeat the video in a loop on Android Smartphones effectively.
I intend to present youwith some alternate ways to loop your youtube videoson Android Phones.
Use the Chrome Browserto loop your videos
Create a playlist for looping videos on Android Mobile Phones
Use a Third-PartyPluginto loop your complete video or its essential segments
1.   Use Chrome Browser To Play Youtube Videos on Your Smartphone
It seems quite an easy way to loop your youtube videos if you open it in your chrome browser. For that, follow the given steps.
Open the Chrome browser on your Android devices.
Then navigateto the Youtube website in the search bar.
Once you get on its website,initiate playing the video you desire to loop.
Navigate the 3-dots setting menu visible at the top-right corner of the browsing screen
Then check on the "Request DesktopSite" option in the Setting drop-down Menu.
The webpage will then reload in desktop mode on your smartphone, where you can play your video easily.
Next, press hold for a few seconds on the video to get the Video Options Menu.Then click the "Loop"option.
It will finally make your video play in a loop, whereby it will be possible to watch the same video repeatedly.
2.   Create a Playlist to Loop a YouTube Video
The next option you might use is to create a playlist for looping your YouTubevideos. It is pretty handy on your Android devices.Let's start in the following steps.
First, launch your Youtube app on your Android Phone. Then look for the video you want to loop in a repeat.
Next, tap on the 3-dots Settingicon beside the video. Select the "Add to Playlist" option.
Then click on the "Click new playlist" option. It leads to renaming your playlist on the next screen.Next, you can select if it's available for the Publicor remainsPrivate. Then, click "Done" to save your video playlist.
Once you have created your playlist, you can go back to the YoutubeApp Home Screen. Then select "Library Icon"at the bottom right corner of thescreen.
Then, click on the Video Playlistthat you have created. Here you will notice the drop-down arrow to navigate the video playlist option. Next, click on the "Loop" beside Playlist Name. Now start playing the playlist on the consequent screen.
Now, it'sready to play your Youtubevideo in a loop via Android devices or tablets. You can enjoy playing it repeatedly until you decide to quit or stop
3.   Loop Your Favorite Videos Via Third-Party App"Listen on Repeat"
In the absence ofthe above methods, try to useThird–PartyApp on your Android Smartphone or Tablet. In such a case, Listen on repeat App is a useful App that can help you run your videoes in repeatedly in a loop. To do that, follow the given steps.
Download the third-party App "Listen on Repeat" via the Google play store on your Android Phone.
Once you have finished downloading it on your mobile, search for therequired videoyou intend to play in a loopusing its"search bar."
Then select your desired video that you have searched from the search result list. You can now play it repeatedly in a loop until you finish playing it or try playinganother video.
It's all about looping your video playlist with some beneficial approaches if you want to watch your favorite video recurrently. Hopefully, it will allow you to watch or listen to your YouTube videos uninterrupted.