How to make a GIF on Your phone on computer? The year 2021 will be the year of the GIF. Everyone on social media will need to know how to make one. With GIFs, you can create eye-catching ads or share pop culture moments with your followers.
GIFs are like the middle ground between images and videos. The main advantage of GIFs is that you can tell a story or emphasize a point quickly. Additionally, they're small files, making them perfect for mobile devices.
In recent years, GIFs have become increasingly popular. GIPHY, one of the most popular GIF databases on the web, claims to have over 300 million daily active users. Google acquired Tenor in 2018, a keyboard app and GIF archive designed to help users find GIFs. Each day, Tenor processes over 400 million GIF searches.
Throughout this article, you will learn four different methods for creating a GIF. Make sure to add them to your social media posts to engage and delight your followers.
GIF Maker Tool  
Animated GIFs can also be created, edited, and captioned from video files and YouTube links with GIF Maker. Creating GIFs requires you to be logged in to your GIPHY account just like uploading GIFs.
Select Video to add a video from your computer, or click Add Any URL to add a YouTube or video URL, or drag and drop a video file into the GIFMaker screen to begin. Video length must not exceed 15 seconds and must not exceed 100MB.
Select the Start Time on the video and the duration of the GIF using the sliders.
There is an option to decorate the GIF if you wish. In the Caption field, you can add your caption. Afterward, you can reposition your caption, edit the text, or remove it. Explore effects, stickers, and other fun decorators for your GIF by using the tabs next to the caption editor! You can skip this step.
Tags can be added to GIFs, separated by commas (no # needed), and the Source URL can be added to acknowledge the source. It is also possible to change the Public/Private status of GIFs. GIFs that are private to you can only be viewed by you when you are logged in and cannot be shared. This is an optional step but highly recommended.
Press the Create GIF button to finish. Your browser will redirect you to the GIF page when it is complete.
You can share your GIF slideshow on Facebook, Twitter, Instagram, Pinterest, Tumblr, Reddit, via text message, via email, and everywhere else! Here's how to share GIFs online.
GIPHY's GIF Maker
GIPHY offers users a free GIF Maker that is so much fun to use. The company has the world's largest library of animated GIFs. Using GIF Maker, you can create animated GIFs from video files, YouTube links, existing GIFs, and even still photos.
Here's How It Works:
Drag and drop a video file, or enter the URL of a video from YouTube, Vimeo, or another GIPHY page. A series of photos can also be uploaded to create an animated photo slideshow.
Upon uploading your file, you'll be taken to a screen where you can begin editing your GIF.
Trim your video to a duration of two to six seconds. By doing this, you will make sure that your file size is small enough to load quickly on social media and blogging platforms.
Your GIF can be customized with a caption, stickers, or drawings. When you're satisfied with your GIF, upload it and add a few tags to make it easier for others to find it.
And voila! Your GIF is ready! Simply save it and upload it to your website or blog.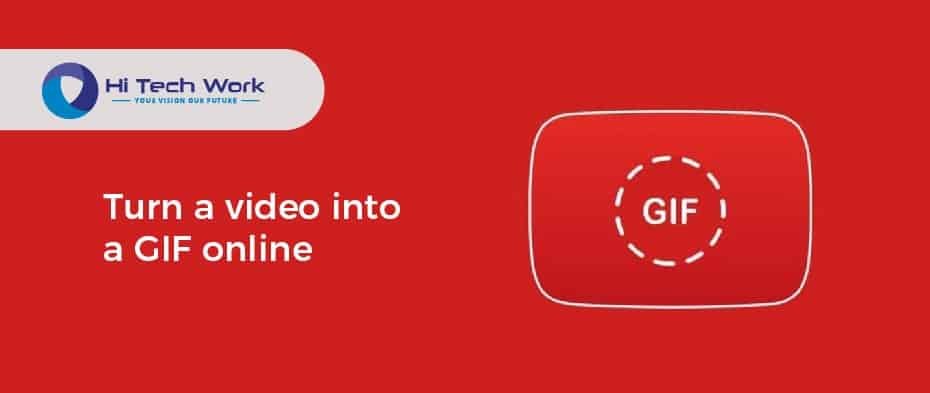 Turn a video into a GIF online
There are plenty of sites that can turn a video or set of photos into GIFs, but Ezgif is my go-to. Besides being straightforward, it also works on either a phone or a computer. Start by visiting ezgif.com to create a GIF from your video file.
You can create a GIF or modify an existing one with the tools located on the top of the site. By clicking the Video To GIF button, you can choose the video that you want to be converted to a GIF. Once you have selected the video, click Upload. You can see the progress of your upload at the bottom of your browser window. Your video will appear in the playback window after it's been saved.
The length, resolution, and frame rate can now be adjusted. Your GIF file size will be affected by these factors. In case you don't want to make any adjustments, simply click Convert To GIF and watch the patient kitty cat animation while your video is transformed into a GIF. When you're satisfied with your GIF, click Save. That's it. Seriously, it's that easy.
However, if you wish to customize the duration of your GIF, scroll back up to the playback window. Choose a short and sweet moment between 2 and 4 seconds. You can select the start and end times of your video with the blue Use current position buttons beneath the video player. The file size of a GIF should be between five and seven megabytes.
You can then customize your GIF by cropping, resizing, rotating, or adding effects. Besides being able to change the background and color, you can also add filters, overlays, and text. After you're happy with the results, hit Save, and you've now got a GIF.
Ezgif is one of my favorites, but there are a few other ways to make a GIF depending on your phone.
Samsung Galaxy phone built-in GIF maker
If you own a Samsung Galaxy S8 or newer phone, you can use the Edge Panel to create a GIF. On the Edge panel, there is a tool that creates GIFs from whatever is displayed.
If you have a Galaxy S10, for example, go to Settings and enable Edge Panel. Then you can choose from various themes. Select the one named Smart Select.
You can capture a GIF of what's onscreen by sliding your finger from the right edge to the left edge of the Edge Panel. It took me a couple of tries to open the Edge Panel the first time I tried. Click on the GIF icon once it's open. A window to capture the GIF will appear. The contents of the window will become your GIF. The capture window can be resized and moved. After you are ready, tap the record button to start recording.