Introduction
For easy sharing of the documents, PDF file format is the boss you are looking for and is responsible for maintaining formatting across devices. However, the main concern regarding PDF file format is that it is venerable to corruption and can render the file unreadable or even inaccessible.
If you want to repair PDF file, then first check out the reasons that make the PDF file go corrupted. The reasons that occur problem can be incomplete downloads, virus attacks, software issues, or hardware problems. However, when a PDF file gets corrupted, it may show error messages like "file is damaged and cannot be opened."The good news is that you can easily repair corrupted PDF files with the methods which we're going to discuss in this article. And with some 3 Primary Functions Of An Online PDF Tool.
Reasons for PDF File Corrupted
There are several reasons why a PDF file gets corrupted and how it can lead to potential data loss and difficulty in accessing the file. However,Some common problems that can be reasoned to the PDF file corruption are as follows:
Incomplete downloads: If you see that a PDF file is causing an error and not downloaded fully, then this may be a sign telling us that it has become corrupted and unreadable.
Virus or malware attacks: if you are struggling with Several viruses and malware attacks, then this means your file is damaged and becomes unreadable.
Software issues: Sometimes, when you start using software that comes up with problems inside, it may become a reason your file gets corrupted.
Hardware problems: Hardware problems, such as hard drive failures, power outages, or sudden system crashes, could be why your PDF file gets Corrupted.
Editing errors: If a PDF file gets edited with incompatible or unreliable software, then it may become corrupted and difficult to open.
File system errors: There are several File system errors, such as bad sectors on the hard drive,which can also cause PDF file corruption.
Best Way to Repair Corrupted PDF File
To repair corrupted PDF files, you can use Wondershare Repairit, one of the easiest and most effective methods. Get to know how to do this using these simple steps:
Go to the official website and download and install Wondershare Repairit.
Launch the software and select Document File Repair. Then add the corrupted PDF file by clicking the "Add file" button or simply dragging and dropping the file into the software window.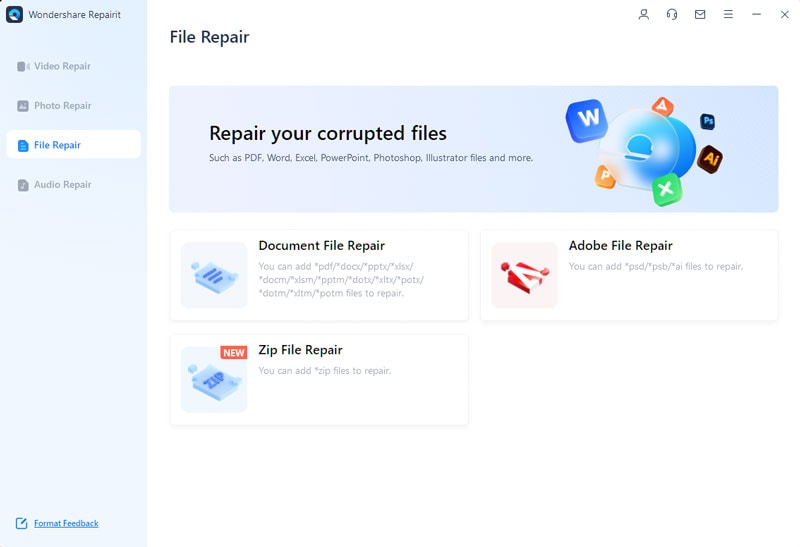 Select the "Repair" option to get the file fixed.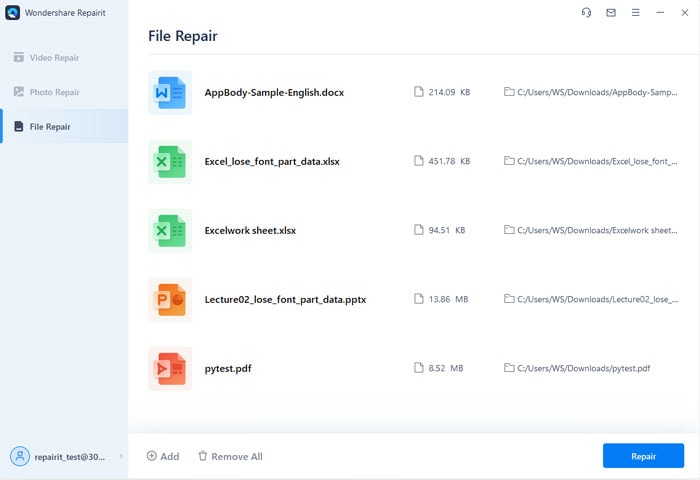 The software will analyze the file and attempt to repair any errors or corruption, which may take some time, depending on the file's size and complexity.
Once the repair process is complete, preview the repaired PDF file to ensure that it is fully functional.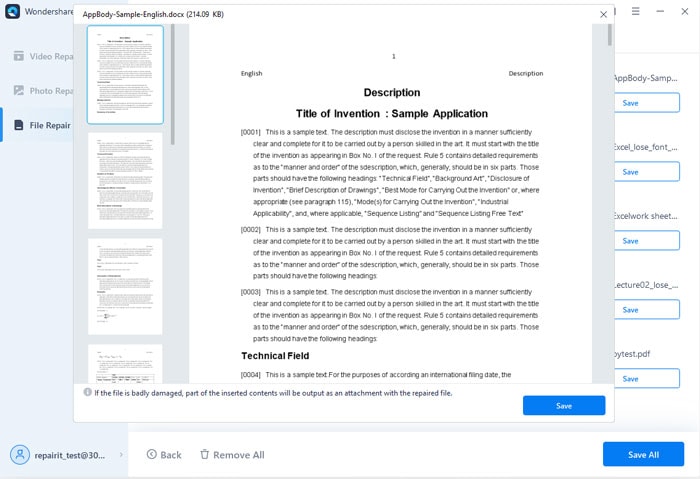 Now Save the file you've repaired to your preferred location by clicking the "Save" button.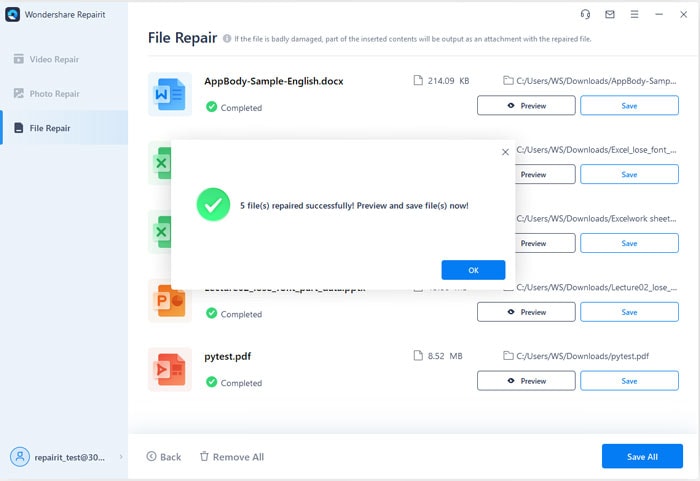 The main concern is that not all files can be repaired, particularly if they are severely damaged. If this method doesn't work for your file, you may need to try other repair methods or recreate the file from scratch.
Using Wondershare Repair is a quick and easy way to repair corrupted PDF files effectively.
Professional PDF File Repair Tool
Wondershare Repairit is a professional tool that can help you quickly and easily repair corrupted or damaged PDF files. It supports a wide range of file formats, including PDF, Word, Excel, PowerPoint, and ZIP files. Apart from file repair, this tool also can help you repair video, audio, photo and Adobe file.
Wondershare Repairit boasts the following features and technical specifications:
Tech Spec: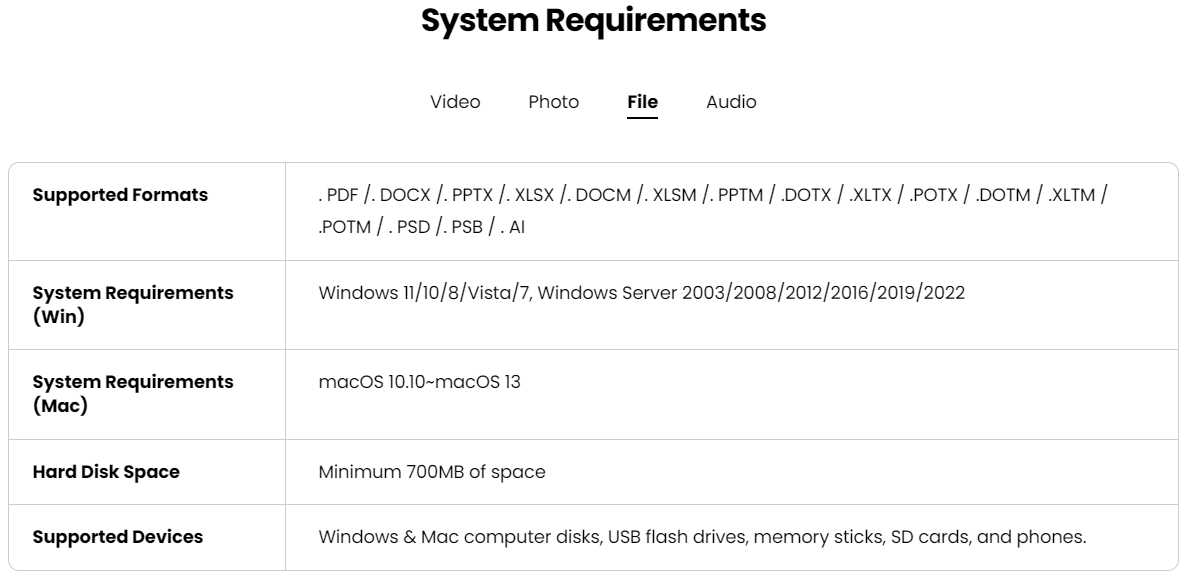 Key Features:
Repairs damaged or corrupted files including document files, video, audio, photo, etc.
Repairs multiple files at once to save time.
Uses advanced technology to analyze and repair files quickly and accurately.
Offers two repair modes: Quick Repair and Advanced Repair.
Supports previewing the repaired files before saving them.
Has an easy-to-use interface with simple steps.
If you need to repair PDF files, or any other supported file formats, Wondershare Repairit is a reliable and efficient tool that you can trust.
Other Ways to Repair Corrupted PDF Files
There are various methods to repair corrupted PDF files besides using Wondershare Repairit. Here are three alternative methods to consider:
Adobe Acrobat: Adobe Acrobat is a popular PDF reader and editor that can fix corrupted PDF files. Simply open the corrupted file in Adobe Acrobat, then go to "File" > "Save As Other" > "Reduced Size PDF." This will create a new file copy that is free of errors or corruption.
Online Repair Tools: You can find free tools to repair corrupted PDF files online. Some popular options available include PDFaid, SmallPDF, and PDF Recover. To use these tools, simply upload the corrupted file, and the tool will analyze and repair any errors or corruption.
Recreating the PDF File: If the above methods fail, you may consider recreating the PDF file from scratch. To do this, you must open the original file in a word processing or design software, such as Microsoft Word or Adobe InDesign, and save it as a new PDF file. This will ensure that the new file is free of errors or corruption from the original.
Final Words
It isn't easy to fix a corrupted PDF file, but there are multiple ways to fix it, whether You opt for a professional PDF files repair tool, like Wondershare Repairit, an online repair tool, or Adobe Acrobat. It would be best to prevent file corruption first because taking preventive measures is crucial. You can regularly back up your important files, use reliable storage devices, and avoid downloading from untrustworthy sources. Following these best practices will ensure that your files remain secure and accessible.