Are you unhappy with the audible purchase? Whether you accidentally bought it or the book is not of your choice. No worries, I will let you know how to return a book on audible. However, audible lets you return Audiobooks you don't want, like a physical bookstore would, and return a refund.
If you are an Audible member, you can easily change or return the books within 365 days of the purchase. This great option makes it easier for us to take a risk on audiobooks by different narrators & authors we don't even know & offer a risk-free exchange policy to return or change. But keep in mind certain things before you choose to return a book. If you have an audible premium, you can return any unnecessary audiobooks, and the money will be refunded to you in the same way you bought them. Read on further to know how to do this. Here is the step-step guide to exchanging or returning the book.
Audible Return Policy to Return or Exchange Audiobooks
The audible platform offers a great return policy for members, as it lets you take an opportunity to pick an audiobook without worrying about losing the money if you don't like it. The premium plan of audible costs $15 per month & includes charges for one book. But if you make a purchase without a premium plan, it will cost you more. Although the audible policy is quite amazing & you just have to understand a few things:
You must be an active Audible premium member to return an audiobook.
The audible members are allowed to return books within 1 year of the original purchase, and non-members can only return 2 audiobook titles once every 6 months.
The platform reserves the right to restrict the number of returns you can make if they consider you are exploiting the return rights.
If you are returning a book, then you get your money in the same way you purchase the book.
However, audible's returns strategy is intended to make users comfortable trying random books from different authors. But it does not mean that you use a single credit card to listen to multiple books. If Amazon detects you are misusing the return policy, it will ban you from returning books. We do not know the exact numbers of returns, but if you regularly purchase audiobooks, listen to them and return them, audible will detect you.
Simple Steps to Return AudioBooks on Audible Via Desktop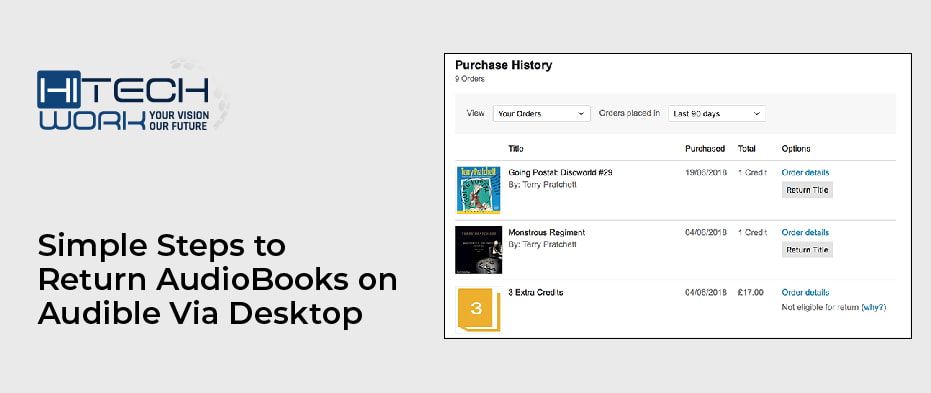 You can return a book on the platform by following the below instructions.
Open the com site on your system or Mac & sign in to your account.
Tap over your name located at the upper right of the screen to open more options.
Then, choose Account Details. ( maybe you have to log in again to verify your identity)

Tap on Account Details

Next, opt for "Purchase History" from the left side.

Purchase History

Now, search for the book you want to return and tap on Return or Exchange.

Tap on Return or Exchange

Here you have to select a reason for the Return. Then again, click on Return to confirm the transaction.

Select a reson to Return a book
If the popup appears on the screen that says "Not eligible for self-service exchange," no fret, you can still be able to return or exchange it. You could have surpassed the maximum number of items allowed by the online tool. In such a scenario, you can contact audible support for help.
Returning Book on Audible via Smartphone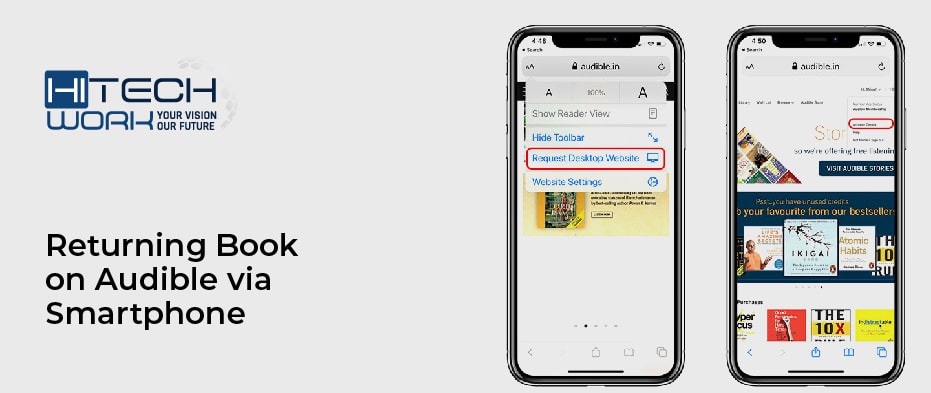 The steps to return a book via mobile are similar to returning a book on a desktop. So let's move to the steps.
Ensure you are signed in to your audible website.
Then, click on the Menu in the top-left, displayed as triple horizontal lines.
Next, choose the My account option and then click on Purchase History.
Now, tap on the book you have previously purchased you want to return.
Click on Return. You will see a return option for each book in the purchase that's eligible. If you have previously returned that book, it will show the status of Return.
Click on a Reason for your Return and complete the transaction.
FAQs
Q1. How long have I been allowed to return an audible audiobook?
Ans. As per the audible return policy, a member can allow returning a book within 365 days of the purchase, and you can easily return it at any time within the described time frame.
Q2. What to do when a message appears "not eligible for self-service return."?
Ans. If you see the popup "Not eligible for return" listed next to your titles on your book purchase history page, don't worry, you can still return the books. This statement may appear for various reasons. Perhaps you have already returned books various times in a year. Or maybe you have recently terminated your audible premium membership. Or sometimes it appears for an entirely different reason. But it does not mean you won't be able to return titles. You simply need to contact audible customer service for further assistance.
Q3. What kind of Refund will I get from Audible?
You can get your Refund the same way you used to pay for the book will be used to refund it. For Instance: books purchased using credit cards will be refunded with credit and a coupon can be used to redeem a book. So, whoever purchases their books using credit will instantly receive their money, and people who paid from other payment methods will get their money within 7-10 business days.
Final Words
Audible's return policy is pretty liberal and appealing to subscribers. It offers various ways to exchange or return books on Audio, and you can do it from a website or an app. So, whenever you purchase an audible book, you can return it within 365 days. You can have a long time to make up your mind whether to change a book or not. So, if you wish to return or exchange a book, you can follow the above mentioned steps. If you face any issue, you can comment us.