Searching 'how to see Spotify wrapped'?
Well, you got in the right place.
Spotify is one of the world's largest and most popular audio streaming subscription services. Boasting 406 million users, with 180 million subscribers around 184 markets.
So, yes, Spotify is a BIG DEAL.
Recently, the audio-streaming giant launched a much-awaited personalized feature called 'Spotify Wrapped.' The parts have added more excitability to the app.
The wrap-up is all about the rounded-up of the most listened to music and podcast from the year, which YOU likes to hear it. The Spotify Wrapped is a complete list of listeners' favorite songs, artists, and podcasts. It will come with new extra features, too. However, this feature is only restricted to mobile. This means you cannot avail of this feature in the desktop version of Spotify.
Today, we have spelled out the steps to see Spotify Wrapped in this guide. Check it out!
Spotify Wrapped, Come Again?
Spotify introduced a brand-new feature that looks into your yearly likes/dislikes regarding the music on its platform. Afterward, it will make a list, depending on your songs, artists, and podcasts. Hence, you call it your 'binge collection.'
But how does Spotify know about your preference?
DATA!
Like many social streaming services which lives-up on the data, Spotify is no stranger. The streaming service meticulously collects the data about your preferences to tailor the same data into Spotify Wrapped.
But there is a catch…
You have to be a Spotify subscriber to access every Wrapped feature. Also, for the Wrapped feature, you must have a mobile version of Spotify due to the inaccessibility on the desktop one. That doesn't mean your desktop version is of no use. You can still access the Top Songs Playlist on the desktop-Spotify.
How to See Spotify Wrapped?
To see your Spotify Wrapped data, you need to follow the below-mentioned points to look into the Spotify Wrapped. Ensure you have the latest mobile version of Spotify installed on your phone.
Open the app of Spotify
Sign inAs open the app Your 2022 Wrapped option will be in front of you
If, for some unknown reason, this option does not appear. Search Spotify: Special:2022 to find it.
All of your information related to the Spotify Wrapped will appear before you.
Story-Like Spotify Wrapped
Spotify did something unique. They engagingly put the Spotify Wrapped information through Instagram-style stories. It will show you the music and podcast you have binge listened to. Besides, it will also give you information about how many minutes you listened to a song, what bands you are into, and your favorite artist. Afterward, it also compares with other Spotify users in your country.
How to See Spotify Wrapped: Share Your Spotify Wrapped Story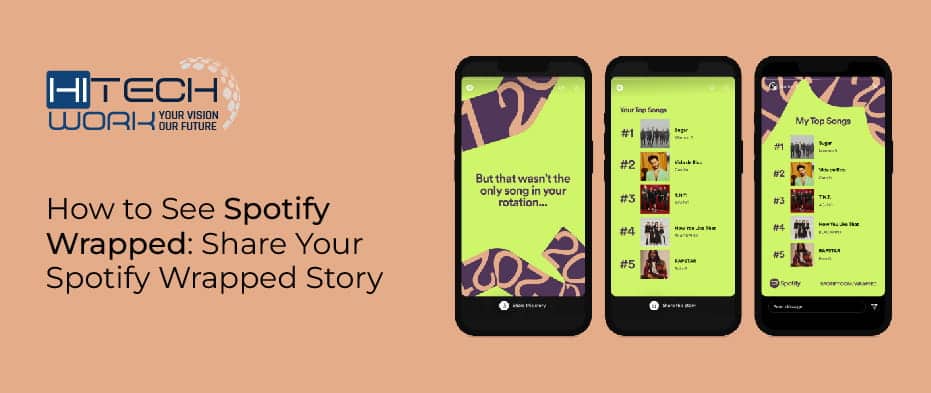 There is a simple method to share your Spotify Wrapped Story.
Check how:
Go to the app of Spotify
Press the Spotify Wrapped 2022 story to open it
Move from the first story card.
Your next move is to press the Share this story present at the bottom.
Several Features of Spotify Wrapped
In this step of 'how to see Spotify Wrapped', we will explain different features of Spotify Wrapped. Several super-interesting features in the Spotify Wrapped will catch your attention.
Some of them are:
Your Playlist
Spotify has some exciting algorithms. They make up a list of songs with the name of Your Top Songs 2022. As you view that list, it will automatically come in the section of Your 2022 Wrapped present in the HOME menu. The playlist is like any other playlist on Spotify: Select and Play. Also, by pressing the heart icon at the bottom, you can add the playlist to your favorite to listen to it for later.
Artist Revealed
Your Artist Revealed is another feature of Spotify Wrapped. It is a curated list of songs and interviews you listen to from different artists. By simply pressing the playlist icon in the same Your 2022 Wrapped section, you can listen to them all again.
How to See Spotify Wrapped: Groovy Playlists
Want to share your favorite music with your other Spotify friends?
But how?
Try the Blend feature of Spotify. It mainly combines songs to make a playlist. This means it will take some of your favorite songs and mix them with your friend's favorite songs to make a playlist.
How to create that list:
Go to the Spotify app
Open the Home tab
Tap in the Your 2021 in Review
Go down to the Blend section of Spotify Wrapped
Create a Blend
Invite your friend by tapping on the invite option
Through Spotify, share the link with your Spotify friend
As your friend accepted the share link. Hence a playlist will appear, which will be shared by both.