How to Share Screen on iOS 15? Apple has released multiple enhancements to FaceTime, which means you can do more than just FaceTime call with your friends and family. We all have moments when we look at something on our iPhones and instantly think of somebody we wish to share it with. Thanks to a new screen-sharing feature known as shareplay. You can now share your Screen with others on a call, which is incredible for choosing a movie, browsing through a photo album, or anything else enhanced by group discussion.
However, iPhone delivers many amazing ways to share everything from photos to web links. It involves a few steps, but the good thing is you can make the whole process a lot easier just by asking Siri to help you out. If you manually want to know how to screenShare on iOS 15, it's quite a simple process, but if you can't find the option, I will list all the steps in the next section.
What is Meant By Screen Sharing & How does it Work in FaceTime?
If you have already tried video-conferencing apps such as zoom and Google meet, you may be well-known for screen sharing. It allows you to display your Screen and allow others to watch your activity in the meantime.
It is beneficial during online presentations using Microsoft PowerPoint or other apps in general meetings. In addition, the capability to share your Screen saves you time and spares the effort of sending files, videos and documents, making it a great asset in a world where virtual meetings have become the need of the world.
However, blurring the background in FaceTime calls is cool, but thanks to a clear feature called shareplay, FaceTime allows users to listen to music (via Apple Music), watch movies, and share their Screen to view apps collectively. Apple has launched shareplay API in iOS 15 to allow developers to add this feature to their streaming apps, making shareplay a game-changer for FaceTime.
Quick Guide to Share Screen Using FaceTime in iOS 15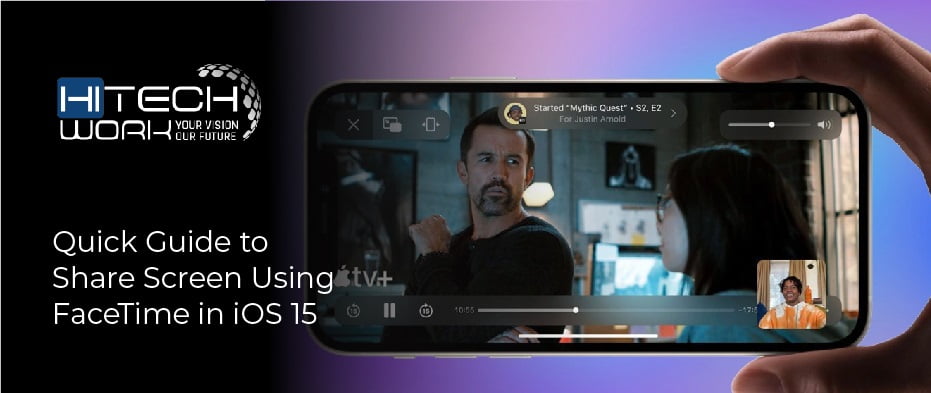 So, if you wish to screen share on iOS15, you will need FaceTime for that. We are all familiar with FaceTime's capabilities, but some new settings have been added in iOS 15, one being screen share. But to do this, you have to update your iOS 15.1. Now follow the below instruction to share the Screen using FaceTime.
Launch FaceTime on your iOS device and click on Create a link to generate a meeting link of FaceTime.
After that, click on the "i" button and select the "share link" option.
Now, share the link with your friends using email, text, iMessage, or WhatsApp, and start a FaceTime call.
Otherwise, you can click on "New FaceTime," enter the names of your friends you wish to share your Screen and then click on "FaceTime" to start a video call.
During a call, click onthe "screen share" option at the upper-right corner of the new controls panel.
Next, tap "Share My Screen." Screen sharing will start in a few seconds.
Now, navigate the App you wish to screen share with your friends or family over FaceTime.
Once you share your Screen, you can view different apps such as Apple music safari, news, and podcasts, and the FaceTime call participants should be able to see exactly what you are playing. A sharing icon will remain in the upper-left corner of the Screen to specify that FaceTime screen sharing is active, and you can tap it to reveal the FaceTime control panel.
Use Siri to Share Screen on iPhone
iOS's best feature is screen share play; whether it's a show, movie, or game, you can share whatever's on your Screen with a friend using Siri. Here's how you can do it.
Ensure your iPhone displays exactly what you wish to share with other people.
Hold down the side button to allow Siri or say, Hey, Siri.
Then say "share my screen with" and the name of the contact you would like to share the Screen with, like "hey Siri, share my screen with Alex."
You will observe your screen flash as Siri takes a screenshot, and a new Messages window will view with the linked screenshot attached, addressed to your intended person.
After that, Siri will ask if you are ready to send; say yes if you want to or choose send button.
Other than that, you can click in the Add comment box if you like to type a text to go along with a Screenshot, and then choose to Send when done.
How to Fix Screen "Share Not Working" Issue on iOS 15?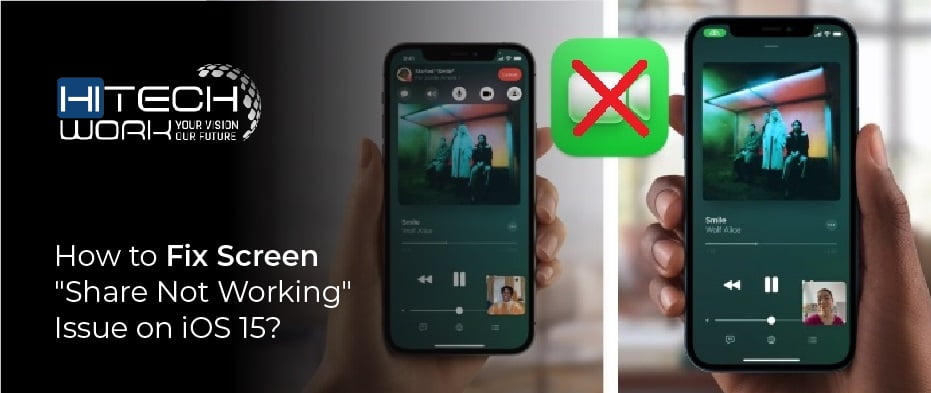 Every iOS has great and exciting features for user that don't protect it from minor glitches. Many users have reported that the iOS 15 FaceTime screen share is not working even after successfully updating their iPhones. There are multiple reasons responsible for this, which are:
FaceTime may not work well when you save a contact name with emojis.
A primary reason why users complain about the Screen share not working is if your country does not support FaceTime shareplay. These countries are Qatar, Saudi Arabia, Jordan, and UAE.
A poor connection can also make a user complain about FaceTime screen share not functioning on iOS15.
In the next section, we will let you know the fixes. Before applying any troubleshooting steps, make sure iOS 15.1 or newer software has been installed.
1. Turn Off/On FaceTime
Switch on the FaceTime app is the first and the simplest option to get screen-sharing to work. So launch the settings, click on the toggle for FaceTime, and switch it off. Then restart your iPhone. Once you are back to the home screen, head to settings and turn on FaceTime call to see if you are able to access the feature shareplay or if it's still not working.
2. Ensure the App has Shareplay Support
You have to check if the App you are trying to share supports the feature service. However, Apple has built shareplay ability into Apple Music, Apple TV, and some other Third-party apps so you can share music and other media on FaceTime call with others.
3. Reset Network Settings
Sometimes, shareplay features may not work because of network issues. So try FaceTime shareplay again with reset network settings.
First, go to the settings App on your iPhone and click on the General option.
Now move down to find the Transfer or Reset iPhone option. Tap on it, and then click on Reset.
On the next page, tap on Reset network settings to reset your network settings.
Here you will be asked to enter your password to confirm resetting the network settings. Once done, the problem you were experiencing should be fixed.
4. Force Restart your iPhone
This method can fix most iPhone issues. Apply the below steps to force restart your iPhone.
Swiftly press the volume's up button and releases it.
Press the power option and hold it until the Apple logo comes up.
Your iPhone restarts, and hope this will resolve the error.
Is it possible to share Screen with Android & PC users During a FaceTime call?
Although android and pc users can get FaceTime links and join meetings through a browser, they can't do much more than that in iOS 15. In true Apple fashion, the video calling app has restricted functionality on android and windows. In addition, shareplay is intended to play only within the Apple ecosystem. That means you can unlock the full potential of shareplay only if you have an iPad, Mac, or iPhone.
But with the release of iOS 16, windows and android users can now join and connect to FaceTime via FaceTime web using chrome browser and Microsoft Edge on android and windows devices.
Use SharePlay with New Update iOS 16
iOS 16 comes with many interesting features, including shareplay to messages. Apple announces software updates every year with various new features across all devices for iOS 16, macOS Ventura, and iPadOS 16.
However, shareplay has been available on iPhones since iOS 15.1 and later with FaceTime. It's a cool feature that brings people close and shares any movie, music, or TV show with each other. But iOS 16 bring shareplay to messages is an excellent addition. So regardless of just texting while watching the new hit show, they can experience it together. It makes movie night even more entertaining for those far apart.
Final Words
However, Facetime is Apple's answer to famous video chat apps such as zoom, Microsoft teams, and Google Duo. With the screen share on shareplay, Apple hopes to go with the competition. shareplay faces a small delay and has now been live with iOS 15.1. This amazing feature finds its source in people's longing to stay near their loved ones. In this blog, we have already mentioned how you can use this feature and enjoy sharing screens with your buddies. If you face any queries, feel free to comment us.