If you have iPhone, then better to ask someone; it would be great – knowing how to shut down iPhone 11 is helpful for yourself in a situation where you need to turn off the iPhone, such as in a mobile frozen situation and many more.
Shutting down the iPhone 11 can be useful when you are trying to fix a problem, whether you are in a situation where you don't want the distraction or trying to save battery life. Similarly, if you don't have a charger handy – this is also a reason for knowing the method of shutting down the iPhone 11. This article will show you how to turn off iPhone 11 by using twice methods, so you can use any method you like after reading.
How to Shut Down i-Phone 11 By Using Button
If you are going off to bed or you really want to conserve your battery, then you may shut down your iPhone 11 in iOS 13.4. This is one of the easiest methods for turning off, and it works only for new iOS models that don't have a home button, such as iPhone XR or the series of iPhone SE. Here are the following steps to shut down your iOS 11.
Press and hold the right-side available power button of the iPhone
Then, drag the round button that appears on the screen to the right side of the screen.
After doing the above step – your precious iOS 11 will be shut down. Now you may sleep without any distraction.
How to Shut Down iPhone 11 By Using Setting Menu
If the mentioned above method does not work for you, you may move to another way. So, here it is – if you have an issue with the device button to turn off your iPhone, use this method by following the steps below.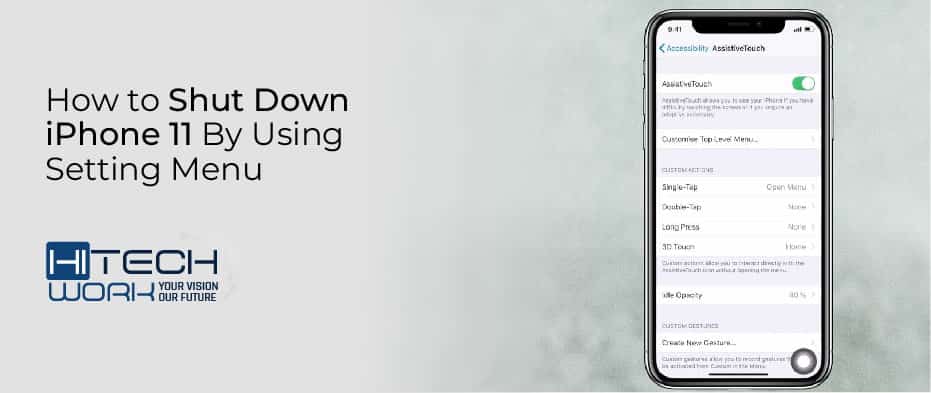 Open your iPhone screen
Touch on the Gray logo of setting menu
Select the General option & scroll down the setting menu to reach the bottom of your phone screen.
At the bottom of the screen, you touch on the shutdown button
Tap on the Slide to Power Off button and swipe it to the right. Then your phone will be powered off.
How to Restart iPhone 11
Mostly your iPhone keeps turning on, but if your phone may freeze or create some glitches, you should restart your iPhone. And restarting your phone is the first method to get rid of any glitches or bugs. Here are the following steps to turning on or off your phone from this last section of the article.
However, the iPhone 11 may have a problem that prevents you from following those instructions in some cases. In this case, you should force restart your iPhone (also known as a hard reset or force restart). The steps are as follows:
Long press and hold down the button to release the volume up.
Long press and hold down the button to release the volume down.
Then, press and hold down the right-side button.
After the screen goes black, hold it for a few more seconds. Let the iPhone 11 restart after releasing the Side button when you see the Apple logo.
Final Thoughts
There are various methods to shut down the iPhone 11, but in this article, we described two ways of turning off the iPhone by using a button or through the setting menu. I hope you like this turning-off guide that will be definitely helpful for you. If you want any feature guide for iPhone, let us know in the comment. And I will consider it as soon as possible.