How to Stream Netflix on Discord? Hundreds of millions of people all over the world use Netflix as their default entertainment service. The streaming service has something to offer everyone, from classic library titles to Netflix originals. When you enjoy watching your favorite movies and shows with your friends rather than alone, setting up a watch party over discord is a great way to get everyone involved. Do you know how to stream Netflix on Discord?
Discord has been a great app to enjoy unlimited entertainment. You can create channels on Discord servers and chat with friends! Oh, and don't forget to use those quirky and funny Discord names to make it more enjoyable! Don't hesitate to click the link if you're a Discord user and want to impress your friends with the best Discord about Me ideas and some funny and motivational Discord statuses! If you want to make your discord chat more impressive, you can use discord emojis.
How to stream Netflix from a PC using Discord
Streaming Netflix through Discord lets you communicate with your friends while watching something together, even if you are far apart. Here's how to stream Netflix on your Mac or Windows computer if you're using Discord:
Use your "web browser" to access the Netflix website.
Open Discord and make sure it's connected to a server at the same time.
You can choose which "Activity Status" you want to use by selecting "Settings" at the bottom of the page.
Select the tab in your browser with an active streaming service by clicking on "Add it". Click on "Add Game" when you select Netflix.
In the lower-left corner of the screen, click the "screen icon" after you leave "Settings."
Select the "browser tab" you want to stream from the "Screen Share" pop-up.
Change the streaming settings.
Tap "Go Live" to begin streaming Netflix.
Go back to Netflix and watch the title you want to share.
The thing that makes Discord streaming so interesting is that you can stream a movie or a TV program, leave your camera on, and let your friends see your reactions to what's happening on the screen.
Black Screen While Screen Sharing on Discord!
Those who are trying this kind of streaming for the first time have encountered this problem. Following are a few steps that have appeared to help many people according to various sources. You can use these steps to fix the Black Screen while screen-sharing on Discord.
You can access the "Voice and Video" settings in Discord by clicking on "Settings".
You can also disable both options by clicking on "Video Codec" and disabling "OpenH264 Video Codec".
There is a setting for "Use our latest technology to capture your screen" in the "Voice and Video" tab, which is enabled by default. If it does not work, you should disable it.
Then there is one more thing that might work if the above-written solution doesn't work for you.
Open Chrome and click on Settings.
Scroll down to the bottom to find the "Advanced" drop-down menu, and click on it.
You will see a feature called "Use Hardware Acceleration When Available". Disable this feature.
And that's it. You should be ready to watch a movie now.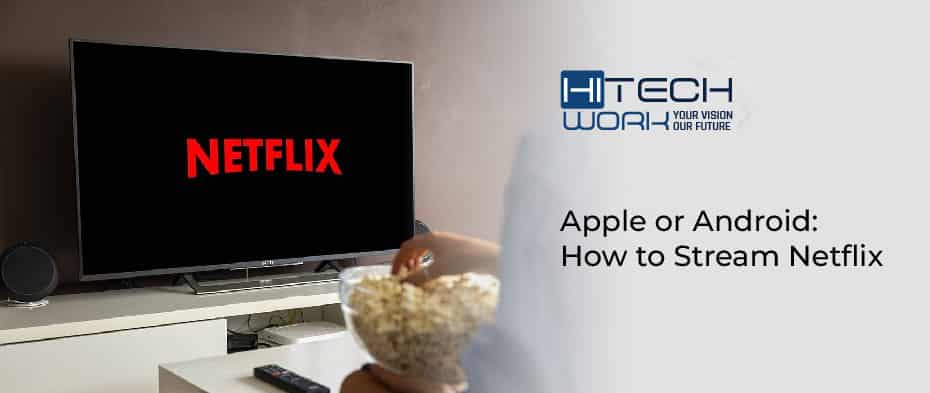 Apple or Android: How to Stream Netflix
Ensure you have both Netflix and Discord installed on your phone in order to stream Netflix on it. Then follow these steps:
If you haven't already done so, open Netflix and Discord
Pick a voice channel in Discord after selecting the server.
Then tap the Join Voice button when the message appears.
Select Screen Share at the bottom of the screen.
Then tap the Start Broadcast option.
Then open the Netflix app and start watching. This should be available to anyone who is able to access your channel. You can stop it by tapping the Stop sharing button.
Netflix Streaming Problems on Discord!
When you are screen-sharing Netflix on Discord, you are likely to encounter many problems. Try these solutions for seamless gameplay or streaming.
How do I stream Netflix on Discord with sound?
The most common question on Discord is 'How do I stream Netflix on Discord with Sound?'. The first thing you should do if you are also experiencing audio problems during streaming is to find out the cause. There are several reasons why you can stream from another platform, but you cannot hear any sound.
It requires administrative access sometimes, which is one of the main reasons for Discord to have administrative access. You should make sure that your drivers are functioning properly before you watch a movie or play a game with your friends.
In addition, there is a possibility that "Screen Share" lacks stability sometimes. This can be one of the primary reasons you cannot hear anything. In this case, you have to make sure that all the audio devices are enabled and Discord has all the permissions it needs.
How to stream Netflix without a black screen on Discord
A black screen is one of the most annoying problems on Discord when you're streaming Netflix. The following are some common fixes for black screens when streaming Netflix on Discord.
As an administrator, run Discord
Make sure Discord is running on your desktop with administrator rights.
 Type discord in the Start menu.
From the Start menu, select Run as Administrator.
Turn off Hardware Acceleration
Graphics are supposed to be improved by hardware acceleration. Unfortunately, it can be a lot of trouble, particularly on older systems.
Follow these steps to turn off hardware acceleration in Discord:
Open the Discord desktop app and click Settings (gear icon).
From the left column of the Settings page, select Advanced.
Toggle off Hardware Acceleration in the Advanced section.
After the verification screen appears, click the red Okay button. Discord will restart after you click the Okay button.
FAQs
When I stream Netflix on Discord, my screen goes black. Why is that?
It is one of the most common issues to get a black screen when streaming Netflix on Discord. Using your web browser, you can disable hardware acceleration to fix the Netflix black screen issue. Detailed instructions can be found above for each browser.
Is it legal to stream Netflix on Discord?
There is no legal way to stream Netflix through Discord, or anywhere else for that matter. Indeed, Netflix's Terms of Service mention this as well. Although we don't recommend streaming Netflix on Discord, it's good to know that it's possible.
Can I stream Netflix on Discord from my mobile device?
Netflix cannot be streamed on Discord from mobile due to DRM restrictions.