Whenever apple announces a product's release date, the buyers are at the doorsteps of Apple franchises. According to some surveys, Apple company is at the top of the list compared to other tech-related companies. Apple product that is related to the glamour industry is the apple watches. The cool thing Apple did is they gave watch bands a variety of colors and publicized it in a way that co-relates it with the color of your dress. Which then became trends. We see people are now mostly buying the bands in the color of their dress. At the same time, people face issues according to switches into different bands and search for a solution. Let us tell you the solution that how you can change your Apple watch band.
How Can I Remove the Apple Watch Band?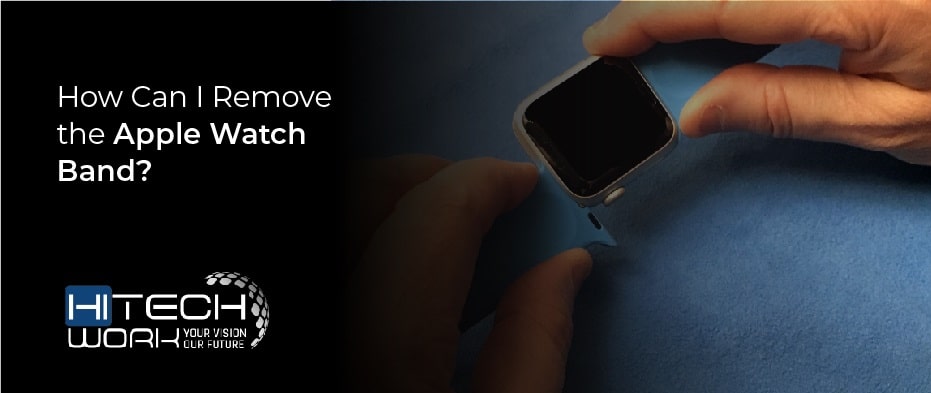 Just like every other tech, people usually switch things when they feel bored with them. Take an example of mobile phones – people switch different things in mobile in the form of a case, battery, IC, etc. In the same way, they also want to replace their watch band with another because they get bored with the previous one and maybe didn't like the color of it. We now tell you the procedure: how can you remove your apple watch band, so stick with us till the end.
1.     Place The Apple Watch Upside Down
The button that helps us remove the band is on the watch's back side. So remove the apple watch from your wrist and place it on a flat surface. After then, we'll continue our process.
2.     Band Release Button
This button is located on the back side of the watch at the upper middle side. Where it is connected with the strap press and holds it
3.     Remove Band Slightly from Any Side
Hold the release button till it removes; while holding, take the band off slightly by moving it either from the right side or the left.
To remove the link bracelet strap; it's a bit different. If you want to learn, then follow the instructions on how you can remove the link bracelet strap
1.     Lock Your Butterfly Closure        
Remove the link bracelet strap first. You need to close the butterfly closure and connect one side with another. And join them when you hear a click sound, which means you've closed it successfully.
2.     Release Button Of Link Bracelet
Like a regular strap button, its release button is also at the upper middle side and connected to a bracelet.
3.     Separate The Bracelet
Hold that button long and slightly remove the bracelet from the side.
Apple band sizes: Watch series like 1,2,3 size. The compatible sizes regarding those are 38, 40, and 41 mm apply to all three sizes.
These are some simple steps from how you change your watch band both in a bracelet or regular band category.
Apple Watch Pride Edition of Bands 2022: e-Commerce Love to Sell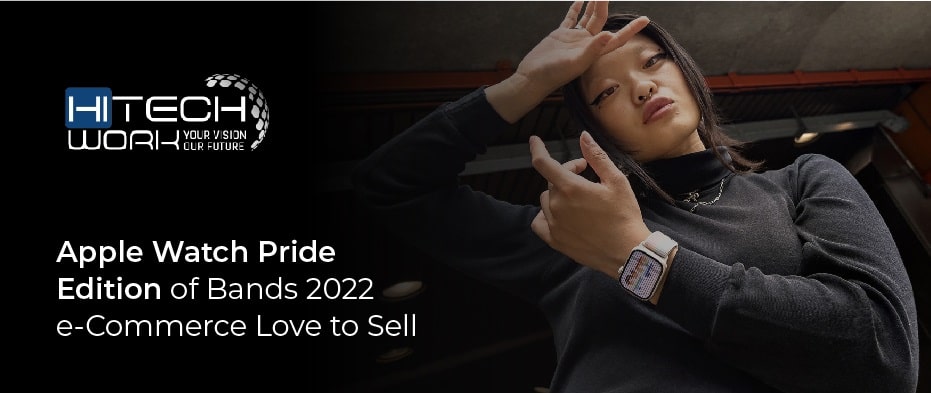 Every company competes with each other on band design and colors. It's a global sensation now, and the most like strap colors and designs are the rainbow strap edition and flag edition. Apple announces its Pride edition of apple watch bands, and recently it's available in the apple store at the current price of $49 because the straps are trendy nowadays. Nike is also coming up with their edition of bands. We'll soon see their availability in the Nike store.
Apple upgraded its pride edition loop band watch with the written script on the brand, which empowers the written content trends on the strap, and the text under the rainbow gives a futuristic feel. It gives you the feeling that you're traveling into the intergalactic dimensions, and the all-in-one rainbow color doesn't make you picky anymore. So have it all in one strap.
Thoughts: Switching Bands Change the Look of a Watch That Makes You Gentlemen
I know it sounds kiddish to you, but it's a fact if you're changing the bands, you'll somehow trick others that you've bought a new watch and many of the people who don't know about switches straps and stuff like that they'll get in your trap. Changing the band according to the situation change the look of your watch, such as a sport band makes it a sport-related formal look makes it a gentlemen's watch. So play around more and more.
Why Should I Need to Change My Apple Watch Band?
According to a rough calculation, if your watch band's leather quality is good, it will sustain in between 5 months to 3 years. It would be best if you changed it because, after a while, it turns dim and rough and doesn't look good in your hands anymore. The second reason is its multiple varieties in colors which keep pushing you to buy one, or for brand-conscious people who already live in the trend's world. Buy them just for fun because it makes them look cool.
Do I Need to Change My Apple Band Style?
Apple watches recommend us buy bands to enrich our personality in terms of fashion, design, and style. Suppose you are picky, don't want yourself stuck in one design, and constantly want flexibility in everything. The apple watch is an excellent product for you guys – going with the trend is the pressure of society if you are into the outdated style. People might bother you, so apple helps us maintain our self-respect in society and makes us look one step ahead when it comes to style.
Conclusion
Bands are related to the entertainment industry. But the switching band feature is also a helpful feature that apple gives us. If you notice, apple expands its company by adding straps in its zone, manufacturing different styles of straps, and selling them, earning extra revenue from that business. So in this article, we have covered every single aspect of how you can remove your apple watch band.