Are you exploring to get the information on how to track changes in google docs? Many people observe Google Docs as just a Microsoft Word alternative. Most people don't understand just how powerful it is as a collaborative editing tool for teams.
When you know how to use track changes in Google Docs, you never have to bother about losing changes to your documents. All amendments are automatically saved and logged by default. If you eternally find that you need to review or recover those changes, doing so is just a matter of a few clicks.
What is Track Changes? 
The Track Changes option is a Microsoft Word feature that allows you to make suggestions inside a Word document. Probably, these suggestions will be later reviewed by someone else, who can either accept or decline them.
This makes things quicker for the person reviewing the changes – instead of reading suggestions in brackets or comments and then accepting/rejecting them, and you can do it with the press of a button.
Why Use Track Changes?
Let's say that you're writing a piece of official or semi-official text that's going to be seen by several people. You're probably going to have an editor or a proofreader. They know your writing and point out (add comments) what you should change.
So, for them to see what parts of the text you've changed, you turn on Track Changes (the suggestion mode). When they want to review the changes, they don't have to sift through the entire text, just the marked differences you've made.
Of course, the differences are marked automatically, so you don't have to think about crossing out sentences and changing font colors for more obvious recognition.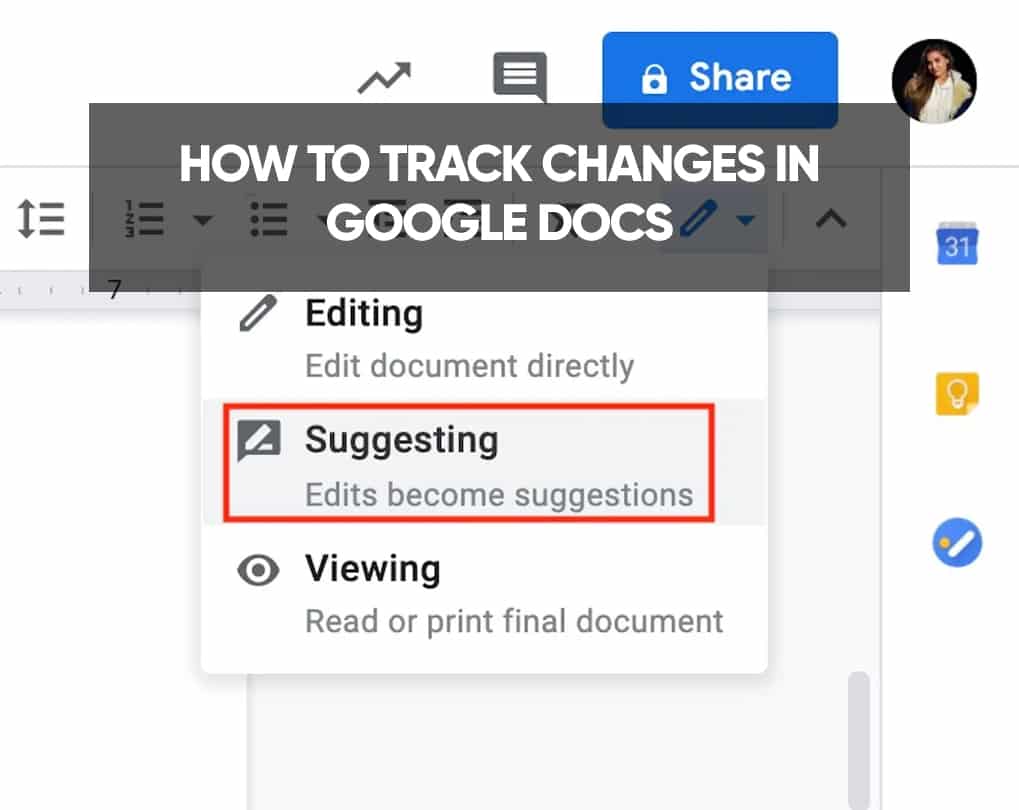 How to Track Changes in Google Docs
To track changes in Google Docs, you ought to switch from editing mode to Suggestion mode. Hit the pencil icon underneath the Share key, and choose Suggesting from the drop-down menu.
While in Suggestion mode, any text you write is highlighted, and any text you delete is crossed out. To the right, a suggestion box arrives with every change. This provides other users a chance to review changes before they're made permanent.
Reviewing Changes
You can also view the changes suggested by other people. If you question a particular change, you can leave a comment in the suggestion box. Hit the suggestion box, click the text field, write a response, and click Reply.
To approve a change, click the checkmark. It will then become part of the document. To deny a change, click the X, and the suggestion will leave.
To drop Suggestion Mode, hit Suggesting in the top-right corner and select Editing. While in editing mode, you can yet accept, deny, or comment on suggestions, but you can't create any new ones.
Tracking Changes on Your Mobile Device
Suggestion mode is also possible in the mobile version of Google Docs. While viewing a document, tap the more icon.
Turn on, Suggest changes.
Momentarily you can track changes just like in the web browser version.
To review a suggestion, tap on it to choose it. You can receive, reject, or drop a comment on any suggested change.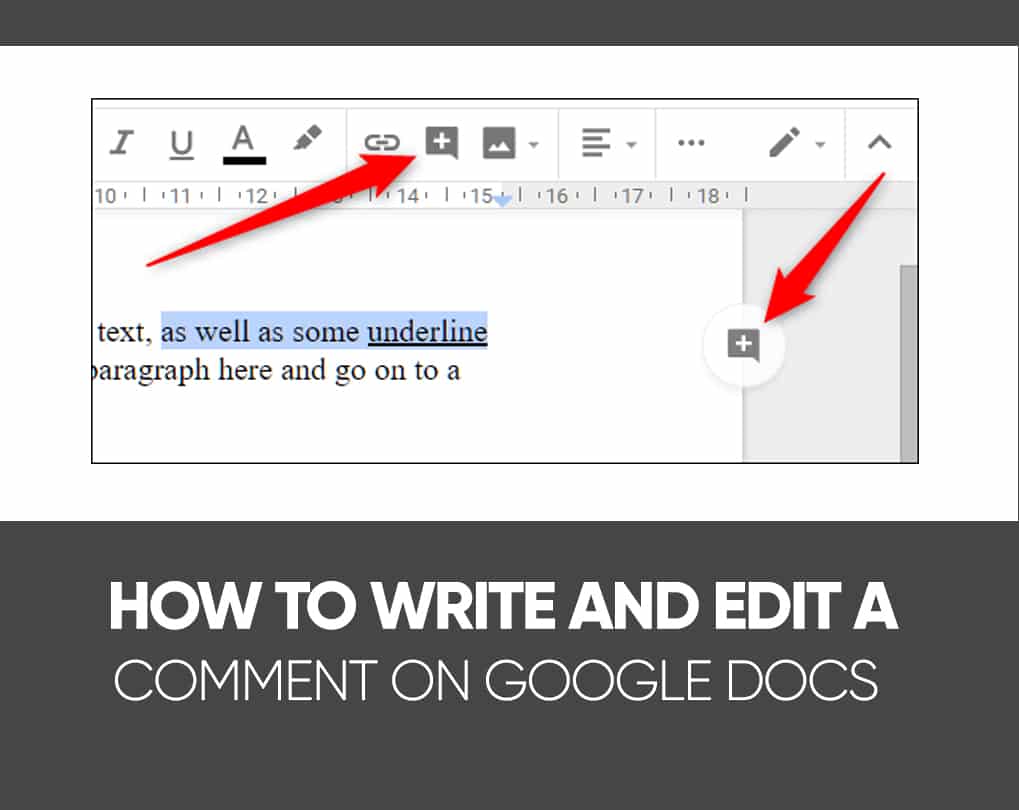 How to Write and Edit a Comment on Google Docs
To create a comment on Google Docs while using the Suggesting function, highlight the text you want to comment on. An icon that views like a plus sign in a message bubble will appear to the right. Click it to leave a comment. The selected text will look in yellow once a comment is made.
You can also apply the shortcut Command+Option+M or right-click and choose Comment from the menu that appears. Once you've composed a comment, press the blue Comment button, and the text will be highlighted in yellow, besides your comment in the right margin.
To edit your comment, hit the three vertical dots on the top right. This will bring you to the More Options menu where you can edit, delete, or link to the comment. The More Options menu can be located on the top right of the comment box.
How to Answer a Comment in Google Docs
To answer a comment, hit the comment you wish to reply to.
Type the Reply in the text box and hit Reply. You can also get relieved of the comment by clicking Resolve. Hit the comment bubble and make your Reply in the text box.
FAQs
Q: Where are track changes in Google Docs?
A: To get tracked edits in Google Docs, pop opens the Editing menu at the first right-hand corner of your document. Your Google Doc now functions precisely as a Word Doc when you turn on 'Track Changes.' You can see who made the change, when they made it, and what the difference was, just as you can in Word.
Q: Does Google Docs automatically track changes?
A; Now when you turn a Word file into a Google Doc and track changes in the Word doc will automatically be converted to proposed edits on the Google Doc.
Q: Can you track changes in Google Slides?
A: Google updates Docs, Sheets, and Slides with the latest collaboration features. For the most part, that's not needed anymore, but with this update, Google Docs Sheets and Slides now lets you track changes by saving multiple versions of a document with different names.
Q: How do I track changes in pages?
A; Select a range of text, then hit Accept or Reject in the review toolbar. All tracked changes within the content are accepted or rejected together. In the review toolbar, then choose to Accept All Changes or Reject All Changes.
Conclusion
Now, because both users have permission to edit this document, anyone can accept the changes by clicking on the right sign button present in the change box.
This is how Track Changes works in Google Docs. If you guys still doubt how Track Changes feature in Google Docs, you can ask us in the comment box down below.