It's about Autumn now, which means the new iPhone series is going to release on WWDC. When lots of users are deciding to purchase and switch to a new iPhone, data transfer can be an important process you can't miss. However, some of you may forget fail to sync data during the new iPhone setup because you don't have the device in hand or just fail the authorization. So how can we transfer data from old iPhone to the new one even after device setup completes? In this review, 4 ways will be introduced to help you get back data on the new iPhone. Now, keep reading and see how to do it.
Method 1. Erase iPhone and Restart the Setup Process to Sync Data
If your new device hasn't stored any important data, it is recommended for you to erase all data and setting to restart the setup process once again. Then during the setup process, you can choose to sync data from the old device. Here are the steps on how to do it properly.
Step 1. On the new iPhone you are going to erase, go to "Settings" and scroll down to "General". Find the "Reset" option and click in it to choose "Erase All Content and Settings".
Step 2. After tapping this option, your iPhone will begin to erase all the data and settings for you. Till you see "Hello" on screen, the device has successfully been erased.
Step 3. Now, keep your old iPhone nearby and then begin with the "Quick Start" function. When the old iPhone detects the new device, it will allow you to confirm your Apple ID to make sure whether to process the data is transferred or not.
Step 4. Once you click "Continue" and make sure to transfer data from the old iPhone to the new one, also select "Download from iCloud" to make sure all data can be synced to the new device successfully.
Step 5. Finally, you just need to wait for the data transfer completes. Once it finishes and the new iPhone is activated, you will see all data is now stored on it again.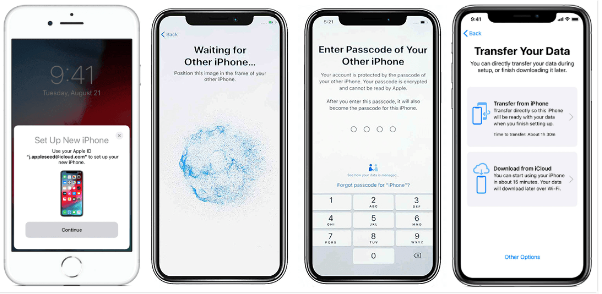 Pros:
No need to install software to transfer data
Free function without any cost needed
Automatically transfer all data for you
Cons:
Can not select exact data or files to transfer
Need to keep old iPhone nearby to complete the data transfer
Once the device is set up, you can't use this function to sync data
Method 2. Use Professional Data Transfer Tool to Transfer Old iPhone Data to A New Device
The top iOS transfer software, FonePaw DoTrans, can provide reliable service to help you flexibly select data you need and transfer to the new iPhone device just by several clicks and super fast speed. It can quickly scan deeply into your iPhone and detects all types of files stored on the device, letting you select and transfer them without losing any quality.
FonePaw DoTrans is well compatible to transfer data among the latest iOS systems and also device models. In the following, you can know the detailed steps on how to use it to transfer data from old iPhone to the new one after setup.
Tip: FonePaw DoTrans offers the most economical pricing plans for you to select, costing at only USD 24.46 to process the data transfer without limitation, which is the cheapest option on the market but offers the most professional help!
Step 1. Open FonePaw DoTrans after installing it on your computer. Then you need to connect both your old and new iPhone to the device and select the data you want to transfer to the new iPhone. Click "Scan" and the software will begin scanning the whole device and access all selected data for you.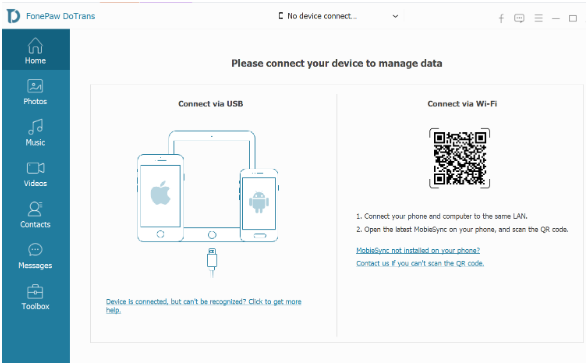 Step 2. Then on the left panel, choose the file types you want to transfer. FonePaw DoTrans will directly scan through your old iPhone and then provide all detected files to let you select.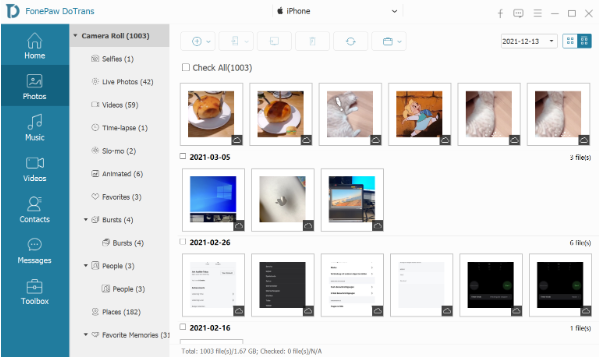 Step 3. In the top menu, choose your new iPhone in "Export to Device" as the output path. Then begin the transfer and the software will move all your select files to the new device immediately.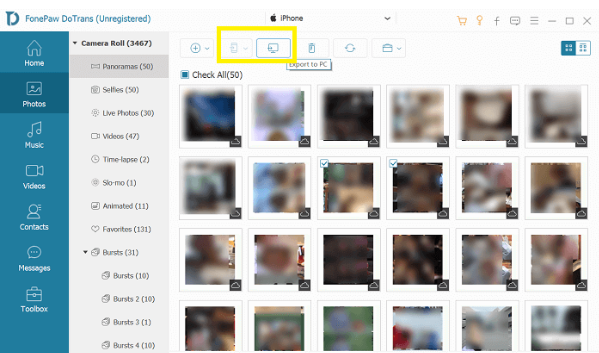 Pros:
Allows to select any data and files to transfer flexibly
Offers quick scanning and data transferring services
Keeps original quality for all transferred files
Runs smoothly to support all latest iOS, Android, Windows systems
Cons:
Need to pay to enjoy the full features
Method 3. AirDrop Data to Transfer Between iPhones
For only a small amount of files transfer, you can directly use Apple's in-built feature, AirDrop to process the data transfer without using extra software or services. It can be very simple to AirDrop files between two iPhones. Here will show you how.
Step 1. Firstly, you need to make sure that both iPhones have turned on the AirDrop feature. Swipe down the Control Center and you can set "Everyone" so that make sure both devices can be detected by each other.
Step 2. Then on your old iPhone, go to the photos, files, and so on to select the data you need to transfer to the new device.
Step 3. Click the "Share" button, and there will be the "AirDrop" option provided. Tap it and choose the detected new iPhone, and the files will directly be dropped and transferred to it immediately.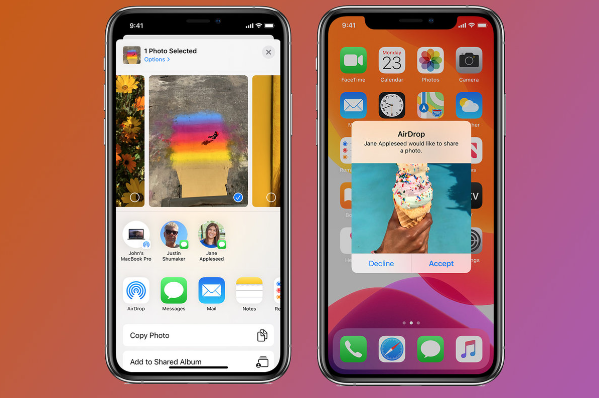 Pros:
No need to install software
Complete free feature to use
Suitable for transferring small amounts of images and files
Cons:
Not all types of file and data can be transferred in this way
It would be time-wasting if you got lots of files to transfer
Method 4. Transfer Data From iPhone to iPhone After Setup with iCloud
For users who have activated the iCloud function to back up data, you can also make use of this service to transfer data to your new device after setting it up. Just make sure your new iPhone is connected with a stable WiFi network, then you can follow the steps below to transfer data using iCloud.
Step 1. Like using the Quick Start feature, you have to reset your new iPhone first.
Step 2. When your new iPhone begins the setup process again, connect it to WiFi.
Step 3. In the "Apps & Data" screen, you should choose "Restore from iCloud Backup" and then sign in using your iCloud account.
Step 4. Just select the back and wait for the data to transfer to the new device in a moment.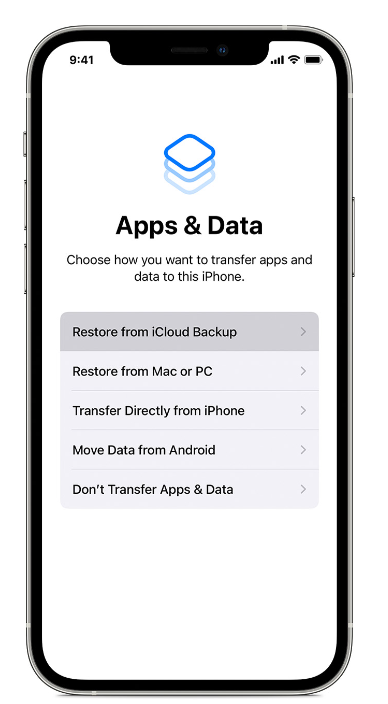 Pros:
Easy to complete the data transfer process
One tap to transfer all data efficiently
Cons:
You have make sure to activate the iCloud backup function first
Data will all be erased after resetting the iPhone
In Conclusion
Comparing all these 4 methods to transfer data from old iPhone to the new one, FonePaw DoTrans offers the most stable and also selective ability to help you transfer data and files you need to another iPhone but not copying them all, which offers a more flexible way for you to decide what data to keep. Now, freely install the software and try it immediately!