Are Instagram DMs also driving you insane and annoying? No worries, we will let you know how to turn off the Insta DMs. Although,  most people are confused about whether it is possible to turn off insta DMs. Well, there is no direct way to turn off messages on Insta entirely. But you can hinder them for people you don't know. Hence, there are various ways that exist to limit DMs on Insta that we will discuss in the next section.
Insta is a famous user-friendly platform, but it has no official way to entirely switch off the DM feature. By default, insta allows anyone to send you texts regardless of whether you are following them or not. This will cause your inbox to get flooded with needless spam. So it's better to completely turn off direct messages on insta despite blocking them individually. So let's move to the workarounds that will ensure that you can't be bothered by DMs.
Different Methods to Turn off DMs on Instagram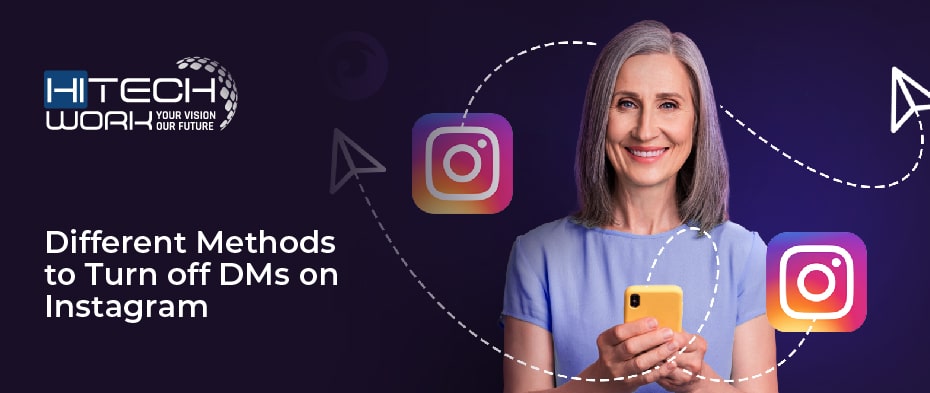 As we all know that Instagram is the most customizable social networking site, but it doesn't give you the option to turn off the direct messaging feature completely. But no worries, in this section, we will discuss various ways to turn the feature off on android & iOS.
1.      Restricting a User
Restricting a person can also help you if you wish to stop receiving DMs from them; it's quite similar to blocking someone or if you want to have their messages straight to the "Message Request" tab. So, you will not be notified of any new DM from their side. However, restricting an account has two benefits: the other person will not be aware that you have confined their account, and they will not be able to see your online status.
To restrict any user account, go to their chat thread and click on their name.
Then click on Restrict, followed by the Restrict account.

Restrict account

Another way is to use the settings> privacy > restricted accounts to restrict people.
2.      Disallow DMs from Strangers
By default, Instagram allows non-followers to send messages, but if you do not wish to get message requests from strangers, Instagram provides a simple way to disallow them and manage the settings that can DM you. So apply the below steps to do this.
Launch the Instagram app & open the profile screen.
Click on the triple-bar icon & choose Settings from the menu.

triple-bar icon

Open the Privacy> and then tap on

Privacy&message

Additionally, if you don't wish to get messages from your followers, click on your followers on Instagram" and choose don't receive requests.


don't receive requests
Tip: if your Insta messages & Facebook are connected, you can customize who can message you under certain conditions. Hence, go back, and you will see the other people section with People on Facebook & Others on Instagram. Modify their values to don't receive requests. Now you will only receive messages from the people you are following.
3.      Mute Contact to Stop Instagram DMs
If you wish to block messages from selected contacts, you can mute their chat thread. Even if they send a text, you will not be notified about it. But if your activity status is on, they can see you online in your chat thread.
To mute a contact, go to their message thread and click on their name at the top. Now, turn on the toggle next to the mute message option. You can also mute call notifications; it will not inform the person that you have muted them.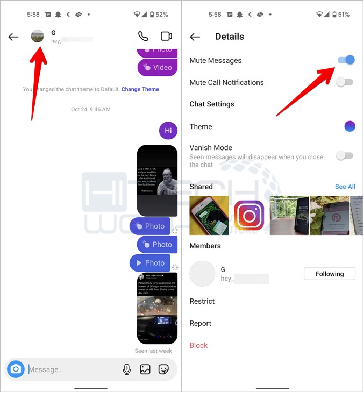 4.      Turn Off Notifications
If you do not wish to get messages from anyone, you can turn off message notifications completely instead of just muting certain people. To do this, open your Instagram settings >Notifications. Then toggle on next to pause if you wish to stop all kinds of notifications like temporary comments, messages, live, and followers.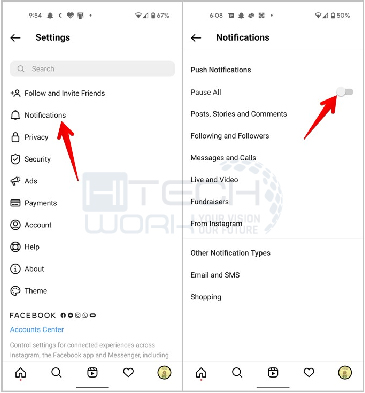 To disallow message notifications only, click on Messages & Calls instead. Choose off under Message requests and messages. Now, you will not get any notification when anyone sends you a text. The DM will silently land in your inbox.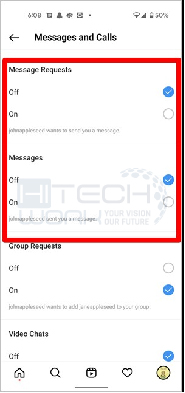 So remember that your notification settings are synced across all devices where you are logged with the same insta account. So, if you disallow DM's notifications for your account on one device, you will not get them on another.
5.      Disabling Instagram Story Replies
When you post a story, people are allowed to respond to it by default, and the responses are sent to your Instagram direct messages. You can disallow message replies on Insta stories so that no one can respond to them. To disallow the stories reply, open the Instagram settings> Privacy > Story. Now select Off or people you follow depending on your requirement under allow message request replies.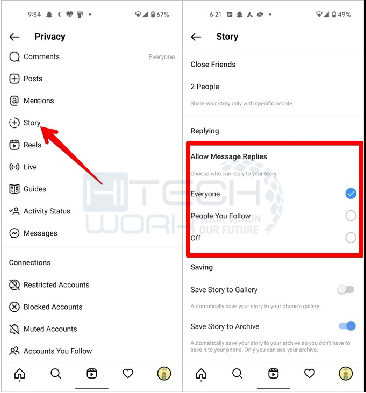 6.      Make Your Profile Private to Stop Getting Unnecessary Instagram DMs
When your profile is public, anyone can send you DMs. They don't need your approval to send you a text. If you find this irritating, there is an easy way. You can make your account private so only your followers can text you directly, and you have to approve followers if you want. So here are some steps that will help you to make your profile private.
First you have to launch the insta app and open your profile by clicking the profile icon.
Then, click on the hamburger icon represented by triple horizontal lines.
Now, choose settings and tap on Privacy.

accont privacy

Next, toggle the switch next to your private account.

your private account
7.      Declining Messages
When someone whom you do not follow sends you a Dm, the message will not directly appear in your inbox. You will be notified (unless you have toggled this option off), but the text will appear in the Message Requests tab, so the user won't see if you have read the message. DMs in the message requests tab can be declined or allowed by you. If you accept a DM, then it will move to your inbox, and if you cancel the request, the message will be deleted.
8.      Blocking an Account
In last, Finally, you have to take the unkind step of blocking a user if you wish to stop getting messages from them. To do this, click on their name at the top of their chat and then click on Block. After that, Instagram won't see your profile to that person.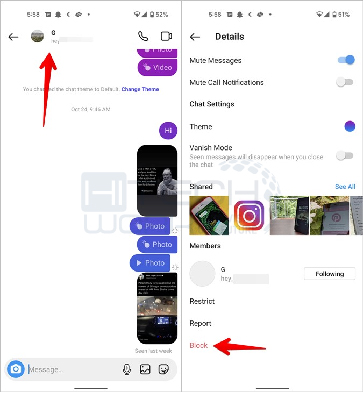 Final Words
Direct messaging is a great feature of Instagram, but sometimes it becomes annoying when there are so many message requests. For this, Instagram allows you to control your messages, and there are several ways to manage the settings for who can send you a DM and who cannot. So, for your ease, we have mentioned different ways to turn off DMs on Instagram. Hopefully, the article will be helpful for you. Don't forget to share your views with us about the article.