How to turn on LED flashlight mode? Although you might not use the flashlight on your phone every day, it is indispensable when you need it. However, how do you turn on the flashlight on your phone?
We're here to help. We'll show you how to turn your flashlight on and off using several methods. Android users have more options, but we'll also cover iPhone flashlights.
How to Turn on LED Flashlight Mode? 
How to turn on the flashlight in Android's Quick Settings 
Android did not have a universal flashlight toggle until Android 5.0 Lollipop was released in 2014. Before that, some phone manufacturers included a way to open the flashlight, while others did not. Fortunately, all modern Android phones come with flashlight functionality out of the box.
Open the Quick Settings menu by pulling down twice (or once using two fingers) from the top of the screen to turn on the flashlight. You should see a Flashlight entry. Tap it to instantly activate the LED flash.
You may be able to access the Flashlight icon from your notification shade (after pulling down once) depending on what appears first.
Tap it again to turn off the flashlight when you're done. The flashlight will remain on even if you lock your screen or open other apps.
You may need to swipe left or right to access more icons if you don't see the Flashlight button. The menu will vary depending on your hardware manufacturer. The above shots show stock Android, but if you have a Samsung, LG, or another device, yours will be different.
"OK Google, Turn On the Flashlight"
What if you can't always use the Quick Settings toggle? It might not be as easy to access Quick Settings if you have other shortcuts. You might need to turn on the flashlight while your hands are dirty or occupied.
You can rely on Google Assistant in those situations. The Google Assistant command "OK Google, turn on my flashlight" is among the most useful.
As soon as you say this, the Assistant will turn on your flashlight. You can turn it off by tapping the toggle in the chat window or saying "OK Google, turn off the flashlight."
You can access Google Assistant in a variety of ways depending on your phone, which makes this shortcut useful. You can access Google Assistant from the Google widget. If your device still has a Home button, you can press and hold it to open the Assistant. With Android 10's updated gestures, swipe towards the middle from either of the bottom corners instead.
With a Pixel 2 or newer, you can summon Google Assistant by squeezing the sides of the phone. Additionally, you can set up Google Assistant to respond whenever you say "OK Google," even when the screen is off.
Use a Flashlight App, If You Must
It's possible to use a flashlight app if you don't like either of the above methods, or if you have an old Android phone with no option. You can choose from hundreds of them on the Google Play Store, but you must be careful.
Turning on the flashlight is a simple task. Most flashlight apps, however, ask for unnecessary permissions, such as your location, contacts, and so on. It makes no sense to grant these potentially dangerous permissions to apps that will likely abuse them.
One of the most popular Android flashlight apps, Brightest Flashlight Free, is infamous for harvesting its users' contacts and location data. Additionally, many of these apps display obnoxious full-screen video ads.
There are some that offer additional features such as turning the screen brightness all the way up or displaying colors. However, these are typically unnecessary and don't warrant the privacy risk.
As a result, we recommend avoiding flashlight apps unless you absolutely need them. If you do, try Icon Torch. The flashlight can be opened with a toggle, and there are no ads or in-app purchases. It only requires the absolute minimum permissions, so it is safe to use.
Try Gestures to Enable the Flashlight
Many Android phones, including some Motorola devices, have built-in gestures that allow you to turn on the flashlight at any time. Some of these gestures are shaking and slicing. If you have a Pixel device, you can open the camera at any time by double-tapping the Power button.
Feel free to try these and see if they work on your device. There are many apps available on Google Play to add shortcut functionality. Many of these apps are full of ads, are unreliable, or haven't been updated for a long time. Stick to the built-in flashlight toggles instead.
How to Turn On Your iPhone's Flashlight
You can easily access the iPhone's flashlight in iOS, as you might expect. The easiest way is to use the Control Center shortcut. Swipe down from the upper-right corner of the screen to open it on an iPhone X or later. You should swipe up from the bottom of the screen instead if you have an iPhone 8 or earlier.
Just tap the Flashlight icon in Control Center (even when your phone is locked) to enable it. To turn it off, tap the same icon again.
With iOS 11 or later, you can even adjust the flashlight's brightness. Haptic Touch (press deeply) the Flashlight icon to accomplish this. The slider will allow you to adjust the brightness level.
The icon may have been hidden when you customized Control Center. To add it back, go to Settings > Control Center> Customize Controls.
You can also ask Siri to open the flashlight if you prefer. You can call Siri up by saying "Hey Siri" or by holding the Home button (iPhone 8 and earlier) or Side button (iPhone X and later). Then say "Turn on the flashlight."
Don't bother with flashlight apps for your iPhone. The built-in options are sufficient.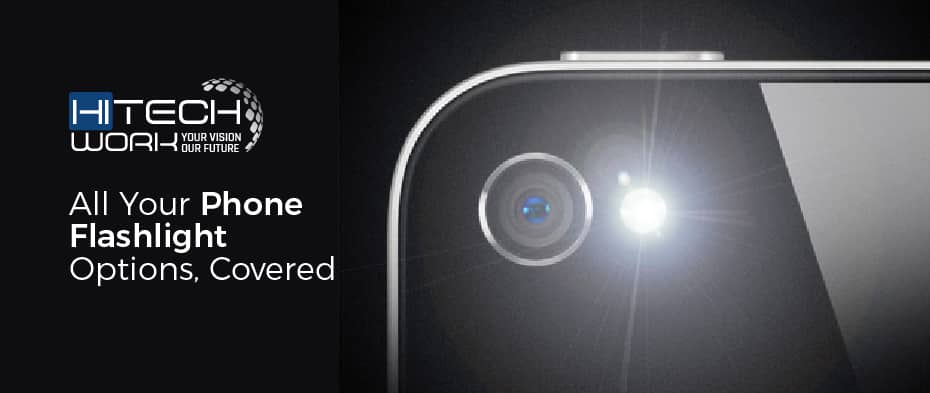 All Your Phone Flashlight Options, Covered
Now you know how to turn the flashlight on and off on your Android phone or iPhone. It's a simple task, but knowing where these shortcuts are means you won't get lost in the dark.
While you won't likely damage your phone by using the flashlight for long periods of time, we recommend you don't leave it on longer than necessary. Bright lights drain your battery, and leaving them on continuously can cause your phone to overheat and further drain your battery.