Do you want to clean up your Instagram feed to see more posts that you actually want to see? If so, then you can mute the person. However, there are many reasons to mute someone on Instagram due to their frequent and rubbish posts. But you decide to check on their feed and stories for some reason. So what can you do to unmute them and their stories on Instagram? No fret. This blog will discuss how you can easily unmute on Insta. Keep in mind that you will not be able to unmute them by using a computer; you can only do it on your smartphone.
Although, muting people's stories is the best because it does not notify them that their post is not showing to that person. It simply means that you are irritated by the person's content, but after some time, you decide to change your mind and want to unmute the person. So you can easily do it by following this guide.
Methods to Unmute Someone's Stories on Instagram
There are various ways to unmute someone's story from android &iOS devices. So if you have muted a story but don't know the person, or if you are not sure that you have even muted a story, apply the below steps.
Move right on the story feed at the top of the screen & find any greyed-out profile icons.
Then, hold & press the profile picture in question.

how to mute someone on instagram

Now, click on unmute.

unmute someone on Instagram

Once you have completed this, your friend's content will return to your insta feed.
Another way to unmute someone's story on Insta
If you know the person you muted, then you can unmute them by going to their profile. So apply the below steps.
Open the profile by clicking the magnifying search glass and entering a person's username.
Now, locate the Following and click on it.
Then, click on Mute.
After that, turn the switches from blue to grey.
Now you have done unmuting someone from their profile.
Unmuting Someone via Account Settings
You can also unmute people on Instagram through Account Settings. Apply the below steps.
Open your profile & tap on the settings icon in the upper-right corner.
Then, click "Settings" and select "Privacy" in the sub-menu.
Choose the "Connections" category and then click on "Muted accounts."
Then the accounts you have muted will emerge.
So, click on the account you wish to unmute to visit their profile.
Now, choose the "Following" option.
After that, choose "Mute" from the menu.
Click on the toggle option to turn their stories on top.
Unmuting Someone via Messages
You can also unmute people through the messages by following the below steps.
First, you must click on the arrow icon / from the screen's upper-right corner.
Then, click on the chat with a person you wish to unmute.
After that, click on the person's name at the apex of your chat.
Further, turn the toggle on to unmute someone.
How to Report Instagram Story?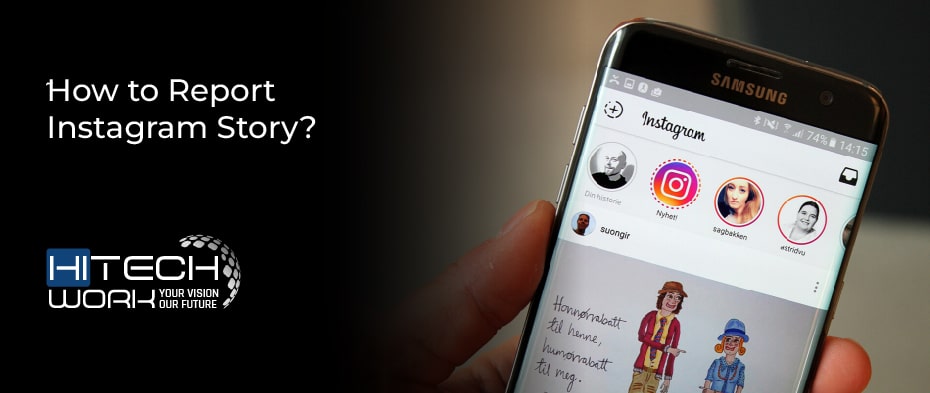 Sometimes, inappropriate content appears in violent, illicit, threatening, or spam stories. So you report that story rather than mute it despite it being an anonymous method of erasing the content. Now, follow the steps below to notify Instagram of any content you believe is incorrect or inappropriate.
View the story (or image of its post).
Click on the triple dots (triple vertical dots for android users and triple horizontal dots for iOS users.
Now tap on Report.
You must fill out a small questionnaire about the content you want to report. Instagram's terms of service are created to provide users with a flawless and positive experience, but if the content contains any references to harassment or bullying, users can report it, and the app will be notified and erase it.
FAQs About to Unmute Someone On Instagram
Q1. Are people notified when you mute or unmute them on Insta?
Ans. Not at all. Unless you post something while you are sitting next to a person, you probably will not know that he mutes you. So you may ask him what his thoughts are about my latest story to decide whether they are paying attention or not. However, Instagram didn't notify the person. So it lets you mute or unmutes any person at any time.
Q2. Is it possible to hide an insta story from someone without unfollowing them?
Ans. Yes, you can hide your story from others; if you want to do a little reverse-mute, you can apply the following steps.
Before creating a story, go to your profile, tap on your profile, and click on the triple horizontal lines in the top-right corner of the screen.
Now, click on settings, then choose "Story."
Next, add the people you don't wish to see your story.
Post or tell your story as usual. The hidden users will not be aware of the post you published.
Q3. How to unmute IG story?
Ans. To unmute an IG story on Instagram, hold the story you wish to unmute, and click on "unmute story." another way is by opening their profile >Following>Mute > toggle off stories.
Conclusion
Muting someone on Instagram is the best way to avoid seeing the stories of someone you don't like but still have to be friends with. So, unmuting is a great way to avoid them; you can simply mute their posts and stories, and their content will not appear on your screen. But if you want to get updates from them again, you can simply unmute them by following the above guide. Unmuting will get their stories back on track; you can simply watch it. Hopefully, the above guide is beneficial for you.