If you are searching for specific ways to learn how to win at fortnite, this guide will walk you through some of the fundamental strategies you will need to improve faster. So you finally broke down and started playing one of the most popular games in the world, fortnite battle royale. Congrats! Now let's find a way to get the first victory royale.
You should know that playing alone at fortnite against a team of four opponents may be one of the hardest things to do at Fortnite. Still, when it comes to less unusual scenarios, it essentially makes you a better overall player. There are many perks you can do to deal with multiple players at the same time to win the fortnite game.
After all, to win consistently on fortnite, you need to be good at building structures. The winner stacks on top of his opponent to secure height and get headshots that do more damage. To be good at building, even if you need to lose a lot of games in a row, you only need to practice to develop muscle memory for arranging walls and ramps.
But what if you are not good at building and want to win now? It is difficult but not impossible. Here are advanced tips for new players trying to win the first victory royale without building too much.
What is Fortnite – How to Win at Fortnite:
Fortnite is a third-person shooter survival game where players need to survive against up to 99 other players. The total number of players in each battle royale is 100 to play to win at fortnite. Players can build fortresses by collecting metal, bricks, and wood materials and collecting weapons before fighting other players. There is also a Fortnite: Save the World mode in the main game. It can also be used as another game.  Battle Royale is free, but Save the World is a paid game. The game can be played on Nintendo Switch, Windows, PS4, PS5, and Xbox and until 2020 on iOS and Android.
Fortnite battle royale has cosmetics to complete the battle pass, such as skin/items that don't give the player an advantage in the game, such as picks, dances, and skins. Cosmetic items can be purchased using the in-game currency VBucks. You can also earn it by completing the "Battle Pass" challenge that can be achieved by playing the game.
Turn on Visual Sound Effect – Start to Win at Fortnite:
Before jumping into the match, go to Fortnite's Settings and then to the Audio section. The options for visualizing sound effects are: When turned on, many sounds such as enemy footsteps and chest are visually notified. This is a great advantage because it clearly indicates where your enemies are always nearby. It's also helpful to know where the chest is, as rugged equipment can lead to victory.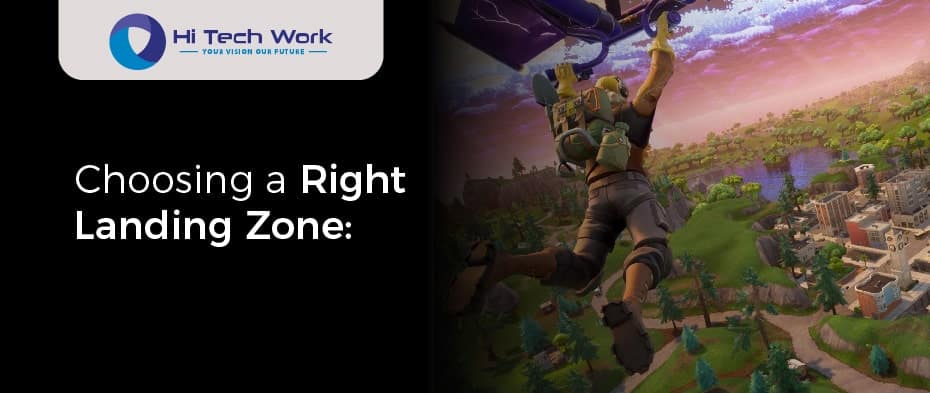 Choosing a Right Landing Zone:
Learn more about all the main game mode tips for a battle royale. But first, let's talk about how to start the game to win fortnite. The landing zone you choose at the start of the game determines all other flows. If you make the wrong choice, it can mean a quick death. Only the most confident and experienced shooters can go to the hottest named zones like the Colosseum Coliseum. These places are murder festivals waiting to happen if you are not ready.
Instead, you should select an unnamed house and an area on the map, usually near a named location. Examples are the southeastern hub of the slurpy swamp and the north section of the retail row. Loot is guaranteed, although the number of players is small in these areas.
You can also select key locations on the less popular map. This varies from season to season, but the edge ones like Steamy Stacks and Coral Castle are a solid choice.
Fortnite news is worth keeping up to date. Is there a new place? Has there been a significant change to the location that previously existed? Keep away from such places. For example, in Chapter 2, Season 5, the centre of the map turns into a completely large desert with a crater in the centre. It certainly attracts armed tourists.
How to Win Fortnite Solo:
The solo mode is the ultimate battle royale that will test your skills! Here, 100 players fight each other to win fortnite and survive each other until only one player remains. You are alone in solo mode, no one is holding you back, and everyone is ready to take you out. Your survival is entirely in your hands!
Tips for Winning Fortnite Solo:
Maintain a balanced loadout: Don't fill inventory with the same items. There are at least 3 slots of weapons and 2 slots for recovery items. The last slot can be filled with either throwable items or other recovery items.
Keep a weapon for each range: Don't be penalized for having only a limited number of weapons. Prioritize versatile weapons that are effective in all areas or weapons that work well with a combination of weapons.
Always keep recovery supplies on hand: Recovery items are important for recovering during and after combat! Have a healing and shield potion or a slap juice for quick and easy healing and shielding!
Learning to Survive Alone in Solo Fortnite – To Win Fortnite Solo:
Make survival a top priority: Remember that survival at Fortnite is paramount! Always ask yourself if it is worth the risk to survive before chasing your loot or enemies.
Choose your fight: Participate in battle only if you need it or if you are confident that you will win. Participating in unnecessary battles is an easy way to lose at Fortnite.
Learn to back down to win fortnite: Do you feel like you are losing the battle? Runaway. There is nothing wrong with withdrawing from the fight.
Understand where to land: Try to stick to areas where there are few players to land. Entering a shootout immediately after landing is dangerous and can easily end the game prematurely.
Maneuver your Glider to Safety: Scan your surroundings before landing. Once you find the player landing at the location of your choice, maneuver with your glider to find a less dangerous location.
Keep a close eye on the storm: Storm is as big an enemy as any other player. Always make sure you have enough time to get to the Eye of the Storm!
To take advantage of the storm: Move along the edge of the storm in the middle of the game to keep the enemy's attention. In the endgame, you can easily kill the enemy by blocking the path of the enemy to escape from the storm with a structure.
Vehicles are only used as a last resort: This shiny ATK may be attractive, but you shouldn't use it unless you're desperate. The use of vehicles can give you a lot of attention and reveal your location to the enemy.
Fight Your Way To The Top to Win Fortnite:
Be optimistic: Do you see two fighting or leave them alone until only one survives. Ambush them as soon as they are on the alert! Despicable, yes, but you are more likely to beat the injured enemy.
Learn to use traps: The trap is an easy way to get rid of enemies, even if they are not as noticeable as weapons. Are there any enemies chasing you? Enter the building, build a trap on you and watch your enemies stab you!
Build to your advantage: Build the fortress and build the cover! Buildings can easily save your life against enemy attacks and give you offensive and defensive benefits! You can also reach a height with structures.
How to flee enemies: If you feel you are losing the battle, use jump pads and bouncers to get out of difficult situations. You can also escape high points without being damaged by the structure.
The final stretch: To Win fortnite Solo:
It helps build a solid tower for yourself so you can track the rest of the players when you are in the last ten. However, you need to understand it correctly. That means laying a solid foundation so that you don't die right away. To do this, build a wall around it, make a ramp, add more walls, make a ramp, and repeat.
Set up some traps near Fort to give you an edge over the unprotected assassins. This trap gives you the peace of mind to take the player out and focus on keeping the throne in the center of the circle. You will need at least a sniper rifle, shotgun, and rocket launcher to reach this point in the fortnite game.
Once inside the fortress, you'll want to go through the sniper rifle and defeat unprotected enemies, then use the rocket launcher to conquer other fortresses.
The shotgun will be your best friend in recent close-range duels or when someone could sneak up on you for some reason. However, make sure you are armed with the right weapon for all situations. It's not uncommon to have SMGs, shotguns, and assault rifles in the arsenal at the end of the game. Snipers are good, but they are difficult to use and require a lot of practice to learn and to win the fortnite solo.
How to win by being sneaky on the location:
It is okay to sneak up or camp in a place. If you are a gamer who likes this style, be careful. When I move to the next circle, I want to stay on the edge of the current area. Unlike aggressive players, we want to stay as far away from the action as possible until the end.
It means going to a vacant place, collecting loot, and waiting for the final duel at the end of the game. If you hear a gunshot nearby, head in the opposite direction or find a good bush to see what happens. One of the biggest misconceptions players have about Fortnite is to attack every player they see. Survival, not kill count, brings victory.
Don't Drop Down Too Soon: No Need to Hurry to Win Fortnite:
If you see other battles and are waiting for the shore to move, it is a good idea to hide in the shade. As the game nears the end, many players may be in a hurry or run out of stock and misplace their valuable weapons. Please use it. This weapon also applies to drops. Keep away from the drop first. Instead, wait nearby and take a look. If no one appears after a while, do it.
This style makes you want to use the building primarily for defense rather than attack. Do not erect a wall unless you have seen it or know you are using Port-a-fort. To do this, it will take some time to hit all the trees and rocks that pass through during the game. This may seem strange, but all the materials will be summed up if you constantly encounter all the objects as you pass by. There is no need to destroy trees and rocks, and this can quickly give you a position.
The Final Turn to Fortnite:
The endgame is the last 10 players remaining in the lobby. The total number of players will soon drop to that number. If you follow the given steps, you should be in the top 10 quite often. However, closing is another story.
Since the circle has become so small, there are no hiding places, and it has become difficult to hide it. Bushes are always an option, and building small forts can also help. But construction reveals your location, so get ready to win the fight.
You have to wait until you are in the top three. If you can reach this point, you have a chance to win fortnite. Please wait for the two opponents to launch an attack on each other and learn about their location. Endgame battles are fierce and can be lengthy, so be patient. Once one of them is eliminated, it will attack the survivors. You should be in poor health and not ready for the next battle soon. With the right time and luck, you may have learned how to earn Fortnite.
It's not always About the Win Fortnite:
Winning a Fortnite round is one of the most rewarding emotions in video games. However, you shouldn't just focus on dub protection. Sure, winning is great, but Fortnite offers more than a flashy win screen.
Learn to enjoy every round you play. Go fishing offshore and let the storm destroy your health and keep you catching up with these fish. Drive the island with your friends or take Ferrari out of the sick jump. Discover new places like never before. Fortnite has a lot to offer, and learning how to win is just one aspect of the game.
How to Win Fortnite Duos:
The secret to a successful Fortnite Duos game is that you need to communicate with your teammates, stick to each other (but not too close), fight other Duo teams, and adjust your play style accordingly. Don't forget.
Acquiring Fortnite as a team is easier to manage than winning alone, as long as you work together. Breaking up for a long time or experiencing a drama will never end well. One of the best ways is to let someone act as a distraction and others act as a clutch shooter. This is a great strategy as you approach the end of the competition, especially if your opponent has no way of knowing how many people are left on the team.
The distraction player faces the enemy and draws attention, waiting for the perfect moment when the main fighter sneaks around and attacks behind or from the side. This is a very useful way to win fortnite victory royale when one team is playing against another. But if your team is better than anyone else, it's perfectly fine to unleash your full power with a full-blown attack and claim Fortnite's victory.
You don't have to use this exact expression explicitly, but the goal is to say enough with as few words as possible. It's also helpful to warn your teammates when your opponent is weak. "You are weak" is a solid sentence in this situation. It would help if you communicated productively and quickly, even a second before, as your team can beat your opponents and win fortnite duos.