Apple did a great job by launching its Airpods which stay in your ear during any activity like workout or working at home, but it does not mean that they cannot be damaged or lost anywhere. Whether you lost both Airpods or anyone because of accidental damage or missing somewhere, you may repair or replace the Airpod even when one earbud is not working like the left earbud or forget to put it somewhere. So carry out the way for the left Airpod replacement.
There are multiple reasons to make the replacement of Airpods. Maybe your Airpod is not working due to a sound issue or physical damage,or the charging case is causing a problem. Apple provides their services for repairing and replacing, but you have to pay them like headphones by AppleCare+, but in certain conditions and with the latest pro models, they don't charge a fee for Airpods Pro, which is quite good. Apple offers many services to get their customers ease.
In this article, you will know the ways of replacements or Airpods through Apple and the fee details of the battery service charges, other models of Airpods as well in the following section. Additionally, describe the conditions applied to the Apple warranty regarding its products in the next section.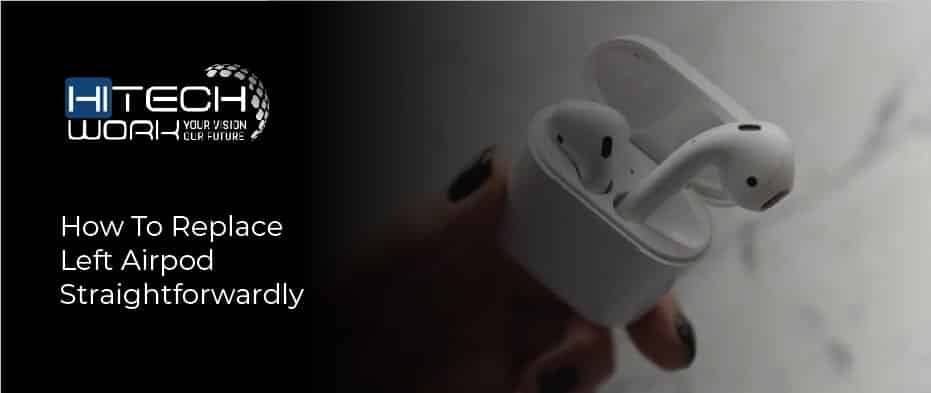 How To Replace Left Airpod Straight forwardly?
You have several options to replace your Airpod. Firstly bring your Airpod to the Apple store or an Authorized Service Provider f Apple. Secondly, you will need a serial number which you may find on your charging case, along with the originals sales receipt of the original AirPods box.
Another option is mailing; visit the Customer Support Office if you want to mail instead. You can also contact Apple by calling still needs to locate the serial number. But it will take a week to repair or replace Airpod or charging case.
Ways To Order The Replacement of Left Airpod
Make sure to sign with an Apple account on their website and navigate to the support page.
On the new screen, choose the tab of Lost or Missing Airpods for the additional menu.
The next step is to select the tab of replacing lost Airpods, then choose to replace one or both Airpod.
Here are your options to place an order for Replacement with other possibilities like having a chat with an advisor to order. It would be better to order your Airpod through an advisor as sometimes replacing Airpod is not available. Apple also favors their customer to Call Apple Support Later or give instructions on placing Airpod from an Apple store.
Replacement of Apple Airpods Pro (Without Any Charges)
Apple offers a free service for specific Airpods Pro models on occurring defects. But these offers applied to the manufactured before October 2020.To gain this service from Apple, contact its customer support policy. Then it determines whether the Airpod is affected or not. If it does, the company restores the Airpod after checking and replacing it. Otherwise, it does not change the Airpod. This policy is applicable for Airpods Pro buds, not for the case for two years after purchase. Some of the defects include;
Static or crackling sounds emerge to transmit to the Active Noise Cancellation or even poorer while talking on the phone or exercising.
Active Noise Cancellation leads to more audio issues instead of blocking it and lost bass sounds while increasing environmental noise.
Replacement of the lost Left Airpod (Charges Required)
If you lose your AirPods or your charging case, you can replace it with a new one. It costs $89 to replace Airpods Pro, $69 to replace Airpods, $79 to replace a wireless charging case, and $99 to replace the charging case. You may also find my app to locate Airpods before applying for a request or Replacement. But unfortunately, Apple Care+ does not support headphones even if it is stolen or lost.
iOS Products Tips – Airpods Pro and Battery Service of Airpod
Apple provides free service for Airpods by Apple Limited warranty, but it does not cover the free battery service. You have to pay a fee for Apple warranty Battery Service. But this rule is not applicable for the battery whose capacity is less than 80% of its original capacity by AppleCare+. For these services, Apple charges additional fees.The battery service fee of AirPods Max is $ 79, $49 for each AirPod or Airpods Pro, and $49 for the charging case.Apple will replace the ear tips of Airpods Pro with no additional charges under the limited warranty. But if you want extra ear tips, you can easily buy them through the online Apple store.
iOS Defect Conditions Apply on Airpod Warranty
There might be a chance that you don't have to pay for the service of Airpod. It depends on the problem you are facing regarding Airpods or charging case; as long as the problem occurs in Airpods under one year warranty of Apple, AppleCare+, or consumer law. You have to pay to get your Airpods serviced if one of the three below conditions is not applied:
The first condition refers to Apple's one-year warranty, which includes the manufacturing defect of Apple accessories like Airpods. Not consists of the damage that occurs by chance or unauthorized modifications.
The second condition refers to AppleCare+ for headphones which extend its limit of warranty to two years. It covers two incidents to recover accidental damage within 12 months every year, which charges $ 29 per incident with applicable tax.
The final condition for replacing is the country or region your Apple product has purchased. Your product may restore through consumer protection laws.
Apple provides you after service guarantee whether your product is under warranty or not. Apple guarantees services for their products for 90 days until the warrant ends.
Conclusion
Thanks to Apple, which launches Airpods, one of the well convenient gadgets. Hopefully, the above details regarding the Replacement of the left Airpod are pretty helpful for you. You may quickly go through the above instructions to get the service. So share your views about the article in the comment box; that much it is helpful.