While everyone's busy screen sharing their PowerPoint on their Zoom, you should be the one smart enough to cut the crap, I'm talking about Miro Board.
Coming in 2011, Miro had a start with a vision as a work-from-home commodity, but it turns out what the founders expected in 2022 came in 2020 because of Covid. This app just took right off and for all the right reasons. Miro is now worth $17.5 billion and has almost all the Fortune 500 companies as their clients.
But we're here to learn the tips on using Miro more productively and not for the history lesson.
I'm gonna assume you know very little of Miro board or Miro App and I'll start with the basics, if you already use Miro board or Miro App, you can just jump right to the section which interests you.
Detailed Miro Board Features
You won't be able to use the Miro board on the browser or Miro App without signing up. You'd need that as a profile so you can save your work and for others to recognize you. With that off the table, let's walk into the site or app.
The website has a similar interface as a Google service, like word, excel, etc. This makes it make more sense for us users to use and navigate through different features. If you have already signed up, you would've seen a beginner interface with all the choices of templates and tutorials on how to use the Miro board effectively. But it doesn't say everything that you can do on Miro.
Let's start with the template choices and we'll work our way in following that.
Templates in Miro Board
Miro has a wide range of templates for the users to choose from and for each template, there is a whole interactive gallery with enough space to spread things out and have discussions or plans laid out.
The templates are categorized into six fields, made easy for you to pick your preference or the type of meeting you're about to have. The charts for each category are precisely and thoughtfully listed to suit any kind of need…and if you have your way – you can make your own, just in a sec.
The categories are:
Meetings and Workshops
Brainstorming and Ideation
Agile Workflows
Mapping and Diagramming
Research and Design
Strategy and Planning
Custom Templates
Another section on top shows:
All Templates
Recent
Popular
Miroverse
Building Blocks
The Dashboard of Miro
As I mentioned earlier, for the sake of convenience, the dashboard of the Miro board looks the same as of the Google products like Sheets, Docs, etc. This makes your work faster and intuitive. Let's see what options you have on your dashboard to boost your productivity.
On your left panel, you can see on the top left first thing "your company name" which you name at the beginning of your project or when signing up. Below that, you can see your "All Boards" and below you have your "Starred Boards" – which I almost forgot to tell you that you could do too. Nice, let's move on.
There you have all the templates just as a Google docs layout. You can also add members with an option above by entering their email addresses. There are notifications to keep track of and a profile where you'll explore more, later on.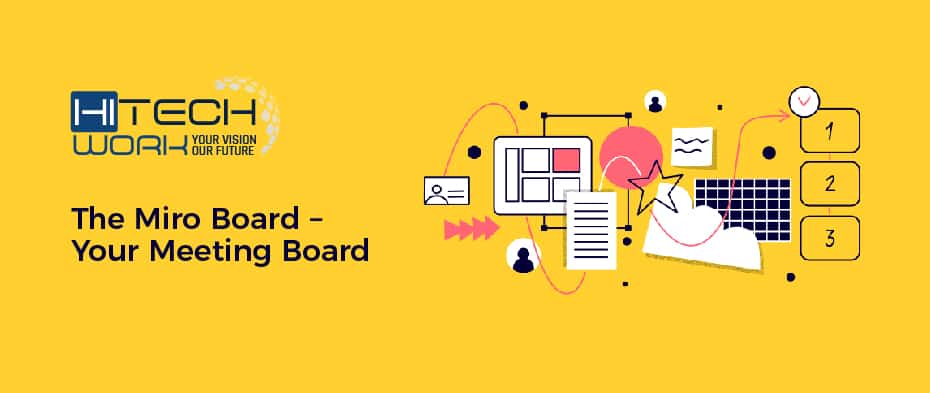 The Miro Board – Your Meeting Board
The Miro Board is where you'll be doing your meeting aka – your chosen template. This is where all the fun is – and many details are but we'll not go into the obvious ones, but I'll still list them down below so you have the idea what it's all about.
On the left little tab with icons in it, let's see what we have in it.
Select Cursor

This is only to switch back to – if you switched to another tool to use.

Templates

You can still add templates while you are on your board to broaden the range of the activities that you can perform.

Text

No, nothing complicated – just a normal text tool.

Sticky Notes

Do you know the cute little sticky notes? There you can have them in different colors added all over the place where you want to remember… you know what to with them.

Shapes
Connecting Arrows
Pen – different types
Comments
Frame
Upload
Three Dots (…)

There's a whole bunch of ad-on you can attach and tools that would be further productive.
There are now features that require you to upgrade and they've done a quiet job making it all almost free and especially not a clickbait that gets you the app downloaded or website signed, just to ask you to pay for almost everything. Let's see the features on the bottom bar now.
Unpaid Features:
Board History

What everyone did at every step is listed here and you can track back the progress of where you started and you are, also can be a map when you come back later.

Screen-Sharing

If you have some function on your PC that you'd like to share, this is your option.

Cards

Everything to get your reminder from the cards that you set up on board.

Chat

If you're not already on the call you can chat through this feature.

Comments

Make comments on different parts of your board and then have all of them in one place.

Presentation Mode

The presentation mode will hide everything and just show you the board.

Frames

You can use this for quick navigation and also for a strategical showcase of your board.
Paid Features:
Voting

Once you have this feature you can have your team on board to vote on, maybe, a plan.

Video Chat

The video chat will help you eliminate any other app's usage, so only one app is required.

Timer

The times can also be a useful tool if you are on a tight schedule in a corporate to work on multiple projects, especially if you are managing multiple teams.
Notes on Your Board
Yes, there's enough space to write on your board already and this is exactly why you need notes or your board is just gonna be a really big clutter. With the "Notes" option on the top right corner of your screen, you can add multiple types of notes in it, here's the list of them.
To-do List
Meeting Agenda
Project Summary
Workshop Notes
Board Annotations
How to Have Miro Board on SpatialChat
You can use the Miro Board in your SpatialChat team meeting. Since video calling is not free in Miro Board, you can use your SpatialChat and your Miro Board in a single call. The process to do it is pretty simple and all you need to do is make a Miro Board account and make a SpatialChat video call, then go on your Miro Board and follow the steps below.
Open your Miro Board that you want to open in your call.
Copy the URL of the Miro Board.
Open your SpatialChat and make a call.
Left Click on your mouse on the screen.
Click the "Add Whiteboard" option when you see it.
Paste the link you just copied in the box.
Done! You'll have your Miro Board in your SpatialChat.
How to Export Your Miro Board as a PDF, Excel, Image, Template, etc.
You can also export what you have just decided with your team. Either you want to save the records of what you talked about or you're a student who wants to save the teacher's lecture. Whatever the purpose is, this option can be very handy for you.
You can click on the "Up Arrow" and you'll have a bunch of options you can use to export your board. Either export and share it as an image, a PDF, a template to come back to later, a spreadsheet, etc. Whatever you have in mind, they got all the options precisely for every purpose.