PowerPoint, without a doubt, is an incredible software owned by Microsoft. It was designed purely to create presentations and present complex thoughts in an easily understandable way. Whether you are a working professional or a student, PowerPoint is equally useful for you. This program is commonly used in both educational and corporate sectors.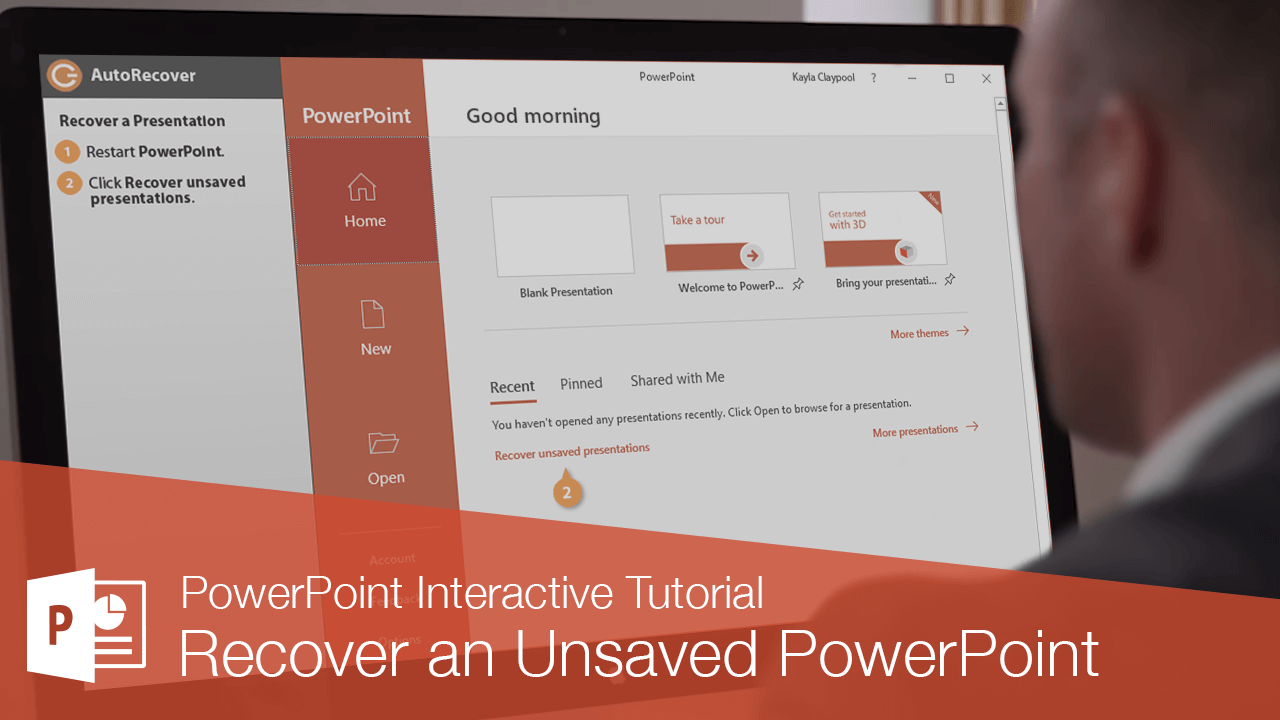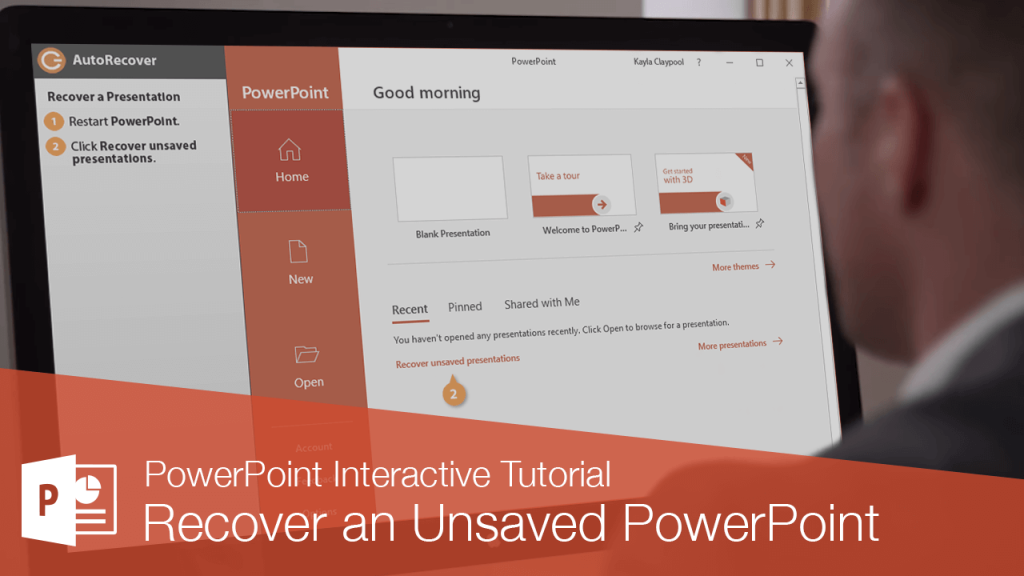 When making PPT presentations, you must be careful about saving the file at regular intervals to avoid data loss scenarios. Imagine you are making a presentation, and your system shuts down all of a sudden while your file is not saved. This becomes a scary situation indeed. But nowadays, you can recover unsaved PPT files in a variety of ways. This guide presents multiple methods to perform a reliable PPT recovery.
Part 1. How to Recover PowerPoint Files Not Saved with Data Recovery Software?
Restoring an unsaved PowerPoint file often becomes a challenging task for many people. But Wondershare Recoverit makes it a super simple job. This application is launched by Wondershare not only to help you get unsaved PPT files back but also recover any type of data, including photos, emails, documents, and videos. And no matter it is to recover deleted files from sd card, or perform USB recovery, hard drive recovery, etc., it all works with Wondershare Recoverit. Let's go through the steps required to restore your unsaved presentation.
Step 1: Download, install, and open Recoverit. Go to the left bar and select "Hard Drives and Locations."
Step 2: Now, choose the disk where you created the PowerPoint presentation or where the PPT files were stored.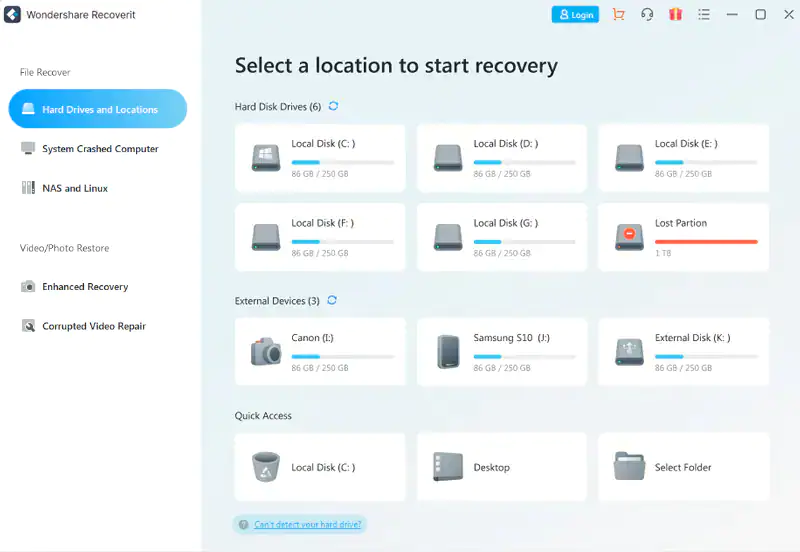 Step 3: Once you select the desired hard disk, an auto scan will be initiated by Wondershare Recoverit. This process will start searching for the PPT presentation you want to restore. If you want to monitor the progress of this process, look at the bottom of the window.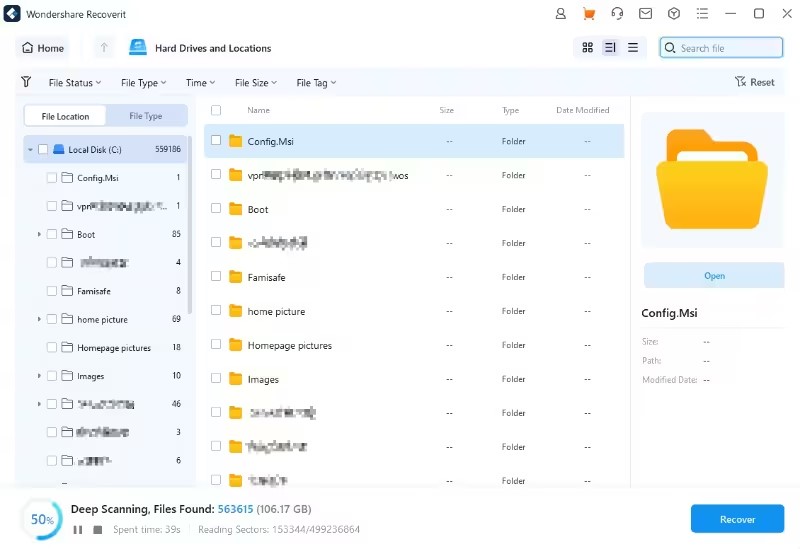 Note: If you want to stop the scanning process before it finishes because you think you have found the right PPT file, you can stop it.
Step 4: Now preview the PowerPoint file as soon as the scanning is completed. This feature is incorporated for you to verify if you are going to recover the correct PPT presentation.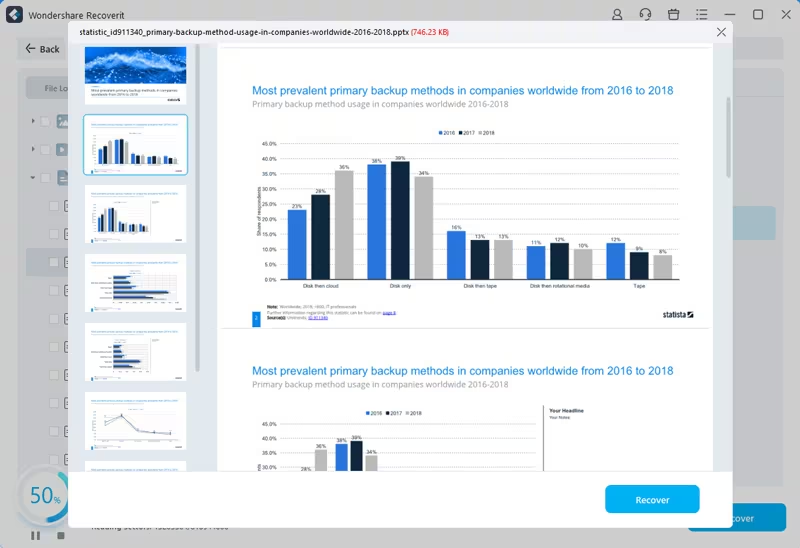 Step 5: It is time to recover and save the PowerPoint file if the version you have previewed in the above step is good to go. For this, tap on the "Recover" button and choose a particular directory to save the presentation on your PC.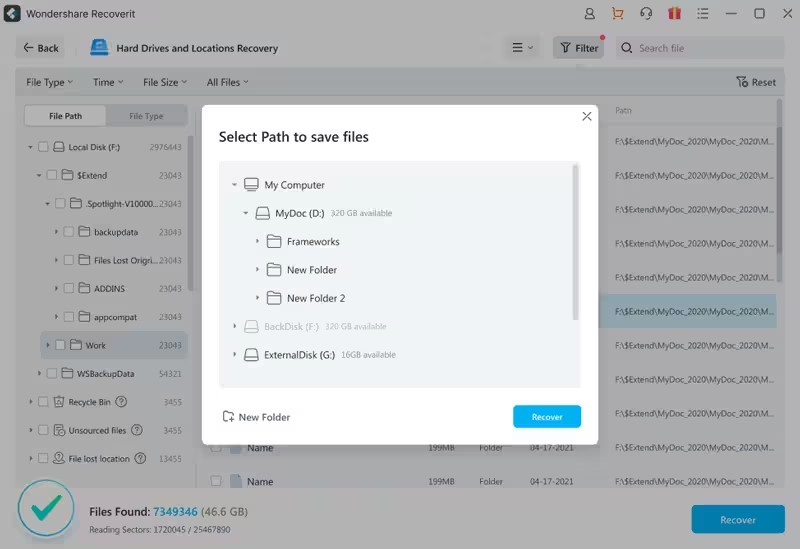 Why Should You Try Recoverit Data Recovery?
Wondershare Recoverit features the highest data recovery rate in the industry (95%). It means that the chances for your unsaved PowerPoint file recovery are over 95%. This is something that attracts millions of people to give this tool a try.
If you need to recover one file only, you can try its free version. If the free trial satisfies you, move toward purchasing the premium plan that comes with a secure file recovery, free tech support, and a satisfaction guarantee for up to 7 days.
Let's now look at the alternatives to this method.
Part 2. Alternate Methods to Recover Unsaved PPT Files
Are you still looking for how to recover PowerPoint files not saved? If yes, below are a few alternate methods you can try. These approaches will not ask you to download any application on your system.
Method 1: Use the "Auto Recover" Feature
This feature only works if you have enabled it before creating presentations. So, you need to check first whether or not it was enabled in your PowerPoint program. Suppose you didn't enable the Auto Recover feature, so we will first look into how you can turn it on.
Step 1: Open a PowerPoint file.
Step 2: Go to the "File" tab from the top menu bar.
Step 3: Now, tap on the "Save" option and check both boxes saying "Save AutoRecover information every __ minutes" and "Keep the last autosaved version if I close without saving," as shown below.

If this feature is already enabled in the PowerPoint software you use, follow the below steps to recover unsaved PowerPoint presentations within a minute or two.
Step 1: Under the "Save presentations" and next to "AutoRecover file location," copy the given path, as shown below.

Step 2: Now, open File Explorer, go to the search bar, and paste the address here that you have copied in the above step. It will enable you to find the PPT presentation that you didn't save before the PowerPoint was closed.

Important Note: There is nothing better than developing a habit of saving your PowerPoint file after every few minutes when creating your presentations. You can do this easily by using the shortcut key, "CTRL + S."
Method 2: Use the "Recover Unsaved Presentations" Function of PowerPoint
This is another leading, built-in PowerPoint feature introduced to recover presentations that were not saved before the software closed. If you are looking for the quickest and most effective method to recover unsaved PPT presentations, there is nothing better than using the "Recover Unsaved Presentations" feature. Let's look at how it works to perform a quick PPT recovery.
Step 1: Launch PowerPoint software on your computer.
Step 2: Go to the "File" menu and tap on the "Open" option from the list.
Step 3: Now, select "Recent."
Step 4: It is time to hit the "Recover Unsaved Presentations" option.
If you are unable to recover unsaved Powerpoint presentations using this method on Windows or Mac, you can copy the below paths and paste them into the search bar of File Explorer, as discussed and shown in Method 1.
For Mac:
"Users/[User]/Library/Containers/com.Microsoft.Powerpoint/Data/Library/Preferences/AutoRecovery"
For Windows: "C:\Users\[User]\AppData\Roaming\Microsoft\PowerPoint"
Part 3. How to Keep Your PPT Files Away from Data Loss in the Future?
Now you are well familiar with how to recover unsaved PPT presentations. It is time to learn how you can save these files from losing again in the near future. We have listed a few valuable tips below to help you keep your PowerPoint files away from future loss.
Create Multiple Backups: Make it your prior habit. Always keep a copy of your PPT presentations in multiple locations. It will help you avoid facing PPT loss issues.
Avoid Overwriting: If your PowerPoint presentation is lost due to any reason, don't store further data on your hard drive. Otherwise, you will not be able to restore the lost file because the data will be overwritten.
Perform Immediate Data Recovery: If you have just lost a PowerPoint file, perform an instant PPT recovery before it is too late. The more time you take to recover unsaved PPT, the chances for a successful recovery may reduce.
Use the Most Reliable Recovery Approach: The use of the most trusted data recovery software or service will surely increase the chances of precise recovery and getting your lost files back.
Ending Note
Microsoft PowerPoint is a wonderful tool designed to make appealing presentations when it comes to presenting complex ideas in an easy way. At the same time, losing your PPT file becomes a headache. One of the leading reasons behind losing a PowerPoint presentation is when we forget to save it.
Are you exploring resources to learn how to recover unsaved PowerPoint files? The discussion above has listed three efficient ways to recover unsaved PPT presentations, out of which using the Recoverit Data Recovery tool is the most reliable and highly recommended approach. It is available for both Mac and Windows and offers the highest recovery rate. You have the option to use the free trial before you buy it.