Many players are wondering whether they can obtain Raiden Shogun before the version ends, with the announcement of the rerun in PrimogemsGenshin Impact 2.5. Ultimately, this will come down to luck, but those who wish to budget their spending (or are simply curious) can calculate the total number of Primogems they can get.
The management of Primogems has always been critical for Genshin Impact players, as saving the currency can make or break their chances of winning their favorite character. In this case, the calculation method is as follows:
Where can I get Primogems in Genshin Impact?
You need as many Primogems as possible for two reasons. They are used to refill Original Resin and to purchase Fates and Wishes. Stardust and Starglitter can be used to buy Fates, but they aren't as plentiful as Primogems seem to be in the game.
Getting your hands on Primogems can be accomplished in three different ways:
Exploration of the world
You'll come across a variety of chests as you explore the world. Teyvat chests typically contain low-level food resources similar to loot. In higher-level chests, however, you may find a few Primogems ripe for the taking.
Another way to get more Primogems is to discover Waypoints. There are very few Primogems to be had by opening these fast travel portals, but a few are better than nothing.
Seize the Day Login Bonuses
Some game developers like to throw in Seize the Day daily login benefits that reward players with – you guessed it! – Primogems. The benefit is not a permanent thing, but it happens often enough that you should check the Events page every time you log in so that you don't miss out.
Completing Missions
Although Daily Commissions may take a lot of time out of your sessions, it's a good idea to complete them if you're seeking Primogems. The missions, along with world quests and side quests, offer great rewards, including Primogems.
By checking the Journal, you can see whether Primogem rewards will be awarded for completing a certain mission. Under each mission description, the possible rewards are listed.
In addition, leveling up your Adventure Rank and completing investigations can earn you a few Primogems per chapter you complete. As you open a chest or find a new enemy, you earn experience points as well as ticking off one of the challenges in the Adventurer Handbook.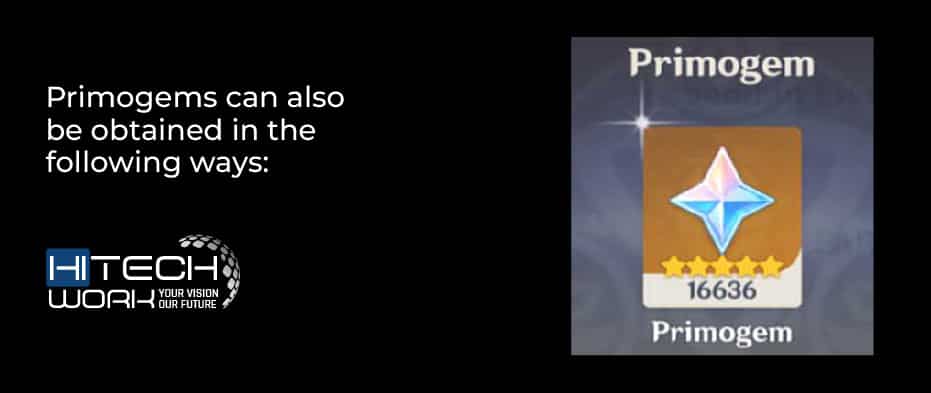 Primogems can also be obtained in the following ways:
If a server issue arises or a special event occurs, rewards are emailed.
Trading them for Stardust or Starglitter in Paimon's Bargains
by redeeming valid Genshin Impact codes
Besides buying currency packs that include Primogems like the Blessing of the Welkin Moon, you can also add to your Primogem stores if you have the money to spare. There are 2,700 Primogems included in this $4.99 bundle, but they are distributed over 30 days rather than all at once. The first time you purchase this blessing, you receive 300 Primogems, and you can purchase it up to six times, for 180 days of bonus. You'd receive 90 Primogems every time you logged in, for a total of 2,700.
If you want to purchase Primogems without having to log in every day, then you're in luck. It is possible to buy Genesis crystals and exchange them for Primogems. One Genesis Crystal is worth one Primogem; it's a 1:1 trade.
A list of Genesis Crystals' current prices is provided below.
60 Genesis Crystals for $0.99
300 Genesis Crystals for $4.99
980 Genesis Crystals for $14.99
1980 Genesis Crystals for $29.99
3280 Genesis Crystals for $49.99
6480 Genesis Crystals for $99.99
Genshin Impact: How can I get Primogems for free?
The Daily Check-in rewards are also available on the website. Checking in daily with your miHoYo account rewards you with different rewards. Furthermore, the players are entitled to 60 Primogems every month. Besides Primogems, the site also offers Fowl, Mora, and Adverture's Experience, among others.
MiHoYo gives Primogems every six weeks, every time an update is released, during the live stream event Genshin Impact. In every version, you will receive 300 Primogems for free and 60 Primogems (as compensation) for every additional hour of server maintenance. To redeem free Primogem codes in Genshin Impact, you must be at Adventure Rank 10.
There are times when the game grants you a limited-time log-in event called the Genshin Impact Login event. The only thing you need to do is log in every day for seven days to earn a lot of free Primogems. This, however, is a rare occurrence, and it shouldn't be taken for granted.
You can test the new character by going to the 'Test Run' tab under the 'Events Overview' section and earning 20 free Primogems. You might be able to win more than 20 Primogems if there are several characters.
Genshin Impact Codes: How to redeem
If you are new to the game and don't know how to redeem Genshin codes, we have listed below the steps you can take to earn free rewards:
To be eligible for redeeming codes, you must reach Adventure Rank 10.
Select a code from the above list and visit the official Genshin Impact Code Redemption website.
Sign in and fill out your details, including the Server, Character, and Game ID.
Next, enter your Nickname and Redemption Code, and click the Redeem button.
You will now find your free reward in your in-game mail.
FAQs
When you play Genshin Impact, how do you get Primogems the fastest?
Players will receive 5 Primogems each for discovering waypoints, dungeons, and domains. Players will receive 5-20 Primogems for completing in-game achievements. Additional Primogems can be found in chests. They can also be obtained through quests.
What is the best way to get 1000 Primogems a day?
Events. Primogems are easily the most common reward in patch 2.5. It is possible that over 1000 Primogems will be given away in the Three Realms Gateway Offering event. Furthermore, three events named Divine Ingenuity, Of Drink A-Dreaming, and HyakuninIkki will each award at least 420 Primogems each.
What is the impact of my pity Genshin?
You can track your pity by clicking the History button on the Wish page. Count how many times you have pulled a 5-star character since the last time.
How does soft pity Genshin work?
Likewise, in Genshin Impact, the soft pity system ensures a 5-star item slightly before the actual pity count is tallied. The soft pity system allows players to obtain the 5-star character at around 75 wishes if the banner pity count is 90. The 75-ish count is known as the soft pity.
What is Paimon's gender?
Simon is a female NPC in Genshin Impact who follows you around and will serve as your guide on the continent of Teyvat. You save her from a lake that she was about to drown in at the beginning of the story.