How to enable and configure push to talk in discord? Communication is facilitated using Discord, a VoIP, instant messaging, and digital distribution platform. Messages between members can be sent through each community's "server." Servers provide text channels as well as voice channels. Videos, images, internet links, and music can be shared between members. Setting up a server is free, as is joining another one.
The majority of Discord's most popular servers are in the gaming industry. Nevertheless, the app brings together friend groups and like-minded people globally through public and private communication channels.
What Is Push To Talk? 
In PTT, you can communicate simply by pressing a button. It is a radio-type service offering two-way communication. The technology is used to transmit voice over various kinds of networks and devices. Cell phones and walkie-talkies are traditional devices that support PTT.
PTT communications have recently evolved from only being used in radios and cell phones to smartphones and desktops, creating functionality across multiple platforms. You can use PTT in Discord, and we'll explain how below.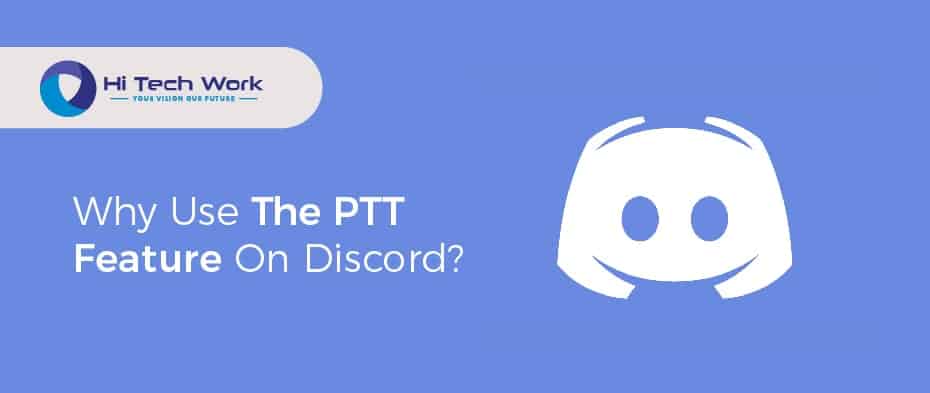 Why Use The PTT Feature On Discord?
Discord users can be overwhelmed by background noise and busy environments. A headset or computer microphone that picks up a lot of background noise can interfere with the team's communication.
Discord will mute your mic automatically until you hit the pre-defined key to speak with Push to talk enabled. PTT reduces background noise, allowing you to focus on your conversation rather than on background noise.
How to Enable Push to Talk in Discord
In a second guide, we will describe how to configure the whole thing after we enable the feature. Regardless of the Discord version, you are using, you need to make sure you are logged in. Now that you've got that going for you, here's what you need to do:
You can find your username in the bottom left corner of the screen. Please tap on the Settings icon next to it.
You'll need to go into Discord's settings and tap Voice & Video (Voice).
Make sure that Push to Talk is enabled by ticking the box.
How to Configure Push to Talk in Discord
Now you have successfully enabled Push to Talk. The feature will not be available immediately. It is necessary to set a key for the Push to talk feature in order to make it work. Here's what you need to do:
Scroll down to the Keybinds section in Settings. There are multiple shortcuts you can set for the same feature within Discord. This is helpful if you're playing various games that have different controls. Feel free to add any you like.
Note: Discord's Web version does not have a Keybinds tab. For the desktop version, click Settings > Voice & Video (in the App Settings) if the desktop version isn't available. Adding a shortcut can be done by clicking Edit Keyblind.
On the screen, it can be found in the top-right corner.
Ensure that Push to Talk is selected as the action. You can now hit the key you want to use to toggle Push to talk by clicking Record Keybind and pressing it. Once that is done, click Stop recording.
Back in Settings, click Voice (Voice & Video). You should notice a little slider called Push to talk directly under where you previously enabled Push to Talk Release Delay. Discord uses this slider to adjust the time it takes to cut off your voice signal after you release the Push to talk keybind. The lowest value is 20 ms, but I suggest you crank it up slightly so you don't interrupt yourself by mistake.
Enable PTT in Discord on Smartphone
Since 70% of my current audience is on mobile devices, I cannot ignore mobile Discord users. It is true that most of the Discord members I know use portable phones to communicate. Leaving mobile communicators behind and focusing solely on desktop-class consumers would be unfair. Allow me to show you how to enable Discord push to talk on Android, iOS, and other devices.
You can view more options by sliding left while in the application. I'm talking about user settings by tapping the gear icon at the bottom.
To find the settings for Voice & Video, scroll down and tap on it.
Click on Input Mode, and then on "Push to Talk."
Configuring Push to talk on an iOS device
PTT is not a popular option, so many registered users don't know how to configure. It's time to show iOS device owners how to set up Push-To-Talk on the iPhone and iPad.
Join any Discord server voice channel.
To begin, tap on the gear icon located in the top-right corner of the section.
Tap on "Input Mode" to change the mode.
From the options, select Push-To-Talk and confirm the change by tapping on it.
Double-check "Input Mode" for the Push-To-Talk option and tap "Close" to end the process.
Use Push-To-Talk to speak and communicate with the team members listed at the bottom of the section.
There is no need to apply Discord's settings universally. The settings can be adjusted according to your needs. Please remember, however, that in order to use this function, the screen backlight must be on. Only when you press the screen button will the voice be heard.
Conclusion
If you do a lot of online gaming, there's no reason why you shouldn't spare your friends from your background noises. Push to Talk is essential with all microphones, with an internal speaker/microphone combination, or with any other type of headset that doesn't noise-canceling. You'll need to discipline yourself a bit before you're able to keep pressing the Push to talk key while you speak, but do it for the team.
For a word of advice, I recommend getting a keybind close to the movement keys (WASD). This won't affect your gameplay at all. Please let us know if you're using Discord and have a more efficient setup in the comments below.