Required: Twitter App
—Musk's last remaining Android developers are likely to work on the long-shelved feature—
The social network is in turmoil, with a large part of its staff and contractors laid off after Elon Musk bought it for a record price. According to the latest Twitter for Android version, the remaining team is tasked with delivering new features fast. A key part of these efforts is the continued development of end-to-end encrypted chats, which Twitter began investigating in 2018.
The end-to-end encrypted chats feature was introduced in 2018, but things got increasingly quiet. It appeared that Twitter abandoned the feature. The new strings were discovered by app sleuth Jane Manchun Wong in the Twitter Android app in 2022, indicating that the company is working on the feature again. The new Twitter owner and CEO, Elon Musk, replied with a wink emoji to Wong's observation. As a result, the feature may manifest sooner rather than later.
Related: Top 7 Twitter Hashtag Research Tools
He had indicated that he would like to add end-to-end encryption to Twitter chats before acquiring the company.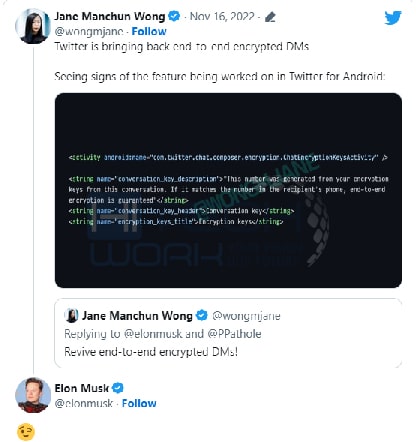 The platform could become as secure as WhatsApp and Signal if Twitter adds end-to-end encryption to its chats. By default, both messaging platforms offer end-to-end encryption, so only the conversation partners can decipher messages – not even the servers themselves. In contrast to Signal, WhatsApp collects and stores more information about when and who received a message.
Compared to end-to-end encrypted messages, the revamped Twitter Blue subscription Elon Musk plans have a deadline. It has been discontinued due to impersonations, spam, and scams arising on the platform after everyone willing to pay $8 was verified. It will relaunch on November 29.