Wondering what graphics card the PS5 has? There's always been a never-ending debate between PC and consoles about specs and performance. Since the launch of PS5, people have been curious to know how the PS5 GPU compares to the NVIDIA & AMD GPUs that are highly available. PS5 came out in 2020 and is the best gaming console at the moment, with a massive series of upgrades.
PS5 has the best graphic card to exist on a PS device and offers one of the higher resolutions. Due to its strong nature, the ps5 can target 4k gaming up to 120 FPS. But it wasn't the kind of GPU you suppose to have on a regular gaming PC. In this blog, I will let you know about PS5 specs, performance, GPU, and comparisons.
Overview of PS5 GPU
The PS5 comes with a GPU named Oberon and has 16GB memory, a memory clock of 1750 MHz, and a GPU clock of 2233 MHz. Hence, ps5 can run lots of games at 120 FPS, such as call of duty, destiny 2, borderlands 3, and Devil May Cry5. As 120 FPS is a great performance, and it's something that the average computer with an average GPU wouldn't do. Let's have a look at ps5 specs.
| | |
| --- | --- |
| Attribute | Specifications |
| Graphics Processor | Oberon |
| Memory | 16 GB |
| GPU Clock | 2233 MHz |
| Memory Clock | 1750 MHz |
| Cores | 2304 |
| Graphical Power (Real-World Usage) | 9.2 Teraflops |
| Architecture | RDNA 2.0 |
| Memory Type | GDDR6 |
| Memory Bandwidth | 448GB/s |
| Video | HDMI 2.1 (support for 4K 120 Hz TVs, 8K TVs, VRR) |
| Audio | Tempest 3D AudioTech |
| External Storage | USB hard drive support |
| Expandable Storage | NVMe SSD expansion bay |
| Internal Storage | custom 825 GB SSD, PCIe 4.0 |
| GPU | 36 compute units at a variable frequency up to 2.23 GHz (10.28 teraflops) |
This table demonstrates the PS5 GPU specification. Impressive, isn't it? Sony released the PS5 GPU allowing it to carry brand new ways to experience games while playing on a console.
What Graphics Card Does the PS5 Have?
However, this question doesn't have a simple answer since the console uses a custom-made AMD GPU based on the RDNA 2 architect. This graphic card from AMD is greatly customized and is suited to deliver high-end performance without lags.
The PS5 has a 1TB hard drive and 16GB of GDDR6. However, this GPU is a part of the AMD Oberon SoC (which includes a Zen2 CPU); features 36 compute units (CUs), and runs with a frequency of up to 2.25 GHz, eventually achieving 10.3 TeraFLOPS of computational power. So, the PS5 has a custom Radeon Navi GPU that will blow you away…!!
However, PS5 GPU is amazingly powerful, providing incredible performance for games and other demanding apps. As compared to PS4 Pro, the PS5 GPU is more than twice as strong, providing amazing, impressive visuals and gaming experiences. Moreover, the ps5 GPU also supports 4k resolution and ray tracing, offering more realism to enjoy games. Hence, it is the best powerful graphic processor on the market.
Top 5 Comparable Graphics Cards to PS5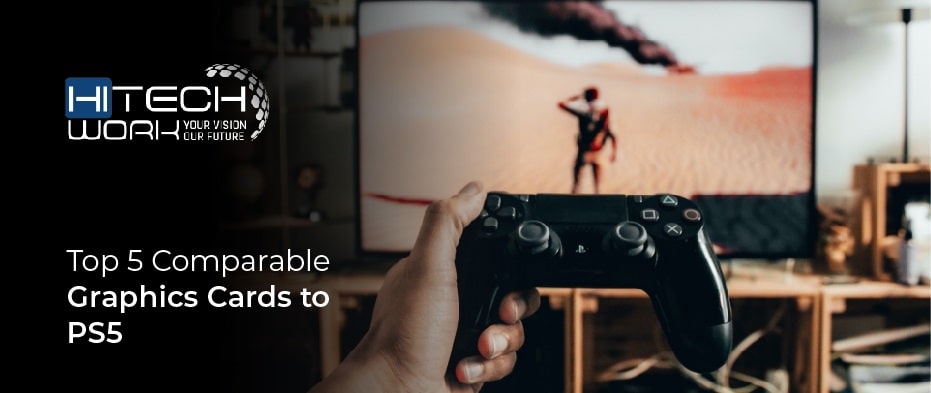 In this section, I will let you know the top ps5 equivalent graphics card. So let's have a look.
1. Nvidia GeForce RTX 3080
Nvidia brought a huge change in the graphics world with the launch of RTX 3080. It is a GPU that is absolutely a great workhorse and able to provide an impressive performance because of its sheer power. The internal GPU in the PS5 offers 10.3 TFLOPS, while the RTX 3080 chip alone produces 30 TFLOPs. This is quite 3 times more than the PS5's capabilities.
However, the price of this card is more expensive than the double charges of an average PS5. Even here, I didn't mention the rest of the components you need. So, in my opinion, you are paying a high price for this product and expecting excellent results.
2. AMD Radeon RX 6800 XT
However, AMD's RX 6800 XT doesn't stack up to NVIDIA's RTX 3080 in conditions of raw performance. The RX 6800 XT should be on your list if you want a new graphic card.
However, the fact that both the PS5 and RX 6800 XT are built on the same RDNA 2 architecture is amazing. Regarding TFLOPS, the RX 6800 XT still offers twice as much TFLOPS as the ps5. Unlike the ps5, which has 36 CUs & 16 GB shared memory between its system and graphic memory, the RX 6800 XT has 72 CUs and is more competent at ray tracing than the ps5. But it is more expensive than Sony's PS5.
3. Nvidia GeForce RTX 3070
It is also an incredible RTX product, but not as powerful as the RTX 3080. It's still a successor when it comes to 1440p gaming, and its price-to-performance ratios can't be beaten.
This RTX 3070 delivers much-lowered latency, offering exceptionally smooth gaming at a low cost. It's capable of playing any game at 1080 or 1440p, and it can even run most games at 60 fps in 4k. The DLSS 2.0 feature helps this GPU produce 20 TFLOPs, nearly double the amount of TFLOPs produced by the PS5.
Moreover, the RTX 3070 has 8GB of VRAM, which is low compared to the PS5's 10 GB. However, it is essential to note that the PS5 memory is shared between its system and games. The RTX 3070 gives more graphics power per dollar and performs amazingly if you do not mind making some sacrifices in terms of game settings.
4. AMD Radeon RX 6600 XT
This AMD Radeon RX graphics card is considered the great ps5 GPU equivalent and delivers even more than the ps5 one. It has amazing memory bandwidth, and its stream processor is one of the best-performing ones on the market.
However, Radeon RX comes with dual BIOS and much stronger components than we could see on cards such as Radeon RX 6600XT, and it has one of the most amazing CPU performance rates on the market. Just like the PS5 GPU, Radeon RX also doesn't support ray tracing, and game developers claim this is one of the best PC equivalents to the ps5 GPU.
5. RTX 2080 Ti Black Edition
The GeForce RTX 2080 is the strongest graphic card on the market, and its base clock speed is greater than other highest-performing GPUs available on PCs. It has a real boost clock of 1545 MHz and incredible dual fans that will secure you from sounds by the referring traffic. However, it is considered the great ps5 equivalent because it has brilliant performance and can function well with any better PC.
It has amazing hardware, which makes it quite tough, and has 11GB RAM, which makes it good option than the AMD graphics card. But it is still not even near what you will find on the PS5.
Is it Possible to Increase My GPU Power?
The best way to boost your GPU power will differ depending on your particular requirement and goals. Although some tips that may assist you to include:
Invest in a powerful GPU: if you really increase your GPU power, invest in a high-end model such as Nividia 3080, Nividia Titan X, or the AMD Radeon R9 Fury X, likely your best decision. They offer more power than even the strongest mid-range GPUs.
Overclocking Your GPU: if you are likely to push your hardware a bit more, overclocking can also lead to a much increase in performance. Although, it's essential to note that overclocking can also lead to unreliability and shorter component life, so it's not suggested for everyone.
Use a GPU Tweak Utility: utilities like MSI Afterburner or EVGA Precision XOC can help you overclock your GPU and modify its settings to eliminate every last bit of performance.
Improve your Cooling Situation: the other way to boost your GPU power is to ensure that it is accurately cooled. If your GPU is overheating, it will likely strangle its performance to avoid damage. So, ensure that your GPU has sufficient cooling to help it run at higher speeds for longer.
Purchase a New Card: Getting a new card is sometimes the best way to get more GPU. If your current card is starting to feel a bit long, then upgrading to a new model can considerably increase performance.
FAQs
What is Teraflop in Ps5 graphics?
A teraflop in ps5 shows how fast a graphics processor is; the more teraflops a console GPU has, the more it can perform functions and translate that to the graphics you see on your screen.

However, the ps4 pro has 4.2 teraflops of computing power, while the Xbox One X has 6 teraflops. These are the strongest consoles on the market. A standard ps4 has 1.8 teraflops, a standard Xbox One has 1.3 teraflops, and a ps5 has 10.28 teraflops.
Is RTX 3080 better than PS5? 
The RTX 3080 is a total powerhouse when it comes to GPU. People may prioritize RTX 3080 as it has more powerful graphics capabilities than the ps5, while others may favor ps5 because it has more features. But in general, the ps5 is a better option and has powerful graphics capabilities and features at a low price compared to RTX 3080.
Does ps5 GPU deliver better ray tracing than the PC?
Yes, the ray tracing performance on ps5 is much better than FPU on PC. The major reason for this is that the ps5 has more GPU horsepower to play with. And ray tracing is quite an expensive process and takes more horsepower to do it. That's the reason ray-tracing games are usually available on consoles.
Is PS5 overclockable?
Unfortunately not, game consoles are mainly used to play video games. As they are fixed sets for which developers make games as best, they can. However, the console's functionality may be at risk when you overclock its CPU or GPU. Hence, it is possible to overclock the ps5 dual-sense controller, resulting in a massive reduction in input lag.

Unfortunately not, game consoles are mainly used to play video games. As they are fixed sets for which developers make games as best, they can. However, the console's functionality may be at risk when you overclock its CPU or GPU. Hence, it is possible to overclock the ps5 dual-sense controller, resulting in a massive reduction in input lag.
How does ps5 graphics card boost your gaming experience?
A Graphic card is a significant part of the ps5 gaming system. And the best cards are those that are mainly created for 4k gaming, like PS5's integrated RDNA 2.0 graphic card. These run 4k games at high frame rates, making them the best choice for gaming.

However, the PS5 graphic card has sufficient power to beat others, such as NVIDIA 2070 or RTX 2060. That's the reason the users prefer playing games on ps5 consoles.
What Should expect from the Playstation6?
Ps5, since its release, has been entertaining gamers. Is it too soon to start thinking about what its successor, PS6, might be like? However, each console of PS had seven years for developers to settle the console's game libraries and reach a point where the devices reached their potential, with more tech needed to drive the gaming experience further.
But no doubt, the next ps6 be a crucial one; before getting the ps6, we are almost certain to see the ps5 pro and ps5 slim strike the market. But at the moment, there is no release date for any new ps5 slim or ps5 pro.
Final Words
Ps5 is the best gaming console till now, with a high-resolution display and a perfect choice for gamers. No matter what happens, ps5 has a massive fan base, and the ps5 CPU, GPU, and other hardware settings that come with it are advanced from the PS series. Hence, it has everything which any high-end gamer wants. But at last, it's all your decision which to prefer.
However, we shouldn't compare gaming consoles to PC. The system inside both can be similar. But if you are already a pro player of PC, upgrading GPU to RTX 2070 will give you an amazing experience similar to ps5, but ps5 is more customized and a better choice if you start from scratch.