Nvidia reflex low latency is another advanced feature that'll improve the gaming experience and help reduce the system lag by 80%. The aim of Reflex is to give the users' the edge in competitive FPS games, including Call of duty, Fortnite, and Volarant, by assisting you in hitting your shots instantly, reducing the latency tax when you crank up your resolution and potentially tumbling peeker's benefit under the right circumstances.
In competitive FPS or multiplayer games, every possible advantage makes a big difference, and even a few milliseconds of lag can be the reason for your defeat. For this purpose, reflex mode assists you as a user by squeezing out the best performance with the lowest system latency.
However, NVIDIA reflex is an advanced mode of Nvidia, much like DLSS and RTX, and needs you to run a GeForce GPU. Reflex was introduced with the RTX 3000 series GPUs that reduce system latency as much as possible in video games. This fall in latency is significant, especially for the most competitive & professional gamers.
So, let's discuss more about the Reflex feature, which games it supports, and how you can enable it. Or should you even use it?
What is Nvidia Reflex & How Does it Work
It is a low latency feature that claims to lower rendering lag by up to 80% in supported games on supported GPUs. It's more effective in FPS games such as Call of duty or Fortnite, where smoother controls and more responsive gameplay make a dramatic change. It can also make a huge difference when you are playing competitive fighting games online like Guilty Gear Strive.
Nvidia reflex mode functions by optimizing both the GPU and the game, merging both settings to offer optimal performance; this doesn't mean the highest possible graphics. While Nvidia has tools to assist you in squeezing out the best frame rates, it decreases your latency to the point that it's nearly unnoticeable.
During the inauguration of its RTX 3- series GPUs, Nvidia announced the Reflex, a suite of GPU, G-sync display, and software technologies that assist in measuring and decreasing system latency. By doing so, it lets the PC and the display respond quicker to mouse and keyboard inputs, significantly letting you target enemies instantly and with greater precision.
Reflex Mode Supported Games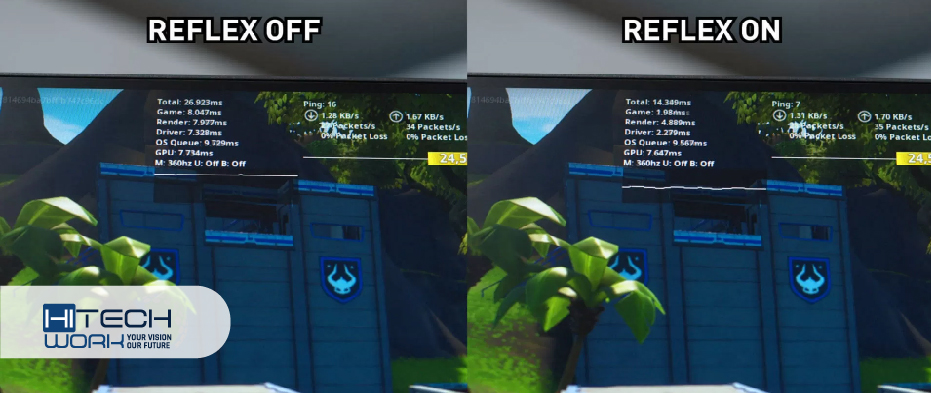 Nvidia reflex feature is applied through its reflex software development kit (SDK). It means that for a game to have reflex tech, its developers must add support for it using the Reflex SDK. You can find the list of all the games currently supporting Nvidia reflex. Soon new games are constantly being added. Some notable games are:
Call of Duty: Warzone
Apex Legends
Destiny 2
Overwatch
Valorant
Rust
Escape from Tarkov
Rainbow six siege
Battlefield 2042
Bright Memory Infinite
Call of Duty: Black Ops Cold war
Call of duty: Modern Warfare
Call of duty: Vanguard
God of War
Ghostrunner
Rainbow Six Extraction
Rainbow Six Siege
War Thunder
Warface
Nvidia will release a comparison video whenever new games support reflex mode. Further, you should always take internal tests with a pinch of salt; they indicate how many milliseconds the Reflex shaves off. Volarant, for instance, sees up to a 48% reduction in latency at 60 Hz, and if you up your monitor's refresh rate 360Hz, you could see a decreasing delay by up to 80%.
Reflex-Supported Graphic Cards
Any Nvidia graphic card of 900-series or higher should be able to use Nvidia Reflex in supported games. It means that the following GPU generations should support reflex technology.
NVIDIA GeForce GTX 900 Series
NVIDIA GeForce GTX 1000 Series
NVIDIA GeForce GTX 1600 Series
NVIDIA GeForce GTX 2000 Series
NVIDIA GeForce GTX 3000 Series
All these generations should let you allow Reflex in supported games, but the latest generation on the list might achieve lower latency with less of a framerate impact.
Should You Allow Nvidia Reflex Mode?
Ofcourse you should; it has almost no overheads. It would not negatively impact performance, but it can make a world of difference in decreasing delay and improving your in-game performance. There are no drawbacks to allowing it; the best part is its free application.
Now enable the Nvidia reflex if your GPU and the game endorse it. If you don't know how to enable it, don't worry; we will discuss it in the next section.
Step-By-Step Guide to Enable Nvidia Reflex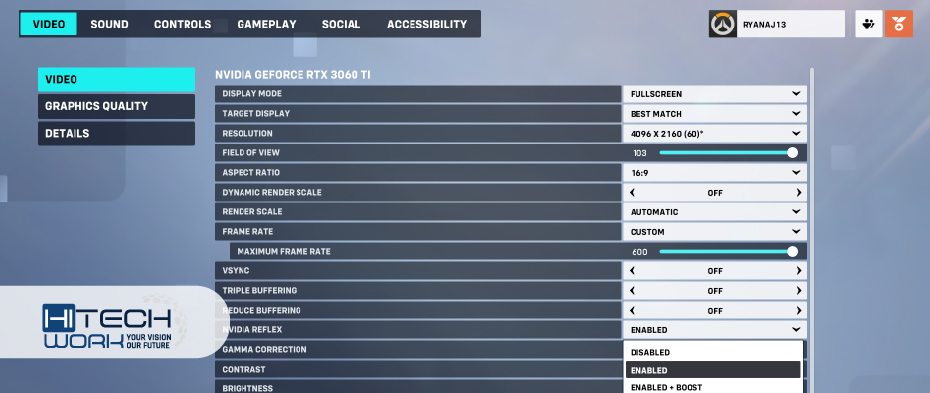 You have to allow reflex mode on a game-by-game basis, generally through the game's graphical settings. While every title is different, you can turn on the settings from the options menu.
Here we will take an example of the Fortnite game to allow Reflex.
First, open the Fortnite Game & choose the three bars in the upper-right corner.
Then, choose the gear icon on the left side of the screen.
Choose settings and move down to the Advanced Graphics subheading.
Switch Nvidia Reflex Low Latency to On+Boost and then hit A to apply.
If you can't switch on Nvidia Reflex in-game, there are other options to reduce latency in the game.
Some games will also offer a Reflex+Boost setting, enhancing your GPUs clock speeds, especially if you are playing CPU-intensive games. Thus avoiding any potential bottlenecks. You must allow Reflex boosting for the best experience.
FAQs
Why Does System Latency important?
In competitive games, greater FPS and refresh rates (Hz) decrease your latency, delivering more chances for your inputs to end up on the screen. Even little reductions in latency have an effect on flicking game performance.
Hence, if your game supports the Nvidia reflex feature, we suggest using that mode over the ultra-low latency mode in the driver.
Q2. Should I turn on or off Nvidia reflex mode?
The best is to choose whether to turn the mode on or off is to test it yourself in-game. Just toggle Reflex on in your game's graphics or video setting menu. In any case, if your framerate hardly drops and you notice a reduction in input lag, then leave the toggle on.
In most scenarios, it's great to allow Reflex even if you don't notice a latency improvement because its performance effect is usually negligible, don't worry. It has no drawbacks.
Hence, enabling the Reflex depends on your system and your game. If you observe major drops in FPS when it's enabled, then it's probably better to stick with Reflex enabled but boost disabled.
Q3. How many times does the Nvidia reflex reduce latency?
Yes, the NVIDIA reflex does decrease delay with mid-ranged GPU cards; one can expect around 33% improvements. And, if you are using a high GPU and a gaming system (with a refresh rate of around 360 Hz), gamers can encounter the lowest delay possible (around 80%)
But, a drawback is that it is not activated in all GPUs or games. It is restricted to selected games and graphic cards mentioned in the article.
Is Nvidia Reflex Worth it?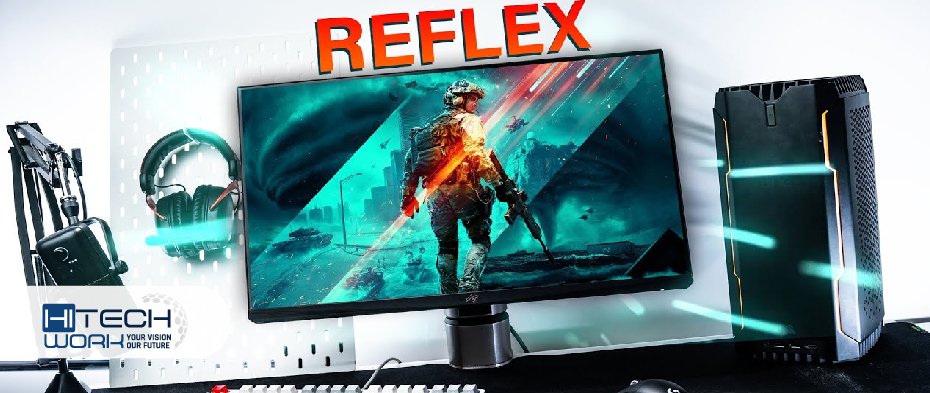 Nvidia Reflex brings the ultimate competitive benefit, dynamically reducing system latency by combining Game optimization and GPU. You can allow Reflex low latency mode in top competitive games like Call of duty: Warzone, Apex legends, Destiny 2, Fortnite, and others to increase the responsiveness of a game.
However, reducing system delay is essential for competitive gamers because it lets the PC and display react quicker to a user's mouse and keyboard inputs, allowing players to obtain enemies instant & take shots with better precision. Considerably, there are no disadvantages to allowing this feature. Hence, You can enjoy your game without delay by enabling this amazing feature, which is absolutely worth it.
Let us know about your experience with this mode in the comment section.