WinThruster is application software that is used to detect and solve issues with computers. It also helps PC to improve speed and performance. WinThruster, after detecting the problems and issues and repair them to increase the speed of the computer. The WinThruster tool allows you to create custom scanning time schedules for application and error checking. The schedules can be set daily, weekly, monthly basis. In this article, we will see how WinThruster works and how can be harmful to your computer.
WinThruster Overview
WinThruster analyzes the entire computer and its programs and adds a scheduled task to the windows task scheduler for timely audit of the applications for cleanup and repair. It also adds an exception in the windows firewall to scrutinize the applications and software that you download from the internet.
How WinThruster Gets Into Your System?
WinThruster tool is an application very few people know. And, even the people who know about this software are not willing to download and install this application. The trick used by the manufactures was to embed this application with other software to let anonymously be downloaded on the computer without the user knowing about it.
How Does WinThruster Tool Work?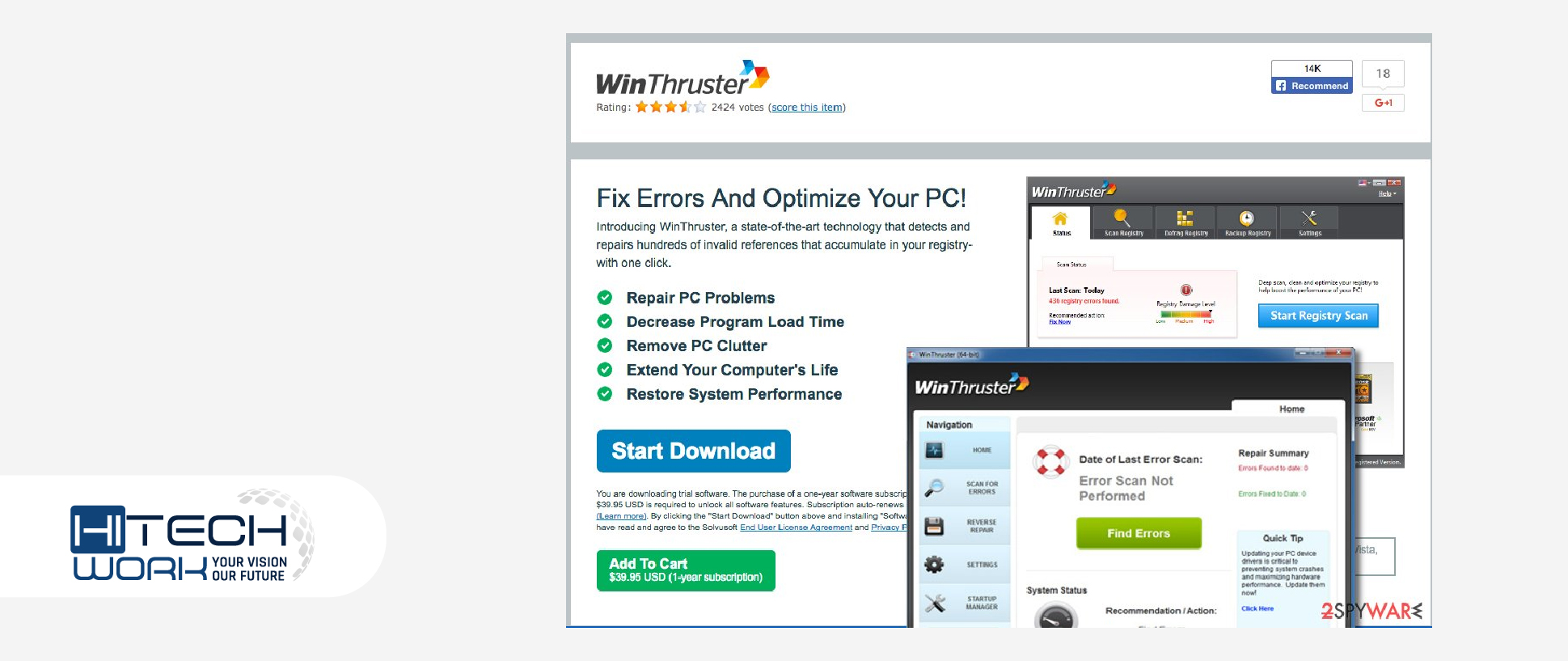 WinThruster, as stated earlier, analyzes the entire computer and generates reports about the errors and issues your computer is facing.  The downside of this application is that it generates fake error reports and motivates the users to purchase a full version for better performance and improving computer processing speed.
Can WinThruster Tool Be Trusted?
Not at all, the winthruster tool falls in the category of Potentially Unwanted Applications (PUAs). These are the applications that can be targeted to users in cybercrimes like collecting user data, keeping a record of internet activities, collecting application data, much more.
This is the reason why WinThruster is not declared safe to be used. It can generate false reports, false pop-up threat messages, and can spy on you like malware. The data collected through this software can be sold to other parties. Despite being a data recovery software WinThruster tool is declared as unsafe for use.
How To Protect Yourself
Make sure to be cautious when looking on the web and downloading such applications.
Try not to complete any download without checking all accessible "Custom" or "Advanced" settings and offers to download undesirable applications.
Download programs from trustable sites and utilize direct download options.
Tools, for example, Peer-to-Peer organizations (Torrents, eMule, and so forth), informal sites, and other comparable sources ought not to be utilized to download this software.
Try not to click pop-up notices, particularly if they are shown on pages identifying with Gambling, adult content, dating, and other questionable categories.
On the off chance that undesirable promotions appear consistently, check installed programs on the working framework and applications on the program.
Eliminate all undesirable, suspicious options right away. If your PC is now tainted with PUAs, we suggest running a cleanup with Combo Cleaner Antivirus for Windows to remove them.
Final Words
Software with ads and potentially harmful ads, and pop-ups can harm your computer and steal your information. However, the error reports that WinThruster tool generated by those software are mostly false. And used to lure the user in to purchase the full premium version of that software.
Therefore, it is suggested to make sure that you are downloading. And using legitimate software that can help you improve the computer performance and does not harm it.