This had become a habit of ours; looking up your character in your game. But Battle.net, for some reason, decided to remove that and put it elsewhere. Somewhere you're struggling to find the WoW Character Lookup.
But we're here to help you find it and help you look up the character you are trying to see the stats of.
If you are in a game, it is kind of inconvenient looking up all the crazy stats that your character or some other character has. This is the main reason they have taken out the stats feature off of it. They can be seen on the main site and we'll tell you where and how on the main site you'll be able to see them.
WoW Character Lookup: Things to remember
One of the most important things to remember is that there is a crazy number of details on the stats of the character of these games and if you wanna see the whole list and the look of the character and don't want to confuse with any other charact er than this is necessary for you remember the full name of the character.
You can't forget the name or miss a blank or a case of the character. Once you type your name in, you will be able to see the whole list of characters that are named just as yours or of someone's that you are trying to look for.
The list of the made-up character is from the same place as you created so you'll be able to see the last updated profile of that character. If you want to update the character, you must be logged into your account. Logging into your account before searching for the character will be better for you to update, browse and change other settings of your WoW Character Lookup.
If you try achieving these same results in your game, you won't be successful as this feature is completely removed from the game. The game might not hold it since it can be a lengthy process to update your character and add new features and Dungeon stuff to it.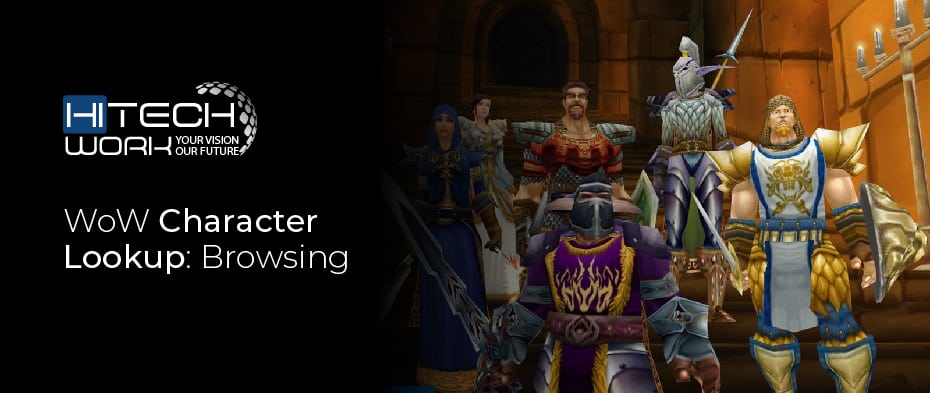 WoW Character Lookup: Browsing
Browsing through the site is as simple as it used to be in the game, although you now have more controls and time to go over stuff that you would otherwise rush over. The clans and the category your character belongs to are listed on top and you can change it by just changing the options from the above tab.
The character and its outfit can be changed right from the main window that is open in front of you and all the additional changes can be done from there. If you want to see the stats, you can just hover over the items and the stats will pop out and as soon as you pull the cursor away, they'll vanish.
Looking Rated Match History
If you have played a whole lot of matches and you can't see them in the game, this is where they are. All you need to do is go over to the World of War website and search for the character. Enter correct name – be careful of the spaces and numbers. When you have the search results, open yours and you can click on the "Player vs Player" tab on top. Scroll down and you can see all of your recent rated matches as well as the old ones.
How to Find Dungeons and Raids in World of War
If you have done dungeons and raids, you might want to look at all those achievements. The best way and the only way to do that is to head over to the website and search for your character, after you see your character, open its window and you can see at the top menu, the option of "Dungeons and Raids" and you'll be able to see the whole list.
Look at Your Achievement in World of War
Looking at all of your achievements is pretty simple with the same process. You can just click the tab on top of the screen and all of your achievements will be laid out in front of you. The importance and good thing about this feature shifting to the website are that you can browse through each thing in depth and track your progress without rushing to shut it off and get back to the game.
Look at Your Collections in World of War
Looking at your collection is simple and easy with the same process we went through above. All your collections are precious to you and we all want to come back at them and look at them to use and just admire them. These collections can be accessed through the top bar option called "Collections" and you can see the list of this collection. When you click on any of them, you'll be able to see the whole image of it and admire it.