Subtitles are captions presented at the bottom of a television/video/cinema/ screen to translate dialogues and narratives. It's an excellent way to learn new words and slang when watching shows in a language you don't speak.
For everyday movie watchers, they enable the transcription of dialogues from source to target languages as well as the narration of background events, transcriptions of sometimes inaudible sounds, etc.
You might not find subtitles in your target language on the movies you watch if you don't use a movie streaming service like Netflix or Hulu. That doesn't mean your options are limited, as there are tons of websites where you can download them from and manually add them to your favorite movie-watching app.
Providing the best subtitle resources available is our duty every time. Many of them display subtitles in multiple languages and formats, along with relevant ratings and comments.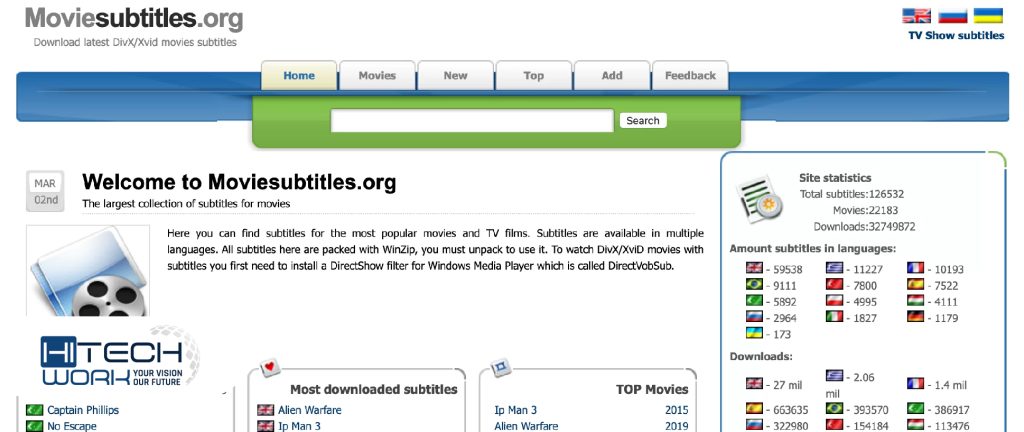 Best Sites to Download Subtitles
Downsub
In contrast to most of the entries in this list, this website presents a different way to download subtitle files. Downsub generates and downloads subtitle data for videos from Hotstar, Vlive, YouTube, Viki, and several others.
Enter the URL of the video into the box, then click Download. Although this is more about getting subtitles for videos than full shows or movies, if the show or movie is on YouTube, then this could be the best method for getting subtitles.
Subscene
The subtitles for the latest films and TV episodes are always kept up-to-date on Subscene. Subtitles are created and uploaded by users, so even obscure titles can be found.
Subscene's interface is simple and straightforward. We organize subtitles by shows and movies, so all you have to do is type the show or movie name into the search bar and choose the right subtitle from the results.
Subscene's subtitles are almost exclusively in SRT format. The search filter allows you to select only results in certain languages (up to three maximum) and to choose whether to include subtitles for people with hearing impairments (for sound effects).
Additionally, you may find the forums useful. There you can ask subtitles for movies and TV shows – maybe there aren't any in your native language or none that are accurately synced for your account of the media.
YIFY Subtitles
The YIFY Subtitles website offers a huge list of subtitles for movies and films. With the promotional poster, director, year of release, and other useful information, the smooth interface makes browsing easy.
There are tons of languages that you can filter by so you can see only entries with subtitles in your language. Also, you can just search for the title of the movie or show.
The only downside is that some entries do not have subtitles, so your search might return a result, but you'll still be left empty-handed. However, YIFY Subtitles remain a fabulous and simple way to download subtitles.
Podnapisi
Podnapisi is an excellent platform for finding subtitles for movies and TV shows in different languages. At present, 2,078,527 subtitles are available for 58,959 movies and 6,715 series in 100 languages, of which 61,697 are from the community and 00,235 are for hearing impaired and hard-of-hearing (SDH) viewers.
Every day, Podnapisi pushes new and updated subtitles, and you can explore subtitles by year, keywords, genre, or through its advanced search engine. You can also create an account with them and participate in their forum where you can ask questions, request subtitles, etc.
Addic7ed
From its name, you can probably guess that Addic7ed (meaning addicted) aims to serve movie addicts with subtitling. It's one of the subtitle sites that offer both movie and TV show downloads, like OpenSubtitles.
Subtitles can only be downloaded by signing up for Addic7ed. Once you're signed in, you can search for movies using a search bar or browse a drop-down menu. A prominent RSS feed at the top of the page displays new releases.
Additionally, the site provides a schedule of the next episodes of your favorite TV shows (with relevant links to subtitles). In addition to tutorials for how to use subtitles with common programs, the site offers a FAQ and a support forum.
Addic7ed is available in multiple languages, including Arabic and Swedish.
TVsubtitles
While its name implies that it covers TV shows, TVsubtitles do more than that. In addition, lots of new and old movies have subtitles.
There's no doubt that TV shows are its bread and butter, and you only have to glance at its subtitle list to see why. TV shows spanning decades and genres are listed here.
You're better off using a different site for movie subtitles, but some are available if you need them.
DIVX Subtitles
Despite the site's presentation and sound like something from the early 2000s, DIVX Subtitles is still a useful resource for getting subtitles to download, notably for earlier releases. It has been operated since at least 2002 (and before that by a different owner).
Updates for DIVX Subtitles continue to trickle in, especially for major releases and foreign films. The site lets you search by keyword, language, and format. Or rating, but you can also view the latest uploads via the category page.
DIVX Subtitles may be able to afford subtitles for more traditional or foreign language films. There are several subtitles available on the website in languages other than English.
DIVX Subtitles is a valuable resource if you're having difficulty getting English-language movies (or if you need to improve your skills in another language).
Steps to Load Subtitles for Movies and TV Shows
As long as they are titled correctly, most free media players will automatically detect and load subtitle files. How does a "proper title" differ from a legal title?
A good rule of thumb is to copy the file name of the movie or TV video and paste it as the subtitle file's name. The software supports nearly all video file formats (e.g. AVI, MKV, MP4) and the most common subtitle files (e.g. SCC, SRT, SUB, VTT). Also, the video file and the subtitle file must be in the same location.
After that, launch the video file and your media player should automatically load the subtitles.
If not, what happens? Is it possible to override a built-in subtitle track in your video file with the subtitle file? Then you'll have to manually load the subtitle file and switch tracks in your media player.