Google has many apps that efficiently influxes multifaceted user-friendly experiences on the online platform. Password Manager is one of the most practical features that Google has lately integrated into its browser for built-in security to all the devices connecting with the Google account.
It embodies the unique and robust passwords suggestions while automatic saving for all remembered passwords you have navigated so far. It is quite an easy and swift way to add a password to an efficient Google Password Manager. You can add your passwords in Google Password Manager manually as well.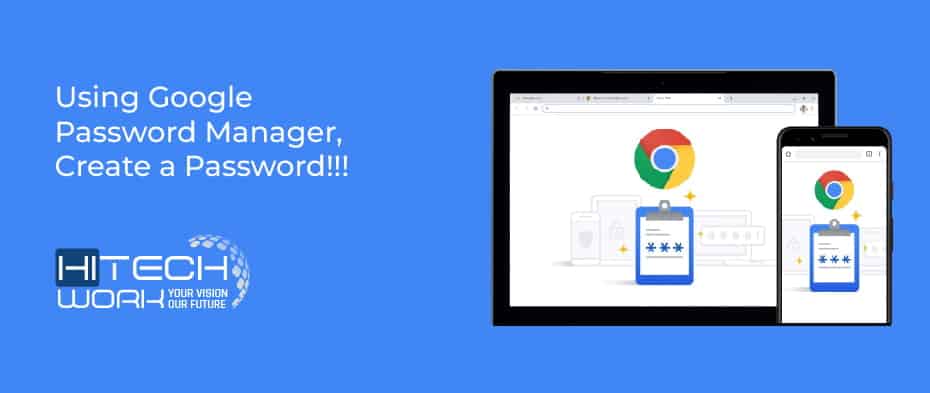 Using Google Password Manager, Create a Password!!!
Let's get started on how you can add passwords from numerous websites to Google Password Manager when you sign up to any website account for the first time.
You need to create your Google account and then enjoy the facility of Password Manager with many other exciting amalgamated features. You can even add up your Password once you have logged in to your account.
Google Password Manager accelerates the login activity much faster and smoother, thanks to the details stored in the Google Password Manager. It furthermore suggests the newer passwords whenever you create your new Profile in the Google account.
By default, it is there in its online security system that automatically activates without further ado.
Google will pop up a Password Manager to display an already stored Username and corresponding password if you have registered for a new website via the Google
Moreover, it can help you synchronize all the information from the Google
In case of shifting from one another device, then already synchronized passwords, search history, and bookmark can quickly transfer data into other devices seamlessly.
All the stored passwords get easily integrated with the connected devices with the Google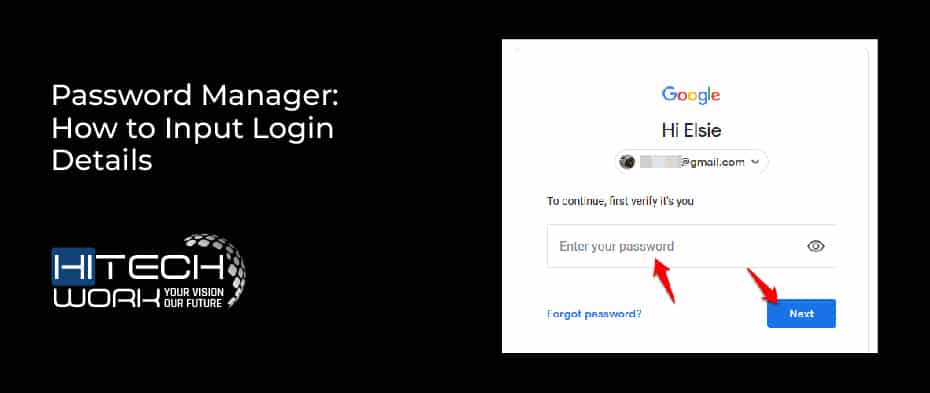 Password Manager: How to Input Login Details
To begin with, adding up all the Passwords in your Google account precedes the newer account registration. Follow the given steps.
Open up your Google browser to sign up website account.
Then click on create a new account.
Then type the Username and Password. Then click "Save Password." afterward, the option of saving your password appears in the right top corner of the browser.
That's all for storing your website credential in Google Password Manager. Now you can automatically sign in to your website account with the remembered passwords in almost every device you've signed in your Laptop, Smartphone and Personal Computer.
Consider the following factors when synchronizing your features.
Launch your Chrome on your computer or laptop.
Then go through the Profile Picture in the upper-right corner of the browser screen.
Switch on the "Sync" button t the Profile tab's bottom.
Then confirm your login credentials by entering your Google email and password.
It is worth noting that turning on synchronize feature appears if you've not activated it. In the case of an already enabled feature, it won't be visible.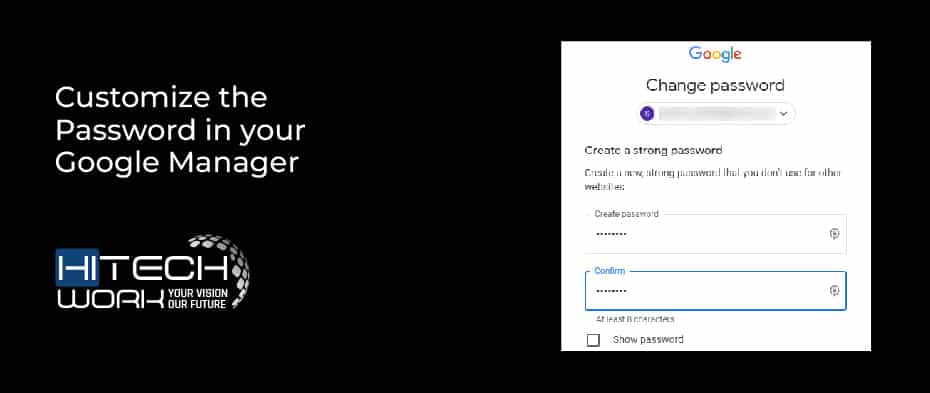 Customize the Password in your Google Manager
Precisely speaking, Chrome Browser opens up the options to save your website account password once you input it for the first time. You can click "Save." Then it is pretty easy to view it; you have to click the eyed Preview icon.
You can select the password you want to save if you have multiple passwords for any website.
Sometimes you will have an incorrect or blank username; while saving the password, you must type the username and keep your password.
You can change your saved Password if you input a different password. For that, click the text box beside passwords. Then input the password you want to keep in Google Manager.
Utilize Google Password settings to show, edit, delete, or copy any saved passwords that are no longer useful or that you want to remove from the Google Password Manager.
Now is the moment to learn how to accomplish it rapidly and effortlessly.
Access the Passwords you've Saved in Google Password Manager
To change your saved passwords, use any of the methods listed.
Use Manage Your Google Account to locate Password Manager
Navigate Passwords (Key icon)
Use Google Chrome Settings to access the saved Password list
Use Manage Your Google Account to locate Password Manager
Navigate your Profile Picture, then go to "Manage your Google Account," which unveils as soon as you click Profile Picture.
Click "Security" on the left task pane. It will open up the comprehensive Security settings and recommendations that can help your account be secured.
Then scroll down the Security Settings then click "Password Manager" under the head of Signing Into Other Sites. It will then reveal all the stored Website and Apps Passwords in the following pop-up screen.
If you want to view the password for any saved website, you must select the website.
That's how It will enable to password once you click the "View" option. In addition, you can easily edit, delete and copy your Passwords.
Navigate Passwords (Key icon)
Open Google Chrome Browser> click Profile>Passwords (Key icon).
If you are unable to access the Passwords icon in the Profile, then you can navigate Three-dotted More Menu > Settings > Autofill > Passwords
Use Google Chrome Settings to access the saved Password list
Alternatively, you can opt for Google Browser Settings to view all the passwords in its Password Manager.
Open up Google Chrome, then select the three-dotted Window in the top-right corner of the screen.
Click Settings from the three-dotted drop-down menu.
Then select the "Autofill" option in the left-side horizontal bar. Then go ahead with the "Passwords" tab.
As you click Passwords, it reveals the list of all the stored passwords. Scroll down to view the "Saved Passwords."
Password Management & Security
To edit, erase, or export a password, follow the given ways.
Edit: Click three-dotted More Menu >Edit Password.
Erase: Click on the right-sided More Menu >Remove.
Export: Click on the right-sided "Saved Passwords" head More Menu >Export Passwords.
You can clear up all saved passwords by navigating Clear Browsing Data and selecting "Passwords."
Switch Off: Open Google Chrome Browser> click Profile>Passwords (Key icon)>turn off "Offer to Save Passwords."
If you want to remove some of the passwords from the manager's saved passwords, click the "X" next to each one. It will also display the specific password list you don't want Google to save or remember. You can safelist the password preferences and remove them from the list.
Automatic Sign in to Websites and Apps
To preserve your website credentials, you can use "Auto Sign-in" to login to any website or app. Track these steps if you wish to deactivate automatic sign-in with your saved credentials.
Navigate Google Chrome Browser>Click Profile>Passwords (Key icon)>Turn off "Auto Sign-in" option.
Alternately, navigate: Three-dotted More Menu > Settings > Autofill > Passwords> disable Auto Sign-in.
Examine Any Passwords That Aren't Safe in Google Password Manager.
Google warns you to examine all of your saved password lists for any passwords already compromised or are otherwise vulnerable. Some of them may be weak, rendering password cracking quite simple. Alternatively, a single password gets repeated for several accounts on different websites. To effectively resolve the concern, verify your password if it has previously gotten published online or if it is vulner able to a data breach.
To do that, you can go through Google Chrome Browser> Click Profile>Passwords (Key icon)>Click Check Passwords.
If the approach mentioned above is not accessible, then navigate the following way: Three-dotted More Menu > Settings > Autofill > Passwords> Check Passwords.
Enable Notification for Compromised Passwords
It is always advisable to change the compromised passwords when you know which one of them needs your attention. Go through the method given below to modify your password list where you have used that password on other websites.
To enable, open Google Chrome> More (three-dotted Menu)>Settings > Privacy & Security tab > Standard protection >enable alert: "Warn you If Password are Exposed in a Data Breach".
It's vital to note that once you've learned how to save your passwords in Google Password Manager, you'll now have to enable the setting to save and store them across several devices. To do so, you must first sign in to your Google account. Then, using a desktop or smartphone app, you may connect all of your synchronized devices to the Google account.