Since the time of the year that includes many movie nights has come, why not get to know the best movies to stream beforehand? That would sure save up the two hours you might spend on a movie that leaves you clueless (hmm..Clueless is a good one too!).
Anyways, all the movies we have listed are on Netflix, Hulu, Amazon, etc. You can stream them as soon as you want, all of them are the released ones and surely makes up the list of the best movies to stream right now.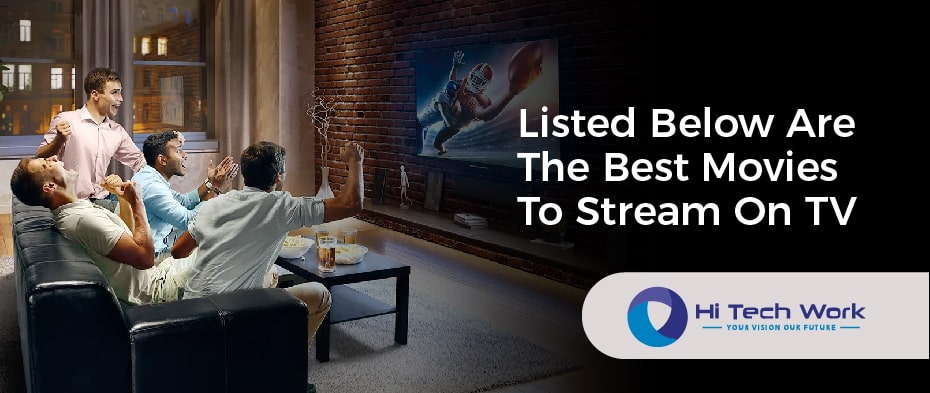 Listed Below Are The Best Movies To Stream On TV
"The Power Of The Dog" Becomes One Of The Best Movies To Stream
Starting from the role of a detective, scientist, and superhero; Benedict Cumberbatch now headed to an exclusively hysterical role as Phil Burbank in the movie "The Power Of The Dog" where crushes the role of a homophobic misogynistic bully.
The Movie showcases psychodrama originally from the semi-autobiography of Thomas Savage. Although the book wasn't as successful and there had already been a few attempts to make this movie. But this story took off in 2022 where it's the right time to talk about the trauma revolving around homosexuals.
This is a must-watch for the exceptional drama and suspense, and surely makes up the list of the best movies to stream right now. While we don't wanna spoil it for you but the critical ending curves the family problems that Phil Burbank causes. There's a huge excitement going around god knows how hard it is to tell you about it without spoiling it for you.
"Single All the Way"
With the holidays and Christmas spirit going around this is high time to get cozy with the family. The same story goes on in the movie "Single all the way" where Peter (played by Michael Urie) hesitates going home single with the fear of being questioned about his relationship status.
Upon getting help from his friend his family still sets him up for a date and now there comes a love triangle that forms with a blind date, Peter, and his friend that came over. Apart from all the drama going on, the perfect depiction of a family holiday can't be captured more beautifully.
This goes in my holiday lists to watch this year and you might want to have it too. The Christmas spirit and love in a family it shows lists it as one of the best movies to stream right now. Surely it would be fun to have everyone watching in your family.
"A Boy Called Christmas"
With Christmas on its way, this makes it one of the best movies to stream right now. The movie starts off with three depressed kids whom an elderly is telling a story. Her narration is meant to get the hopes of those high and get them excited for Christmas again, as they have no joy for Christmas after their mother died.
The narrated story is about a town and a father-son relationship in that town. The town seems to be lacking joy and prosperity as the king has kept all the joy to himself. He encourages the people to look for hope. To look for hope, this father sets off on a journey to find an elf village.
Distressed about his father's journey Nikolas (the son) sets off to find his dad. He then gets into a lot of trouble and eventually meets the elves and a fairy. The movie is made to keep the hopes of children high, especially if they're struggling to do so.
This makes it one of the best movies to stream right now and I would give this one a very good chance of playing on the holidays. Michiel Huisman (the father) does an excellent job keeping his role positive while taking care of his son.
"Red Notice"
The all-time favorite character forms a trio in this movie, where all their usual action comes to strike in a heavenly manner. Dwayne Johnson, Gal Gadot, and Ryan Renolds altogether crush this movie and it becomes the best one to be launched in that time being and still makes the list of the top 10 movies on Netflix, which makes it one of the best movies to stream right now.
By now many of you might have already watched cause…who would miss a movie with these actors playing? Anyways, the story itself is extraordinary and full of curves. I was truly stunned when after watching it so if you haven't yet gotten done with it, I'd say..what's stopping you?
Then obviously it is the movie with Dwayne, Gal, and Ryan in it so there is a lot of action and fighting with Ryan Reynolds making it the funniest. The movie is (mostly) safe to watch with kids.
"The Father Who Moves Mountains"
Something to put on the screen while getting cozy this season, this movie is an absolute thrill banger with drama and tragedy combined. Showcasing the love for his son; Mircea (the father) compels the government and individual teams to search for his son who is lost in the mountains with his girlfriend.
The movie starts with some cold emotions and heartwarming instants that make you think this genre would be of crime/fighting. But it's the opposite of it; this movie combines drama, thrill, and suspense so well that even if you're not cozy in bed, You might just want to do so.
How Mircea leads forces people to keep looking and with poor climbing skills ready to risk his life, he keeps his mission on. Did he find his son at the end? That's what the movie is all about and is surely the reason to list it as one of the best movies to stream right now. Have fun with it, keep some napkins with you cause this is gonna be emotional.
"Ali" Is Still One Of The Best Movies To Stream
We know about the legend Muhammad Ali. The time of history he was in was as much interesting as his personal life. The movie captures the story of this one decade where Ali starts off his career. He then continues down the path to more success.
If you haven't yet seen this movie, this might be a good time. It has some of the best performing actors who have played their role in bringing history back to life. Even though it was released in 2001, it still has a lot to teach for the coming generation.
It starts with Ali winning his first great title. It continues to change the ways he goes down the path. He changed his name from Cassius Clay to Muhammad Ali after accepting Islam.
He, later on, met his first wife, played by Jada. She was already Will Smith's wife at the time of the shooting. Lastly, this can be listed as one of the best movies to stream right now. This is a must-watch to get to know the time of his life between 1964-2974.