In this review, you'll see all the thrilling scenes and imagine the movie's best moments. This article has portrayed all the characters positively with an honest review. Suppose you haven't watched Black Panther Wakanda Forever yet, then there is no need to worry because you will get all the highlights and morals of the movie here. Black Panther is a distinctive movie that won 3 awards and is an adventurous action movie.
Movie Details
Director: Ryan Coogler
Stars: Letitia Wright, Lupita Nyongo' o and Danai Gurira.
Caste: Angela Bassett, Letitia Wright, Tenoch Huerta, Danai Gurira.
Writers: Ryan Coogler and Joe Robert Cole
Genre: Action/Adventure
Studio: Disney/Marvel
Release Date: November 11, 2022
More about Black Panther: Wakanda Forever
Black Panther Wakanda movie is about T'Challa, who returns to the kingdom of Wakanda after his father's death. Anyone from his late father's past came to challenge him and expose his isolated country to the world. It happens when the path to the throne is cut short.
Although Black Panther is the comic book superhero, who has been Marvel's fan-favorite, especially among comic enthusiasts of color. However, his story shattered box office records and grabbed the audience on the internet, and it was inspiring to millions of people and happened when Wakandan prince took the big screen in 2018 as the lead. It's the best movie nominated for seven Academy Awards, including best picture, and won three of them. In 2020, two years after its debut, Black Panther scored 96% "Fresh" on film review. Black Panther is a creative and innovative film.
Here's something new about Marvel Avengers you must check out!
Black Panther was released on November 11, 2022, and was one of the best movies released exceptionally. It affected the audience in a very positive and quick way which was cosmic—a dystopian period in 2018 when black life was used to be more dangerous. Also, the call for black superheroes was emergent and gave its message a special charge. In the movie, 3 phenomena are explained over a commercial, cultural and critical victory. So let's move to know how it begins.
How it Begins
In the black panther movie, King T'Challa dies off the camera at the beginning after an illness that wasn't disclosed, as his little sister Shuri can't even fix it. Erik Killmonger (Michael B. Jordan had a sacred heart-shaped herb destroyed. When T'Challa passed away, a new black panther couldn't be named.
After a year, Queen Ramonda (Angela Bassett) stated to the international community that T'Challa's absence won't weaken Wakanda or be destabilized by rogue mercenaries or even jealous superpowers who wanted to steal vibranium. C.I.A. assumes that Wakandans are the assassins, and it happened when an American military operation to mine for vibranium underwater ended with everyone killed.
However, the real criminal was the Talokani, a group of mysterious, blue-skinned underwater mutants falling from Mesamericas. Namor (Tenoch Huerta Mejia), their leader, could fly, has pointed/elven ears, and can breathe out of water. Namor tried to persuade the queen to join forces with him, oppose the sharing of vibranium and confidentially twirl the American scientist responsible for a machine that can detect vibranium underwater.
Nonetheless, when Shuri and General Okoye (Danai Gurira) routed the scientist, she was just 19 years old M.I.T. undergraduate named Riri (Dominique Thorne), who reminds Shuri of herself. So, the Wakandans had to prepare to fight the Talokanil, and the black panther's presence didn't matter.
Black Panther quickly picks the civil war after Caption America. Wakandan King T'Chaka was killed in a terrorist attack. Prince T'Challa returns to Wakanda and grabs in ritual combat to become the black panther. However, when he is King, T'Challa receives a challenger who is Killmonger (Michael B.Jordan), a villain U.S. Black ops soldier with ties to the royal bloodline. Killmonger is well-known for Wakanda's secret hoard of vibranium, the rare and near-indestructible metal ore that has catapulted the isolationist country's technology ahead of every other civilization. The Killmonger intended to bring Wakanda out of isolation. He planned to use vibranium to make Wakanda the standard-bearer of a global Black revolution.
Characters Placement in Black Panther- Wakanda Forever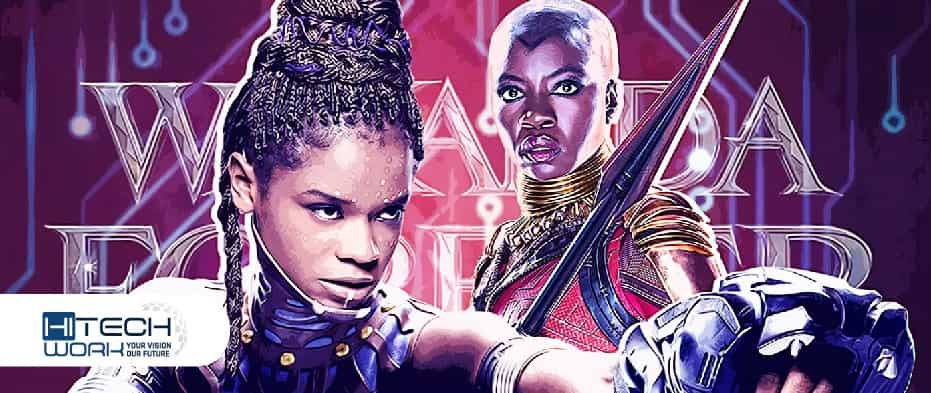 So, the Black Panther film strives to set the future through Shuri. Letitia Wright is a talented actress who can emotionally support a movie when given good material. However, she was constantly working against the script. She fights past a cringe cameo, past clunk jokes, and past an ending that gives the feels all too neat. Winston Duke, as M'Baku, was there to help, and Lupita Nyong'o, as Nakia, was there to assist. Okoye provides flexibility which Danai Gurira performed. Michaela Coel played an eccentric character as Aneka, who doesn't work in this dark ensemble.
However, All performers and their performances are enough to stem the tide of a movie that depends on wide visual and political images boiled down to their simple essence rather than the complex truths (which isn't unlike Rihanna's turgid soundtrack offering "Lift Me Up"). A huge sea battle followed; recent and ropey gadgets were working, and ends were tongue-tied.
Alongside, another montage of Boseman occurred, and as the film was messy, there were no worries because it begins and ends on the right foot. No one was sure what Coogler was thinking, and he was more burdened than other filmmakers deserved. At this point, it's a huge mistake as Black Panther: Wakanda Forever had his heart in the right place; however, the mindset was in the wrong direction and worst space. The worst space refers to the center of a contrived cinematic universe to grieve on its terms.
In the movie, Ryan Coogler, who is entirely Black lead cast and a huge number of Black women in authoritative and prominent roles. For instance, the Dora Milaje, a squadron of spear-wielding women warriors, was assigned to protect T'Challa. Two members, Nakia and Okoye, are the film's main characters. At the same time, Okoye (Danai Gurira) is a general of a terrifying armed force. The costumes reflect much of Wakanda's syncretic culture: the Dora Milaje wore stacked neck rings which the Ndebele women of South Africa once wore. Their drained uniforms attribute beading to the Maasai and Turkana traditions.
The reason behind winning Academy Awards for best costume was the work that Ruth E. Carter and Hannah Beachler delicately designed, and the production work was well organized.
The myth about Black Panther suggested that big-budget black films weren't bankable internationally. Black Panther broke all the records and earned more than 1.3 billion worldwide. It made history and was the first marvel movie nominated for best picture.
Detailed Review and Feedback
For enjoyment, writer Shanelle Genai in Black Panther was like a giant cultural shift. Genai had never seen a buzz like that, which was generated online. It was a constructive and live picture of black people, which was never seen before by the audience and if that moment was missed, then watching a movie isn't worth it. The optimistic approach accompanied the film's 'level of artistry. The design and décor were unique, which wasn't seen anywhere before.
Showrunner and writer Mike Gayo, who has worked on HBO's Insecure and Netflix's Ginny and Georgia, agreed that people were "proud of the representation they saw" and said he saw Black Panther four times in theaters, African- only times inspired clothes. And that representation extended beyond the on-screen actors to the film's soundtrack, featuring well-known black artists such as Kendrick Lamar, S.Z.A., and The Weeknd and the show, crew, and director Ryan Coogler "have your finger on the pulse of the culture," Genai said. Film critic Kathia Woods believes the crowd was overjoyed because "they got to see the lives of poor black people who weren't living, but living."
As Woods says, "Black people are part of the mission, but we don't get to lead the mission very much," so it's nice to see them in the forefront of the action – especially in the context of the Marvel universe, which was criticized at the time after all black characters such as Colonel James Rhodes in Iron Man and Sam Wilson in Captain America play second fiddle to white heroes.
Wakanda Forever wouldn't be so affecting or urgent (for repeat watchers especially) if director Ryan Coogler hadn't gone to such lengths to ground the film in truth. The film tackles instead of all the heady themes- especially the death of Chadwick Boseman, the impossibility of quenching avarice of the world's superpower nation, and the tragic fight among minorities having a common cause. It was the way to handle their relationships with deep water. It's fraught territory for any film, much less one meant for kids.
Pros:
Characters are impressive as T'Challa's Wakanda presents the self-determination in his character.
The moral of the movie is unique as it reflects not just a person but the whole nation and gives the message of nobility and mercy.
The movie has portrayed minorities positively as a huge part of the movie is covered with them.
Most of the parts of black panthers commend stem from its race and gender-conscious casting and costuming
Panther was nominated almost for 9 Academy awards, including Best Picture, and won 3 of them.
Cons:
The Black Panther's character is quite boring while all others are shining.
The climax in the movie is somewhat missing.
The character of Killmonger is somewhat absent most of the time.
The black panther- wakanda forever is more about issues affecting modern-day black life instead of black people of Africa and America's issues.
The story is clunky, drawn out, and underwhelming.
FAQs
Who is the smarter? Black Panther or Batman.
Batman is known as the smartest person on earth who understands the I.Q. and random-access mastery of myriad subjects from ballistics to botany. Marvel Studio's Black Panther is supposed to be the smartest person in the Marvel Universe.

Black Panther is as strong as a human being can become while not superhuman. The abilities are incorporated in characters like an accomplishment in Gymnast and Acrobat. The best thing is that it fits a maximum of 750 pounds with a huge effort. T' Challa is the expert tracker pro in various African martial arts.
What happened between Black Panther and Storm?
In 2012, T'Challa and Storm finished on opposing sides of the Avengers. Damage to Wakanda was severe, and T'Challa blamed the storm for siding with the X-Men. Due to this event, they gave divorced each other.
What makes Black Panther runs faster?
T'Challa (Black Panther) ate a purple-shaped herb that intensified the speed and strength. A vibranium enhanced armored intensify his abilities and suits him.
Who is M'Baku and T'Challa's son?
M'Baku is the name of T'Challa's older brother in Ultimate Marvel Universe. When T'Challa failed to finish the "Trial of the Black Panther," then M'Baku made fun of him and taunted him that he should have taken the trial instead. 

History shows that Azari is the son of Black Panther and Storm. With James Roger, he was taken to safety by Iron Man. Like all siblings, Azari knew of the Avengers through Tony's tales. The character was built by Brian Michael Bendis and John Romita Jr. He and his friends gathered and made the team stop Ultron.

There is a man who knows the form of the conditions and the sight. "Wakanda for all time" takes this genre-defining acting, world structure, and heart story to another level.
Final Verdict
Successfully, Black Panther- Wakanda Forever went well in narrating the other side of the superhero film. This film indicates that you can come out with real-life issues in a fictional film and relate it to a huge audience. The movie's cast is incredible, with an action sequence and amazing scenes that the audience will surely remember in their minds. The movie has all the characters motivating and inspiring along with African culture and traditions, which should pave the way to a higher level.
In the end, the film is in the balance that Kuti sings about – and he even seems more inspired by the Afrobeat star when he takes his sweet time there. Of course, this cultural development may affect the audience who just signed up to see how the film interacts with the rest of the Marvel Cinematic Universe. But for those who follow the weight of water and embrace it despite our deepest fears, the metaphor of going with the flow in Wakanda Forever is too powerful to drown out.