Have you considered using Dark Mode on Snapchat on your smartphone at night if you are bothered by a brighter screen?
Constantly staring at your mobile phone screen causes irritation to your eyes and causes headaches or in somniafora longtime display. You always get bright light in a dark environment, which seems uncomfortable. Thanks to the activation of the dark theme for iPhone users, you can now enable the dark mode on your phone to take good care of your health and eyes.
With the emergence of dark mode in many other renowned apps, especially YouTube, the dark mode launch is available to iPhone and Android users. You may now effortlessly use dark mode on Snapchat without disturbing people and enjoy the Snapchat experience in the dim light. Furthermore, activating night mode may result in slower battery draining.
In this article, you will learn what Snapchat is all about. How can you turn on dark mode on your mobile phone?
Getting into further discussion makes us all curious about what is so enticing about the dark mode on both Android phones and iPhone smartphones.
The dark mode is an optional user-friendly feature in practically all noteworthy software that allows you to darken the user interface while maintaining low contrast and higher saturation. It is renowned for its night mode, which reveals the entire tale of how it is usable. It is a setting that causes the app's color scheme to darken. It switches to a darker mode based on the system user's preference. It's also known as the bedtime mode because it allows you to stay awake for a considerable time by using light-out displays. Among all of the possibilities, you may get dark mode on Snapchat, just like any other well-known website or social media platform that incorporates the dark mode. Unfortunately, not all apps provide a night mode option, and even some prominent apps may benefit from such a feature.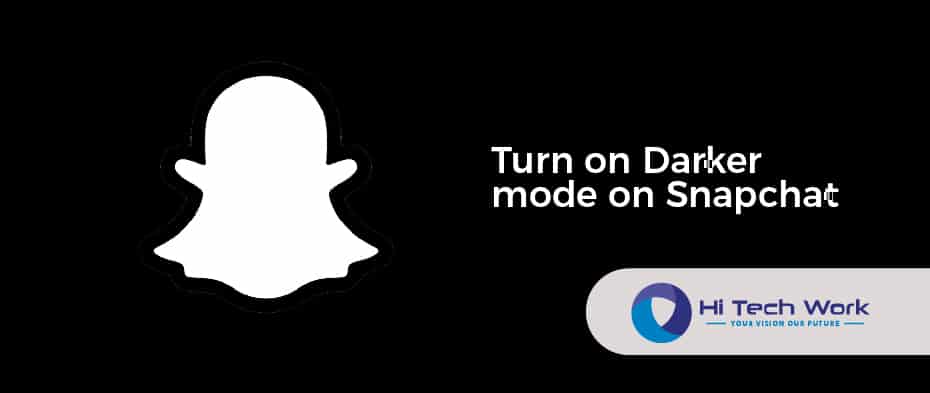 Turn on Darker mode on Snapchat
How can you turn on Dark Mode on Snapchat for Android or iPhone users? It has simple few steps to activate it on your smartphone. Anyone can easily change its display into a darker mode at night.
Dark Mode on Snapchat for iPhone Users
You can initiate changing your Snapchat appearance by navigating to the top left User Profile Icon.
The next step should be to open the "Settings" option by tapping the gear icon in the top right corner.
There you can find a list of all the settings wherein you can spot the "App Appearance."
Now, three options appear in the following menu that recommends changing your display. Dark Modein Snapchat suggests the dark mode for a long time unless you change it manually in the settings.
Another tip for setting darker mode in the iPhone theme is that you can select your Snapchat interface to Match System. It allows us to match systems that are always bright or always dark. Thus, if you have a dark mode mobile phone, you can also enable the night theme.
For Android Users: Set on Dark Mode on Snapchat
Before we go any further, Snapchat is one of the few social networking apps that does not provide a dark mode option. As a result, enabling it on Android phones may be tricky. For Android users, follow these steps to allow Snapchat toDark Mode.
I'm sure Android users have grown accustomed to the light theme until Snapchat introduces a dark mode compatible with the Android app in some of its editions.
Navigate to the "Settings" menu then to the "Display" settings under the Display tab.
Select "Dark Theme" from the drop-down menu. On some Android phones, the word Dark Modeon Snapchat appears.
It allows you to enable the Night theme's dark backdrop on Android Phones.
If it doesn't work, you can try another method to activate Developer Mode.
Developer Mode Activation in Android Users
You must first go through the phone's settings to activate the Developer mode.
The first step in the Settings menu is "About Phone," located at the bottom of the phone's navigation.
Look for "Build Number" in the "About Phone" settings. You can find Software Informationin the phone'ssettings menu.
You can enable "Developer Options." You may now access the settings menu by clicking "System" and tapping the newly accessible "Developer options."
Force Dark Mode Panel is the option you must select to enable the dark mode on an Android phone that does not support such a feature. On different Android devices, you'll discover a variety of menu layouts.In short, Developer Modeis a valuable feature for Snapchat users who don't know how to enable darker mode in less compliant apps.
Frequently Asked Question (FAQs)
Is there any official support for Dark Mode on Snapchat for Android users?
Snapchat does not officially support dark mode for Android users. However, certain third-party apps help Snapchat run smoothly.
Why doesn't my Snapchat account have an appearance tab?
Snapchat launched a darker mode on Android to gauge user interest and how many people felt comfortable using this feature on their phones. It is a preset feature for iPhone users to attract devoted users, mainly from the United States and Australia. You will have problems finding the appearance tab on your account if you reside somewhere else. Snapchat, on the other hand, intends to make it available to all of its users in the future.
The dark mode had vanished on my Snapchat. Why?
Snapchat's dark mode is currently in beta testing, and only iPhone users will be able to use it. Whether it should officially introduced as an official feature compatible with all devices is still being debated.
How can I enable dark mode on Snapchat without first allowing the appearance to option in my Snapchat app?
The Google Play Store is great to get the most up-to-date preference management software. Substratum, Juno, One Shade, DarQ, and Before Launcher are similar apps compatible with this purpose. Many other similar apps provide app display customization settings on your phone.
Conclusion
Having night mode is well-adaptable in most social media apps makes it reasonably appealing. It is a standard feature in practically every popular and trending app. So, if you want to test out dark mode on Snapchat, you need to follow the instructions above.