When the Alexa "Echo Dot not responding to voice" command issue occurs, Amazon Echo users are left wondering how to resolve the issue. Let's have a look at some of the highlighted troubleshooting tips that will surely help get your issue resolved with the Alexa Echo Dot voice command.
Are you getting voice command issues using Alexa Echo Dot? Is the EchoDot not responding to your voice command? in this article, we will discuss why Echo does not respond & how to resolve the issue.
I can surely tell you the reason why these issues occur. It is possible that the virtual assistant is having difficulty understanding your voice commands, that there is a problem with your internet connection, or that there is a minor crash on your Alexa Echo Dot smart speaker.
Why is Alexa Echo Dot not responding to voice commands?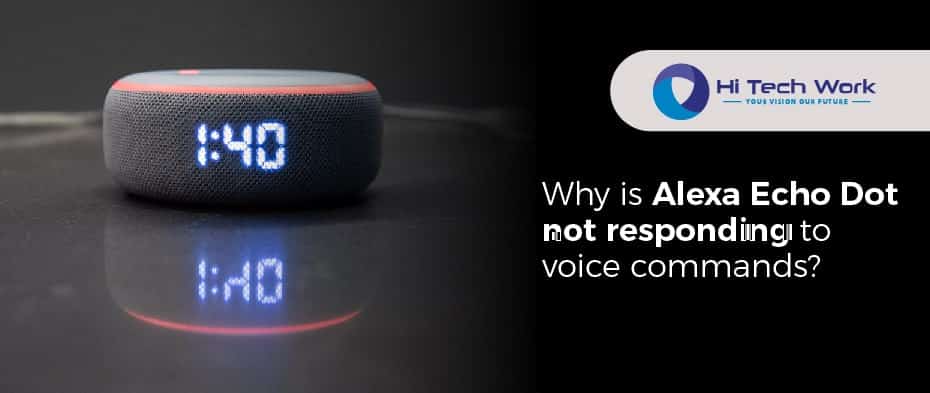 Without getting into the causes of its glitch, you want to fix the virtual assistant and get it working properly. There are various ways to resolve the Echo Dot not responding issues, and the following is a guide to cover some of the aspects that you will mainly need to resolve simply.
One primary reason the Echo Dot is not responding to your voice command could be unclear instruction. Alex Echo might need clear voice command, so you need to pronounce "Wake word" accurately to grab Alex Echo Dot attention.
Another reason could be the noise around you while you are calling the Alex Echo Dot. There should not be too much noise around you, as the Echo Dot won't be able to recognize your voice command. Next, find out the accurate wake words, then try calling Alexa Echo Dot again. Hopefully, it will then greet you with a message.
Turned off the Microphone
Alexa Echo Dot has the option to turn on or off the microphone at the top of the speaker. If this button is turned on, then the mic is off. That would lead to non-response to your voice commands. To confirm the microphone status, the button will turn blue or red. If the mic is off, then pressing the microphone button would surely let you get a command to the Alexa Echo Dot. Now, you can speak to your smart speaker as it can recognize your voice.
Reboot your smart Echo Dot speaker.
There can be times where minor crashes might result in the Echo Dot not responding. Restarting your device is all that is required. If the Alex Echo Dot speaker is switched off. If you have a device that plugs into a socket, you must first unplug it. Then, reconnect your Echo Dot smart speaker to the power outlet and switch on your device.If you have a battery-enabled Alexa Echo Dot, then you need to remove the battery from the smart speaker to turn it off. Wait for 30 seconds, then put the batteries back into your smart Alexa Echo Dot. It should start working now.
Ensure Your Smartphone & Echo are on the Same Wifi Connection
If your alexa device did not respond, check that your smartphone & alexa app are on the same network. If they are on a different connection, they would not be able to respond. So Ensure to connect them with the same network. Then, check Alexa is responding.
Check your Internet connection
The Alexa Echo Dot takes advantage of the Wi-Fi Internet facility to let you get connect to the world's library at Apple Music or any other streaming library. The Alexa Echo Dot always needs a stable and reliable internet connection to run your music library. If your internet connection is a problem, it will almost certainly result in your Alexa Echo not responding to your voice command.
As this issue is unrelated to the Echo Dot smart speaker, you need to check your internet connection from your computer or other devices. If you are unable to resolve your net problem, then concern your internet provider to resolve your net problem. Once your Wi-Fi internet is connected, connect your smart Alexa Echo Dot to it if it is not connected. You can say your wake words to the Alexa Echo Dot.
The Amazon Echo Dot has the feature of multiple wake words, but you can use it one at a time with your smart Alexa speaker. In the case of changing your wake word, it would surely lead to not responding to your voice command. These wake words include Amazon, Echo, Alexa, and the computer.
Let's look at the following step to get to know what wake words your Alexa device uses, or change these words according to your desire.
Changing your wake words using the Alexa app
First, launch the Amazon Alexa app on your smartphone.
Select "Devices" at the app bottom bar
Select "All devices" from the subsequent screen top bar.
Choose your Alexa device from the drop-down list on your screen.
Scroll down to the General section on your Alexa Echo Dot device. Tap on the "Wake Word" option
After selecting your desired Wake Word from the list, you can close the app.
Changing your wake word using the Amazon Alexa Website
You can change your wake words using the Amazon website. The following are a few steps to change it easily.
Log in to your Amazon Alexa Website on your computer using a browser. If you have not logged in before.
Click on the "Settings" option from the left sidebar menu.
Then select your device from the section of "Devices" on the right pane.
Scroll down to the "General" settings page on your device. Click on the "Wake Word" option.
Choose a new wake word from the drop-down menu of Alexa device wake words. Then you can save your settings.
Reset your Alexa Echo Dot device
If none of the above methods work for you, then you can reset your Echo Dot smart speaker. Check if your problem is resolve, as resetting your device will get you back to the default settings from the company. You will have removed all your preferences, including the linked Amazon account, from your device.
Here are steps to reset your device to factory default settings using the Alexa App on your smartphone.
On your phone, create an Amazon Alexa account.
Go to the "Devices" option at the app's bottom bar.
Then you can select "All Devices"from your Alex device drop-down list menu.
Scroll down to select "Factory Reset" from the device setting menu on your Alex device.
Click Factory Reset again in the prompt menu that appears on your screen.
Your Alex Echo Dot device has been reset to its default settings.
As soon as you reset your device, you need to reconfigure it with your Amazon Alex Account. It should then start working with your voice commands.
Echo Dot "Not Responding Issues": In Conclusion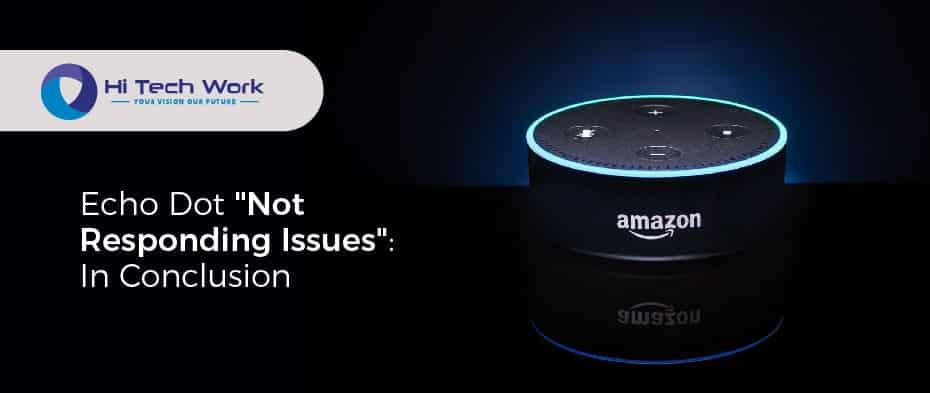 If your smart Echo Dot device ever stops taking your voice commands, then there might be an issue that needs your attention to check your Alex device or Internet connection.
Using the various methods mentioned above can help fix your problem and get your Alex Echo Dot working properly once again as it is supposed to. If you did not find the above methods helpful, just comment below. We will update you.