The connection to the wired (Ethernet) or wireless internet on a computer or any other device keeps dropping for a few seconds. Look for possible errors and fix the modem problem with Windows 10 or another machine in order to get the internet to continue working.
Your internet may disconnect and reconnect repeatedly without any apparent error, and this can be frustrating when your internet keeps dropping constantly every few minutes when you are loading websites, playing games, listening to music, streaming videos, or doing any other activity.
This is not at all a worrying issue, as you're not alone who faces this Internet Keeps Dropping issue, and multiple options can be worked on so that you will not get any such error of internet disconnecting every few minutes error which you're trying to access on the internet for any critical use.
If you regularly have an Internet Keeps Dropping error, then it might be due to any of the below-listed reasons; this might be some leading cause that lets you face Internet Keeps Dropping error.
Recommended: How to Find the Best Internet Provider
Why does my phone's Wi-Fi/Internet Keep Dropping?
If your smartphone has a software problem, resetting network settings is the first thing you should always try. You can perform this action by going to Settings > General > Reset, and finally by clicking Reset Network Settings. Your phone will ask for your confirmation and once you confirm, your iPhone will restart with its default network settings, and your phone should work fine.
Reason for Internet Keeps Dropping
Error with Internet Service Protocol Infrastructure services
Does it connect with a bad Wi-Fi connection or LAN wired
BAS cable connection from your router to your laptop or computer
Configured with wrong DNS Server
They are far from Wi-Fi which doesn't have enough strength to connect to the device
Public Wi-Fi might be overloaded with numerous connections.
Network drivers are outdated, or firmware expired on the device
If a Wi-Fi hotspot is connected, but internet data is turned off
Have reached the maximum data limit and have no further data left
There are not any particular settings options that need to be changed to resolve the Internet Keeps Dropping error. Several best-accepted solutions have been proven to resolve internet issues on many devices, so you should try any of these and get your issue resolved fully.
Recommended: A Guide to Using the Internet to Watch Geo-Blocked TV and Movies
5 Ways to Fix Internet Keeps Dropping Error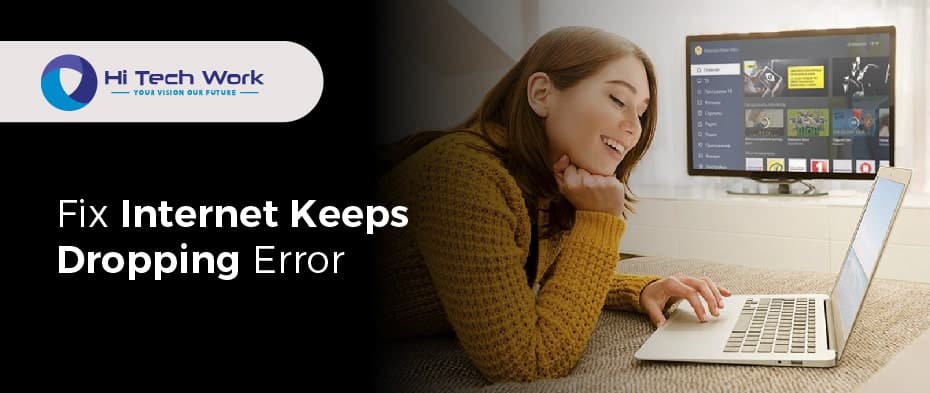 1. Wi-Fi Accessibility
This is one most thing you must do, as to bring your device or computer near a Wi-Fi Modem to have its full signal reached. Due to lack of connection and long-distance, the Internet Keeps Dropping will happen, and thus if you have your device near the modem, you will not even face any issue.
2. Update Drivers
Computers or laptops encounter this issue frequently. If you have an old or un-updated driver, it is obvious to face the internet dropping error. Thus goes device manager and searches for the network adapter, and then gets the drivers updated with the latest version, and this will fix your Internet Keeps Dropping for sure.
3. Restart the device
This is one most common things that you need to follow. Make sure the router/modem and your device are both restarted in order to gain a complete reboot. Any issue in connection will be automatically resolved and will fix the Internet Keeps Dropping. Many times a simple restart has firmly fixed the problem and has given a good internet connection.
4. LAN Wire Disconnect
If you're using a Modem for Wi-Fi or direct LAN wire for broadband connection, then do check your connection that comes from a Broadband user, as any loose connection in the LAN wire will break the internet data, so the LAN must be properly fitted to the modem to provide a functional connection to the internet service provider.
5. Reconnect to Public Wi-Fi
The public Wi-Fi provided is mainly for 60 minutes or even less. In this way, customers must reconnect with Wi-Fi when they are done with their defined time. Once your connection is re-established with a new public PIN or public Wi-Fi like Hotel Wi-Fi, your device will not be facing any issue with the Internet Keeps Dropping error.
FAQs
Q: When the Internet Keeps Dropping issues are continuous, what happens?
A: • On the Internet Keeps Dropping error, you will not access any data over the internet. • The data connection will be blocked, so you will be unable to access anything online. • If you lose the internet connection, you will not be able to receive or send messages through social networking sites. • Customers might also face difficulty loading files, sending emails, or any such important task that will be just browsing and will not start anytime.
Q: Does the Internet Keep Dropping Problem Fixed with VPN?
A: Yes, this is a technology that has been used by many agencies where their employees or customers are asked to enjoy their network after connecting to VPN. Each VPN is defined with login credentials. Only authorized users will access the internet data, and other users will not have any access to the internet provided.
Q: Is Internet Keeps Dropping Related to Mobile software?
A: Occasionally, it has also been found that the software of your device interferes with the internet connection. Thus having updated mobile software will always keep your Wi-Fi connection up to date. The irregular updated data will not allow you to connect to Wi-Fi and use other services that affect your device performance.
Conclusion
The troubleshooting process will take some time until you find the exact cause of why my internet keeps disconnecting or dropping every few minutes, but you will never have to troubleshoot the same issues again once you discover it.
I hope this guide on how to fix internet keeps dropping has helped you determine why your computer or laptop loses internet connection; if you have questions, feel free to post a comment and I will get back to you as soon as possible.