If you are an experienced rider used to premium and high quality, you know what's coming next.
Adult electric scooters riders always demand high performance, which is why this article features only the consistently most powerful and fastest e-scooters available today – the brand name is synonymous to superior, excellent, unrivaled and always, top-performing.
What matters first and foremost: low running costs
Adult riders seriously considering buying an electric scooter often ask how much an electric scooter costs. The two types of riders are – experienced commuters and can go on long-range trips, while the other one, also an experienced rider, loves the thrill of an off-road adventure.
While it depends on the brand, the make, the sophisticated features involved, e-scooters are still relatively far more affordable, considering the technology involved in their construction. Your guarantee of superior quality and high performance each time, from the parts which are sturdy, superior, that make the entire build, to the features are always assured by Mearth Technology, Australia's home grown of well-loved electric scooters. 
The unexpected but awesome surprise is that Mearth electric scooters are inexpensive to run. Compared to running a car, you spend nothing on petrol or parking, and the rider can go from door-to-door, from the point of origin to one's intended destination. If you want to read more Hitech content: Try to understand related read Top 5+ Best Hoverboard Accessories.
Check out These Features
1- Long-range marks the beginning of exciting exploits. For example, Mearth RS Pro, hailed as the ultimate in long-range electric scooter, is built with the lightest, strongest metal for a sleek, stylish finish. It has swappable batteries for the rider who wants to go farther, reach that range still unexplored, and continue the ride uninterrupted. The upside here is that the battery is inexpensive to charge, as it doesn't cause a dent in your power bill. Mearth RS Pro electric scooter's parts are generally affordable. It has few moving parts, and if kept clean, well-maintained will give years of faithful, reliable, performance and its lifespan extended. 
2- Feel the power at work. Equipped with 550W Motor Power, 10-inch wheels, and a sturdy build, the Mearth RS Pro takes on any road with ease. Glide effortlessly through the suburbs or city.
3- Easy, one-click folding mechanism for easy carrying. This e-scooter's folding structure allows riders to fold and unfold it easily, quickly, and safely – making it easy and convenient to store almost anywhere. The stem locks firmly into place to ensure its stability while riding.
4- Premium battery. The Mearth RS Pro features a highly efficient and concentrated lithium battery that turns kinetic energy (your movement) into electric energy. Trust a battery that's safe, durable, and stands the test of time. This battery also comes with six intelligent protection mechanisms, including short-circuit, over-current, double-over-charge, double-over-discharge, temperature anomaly, and under-voltage (automatic sleep) protection.
5- Sophistication and style meet performance. The Mearth RS Pro comes with a 500W high-speed brushless motor, allowing the rider to power over all types of terrain. Feel its power, smoothness, and seamlessness.
6- Durable, wear-resistant tires. Red wheels for easy distinction, recognition.
The 10-inch front and rear explosion-proof tires made from memory gel vacuum materials are wear-resistant, anti-skid, and shock absorbing, to prevent leaks and damage, so the rider can pass through urban roads. – delivering a comfortable ride every time.
7- Greater dual disc capability for the rider's safety. The strong braking power helps ensure the rider's safety and protection in every trip. The Mearth RS Pro features front and rear disc brakes, an anti-lock electric brake, rear foot brakes, and a double hand-grip brake.
8- Premium features. There are so many reasons to love about the Mearth RS Pro – wide, non-slip grip texture deck (18.3cms to provide the rider with a more stable and comfortable riding position), buzzers and bells to warn oncoming pedestrians and vehicles, and tough magnesium alloy construction.
New tail lights integrated into the rear step-on brake for visible, stronger resistance against damage
New battery upgrade from 48V15.6Ah to 36V20.5Ah
New 500W brushless motor provides 8 percent more efficiency using the same power consumption
New Sinewave Controller enhanced to provide more efficient and smoother power delivery
Reaches up to 100 km range
Battery has 6 intelligent protection mechanisms – (short-circuit, over-current, double-over-charge, double-over-discharge, temperature anomaly, and under-voltage (automatic sleep) protection
Comes with multiple brakes and an additional foot brake for extra safety due to the high top speeds stores easily, almost anywhere 
9- MEARTH GTS EVO, top-tier, single motor, on-and-off-terrain, heavy duty electric scooter, dubbed as the 'king off-road' is just right for those that have a yen to go uphill, discover off-beaten trails, trek the jagged paths and discover their passion for the great outdoors. Foldable and portable, the GTS EVO weighs only 33kg and is able to carry a maximum of 150kg load. 
The GTS EVO allows the rider to ride in comfort, smoothly tramping, uphill or downhill where his zest leads. With, hot swappable batteries that ensures one's ride is not abruptly interrupted in the middle of a great adventure discovery somewhere.
10- Speed. The normal speed of the GTS EVO caps at 25 kph for city riding, but it could reach up to 70 Kph off-road. Since this is an off-road electric scooter, it was built for speed. Just remember to ride safely at all times when reaching this speed. Make sure you are also in a safe environment.
11- Range. On a single charge, the Mearth GTS EVO can travel up to 70 km. Awesome!
Hill climbing. The GTS EVO's hill-climbing ability is suitable for driving through bumpy and jagged paths. And it can ride up to 30 degrees of slope too. No need to hike up while carrying your e-scooter, because it's easier to pass through slopes with the GTS EVO electric scooter.
12- Dashboard. The dashboard is simple and has an ample visible screen that will display your speed, riding mode, and battery level.
13- Lights. The Mearth GTS EVO is equipped with an LED light at the front and rear. The front light is positioned at the lower part of the stem, conveniently lighting your path.
14- Ride Quality. It's a pleasure to ride the Mearth GTS EVO because of its solid build, powerful motor, fast speeds, and comfortable design. Thanks to its premium build, riding through any terrain is easier, safer, and more comfortable. The wide deck and the 150 kg max load make it very comfortable, stable, and safe for bigger people. 
Related: The Top 5 Advancements in Caravan Technology in 2023
 GTS EVO Features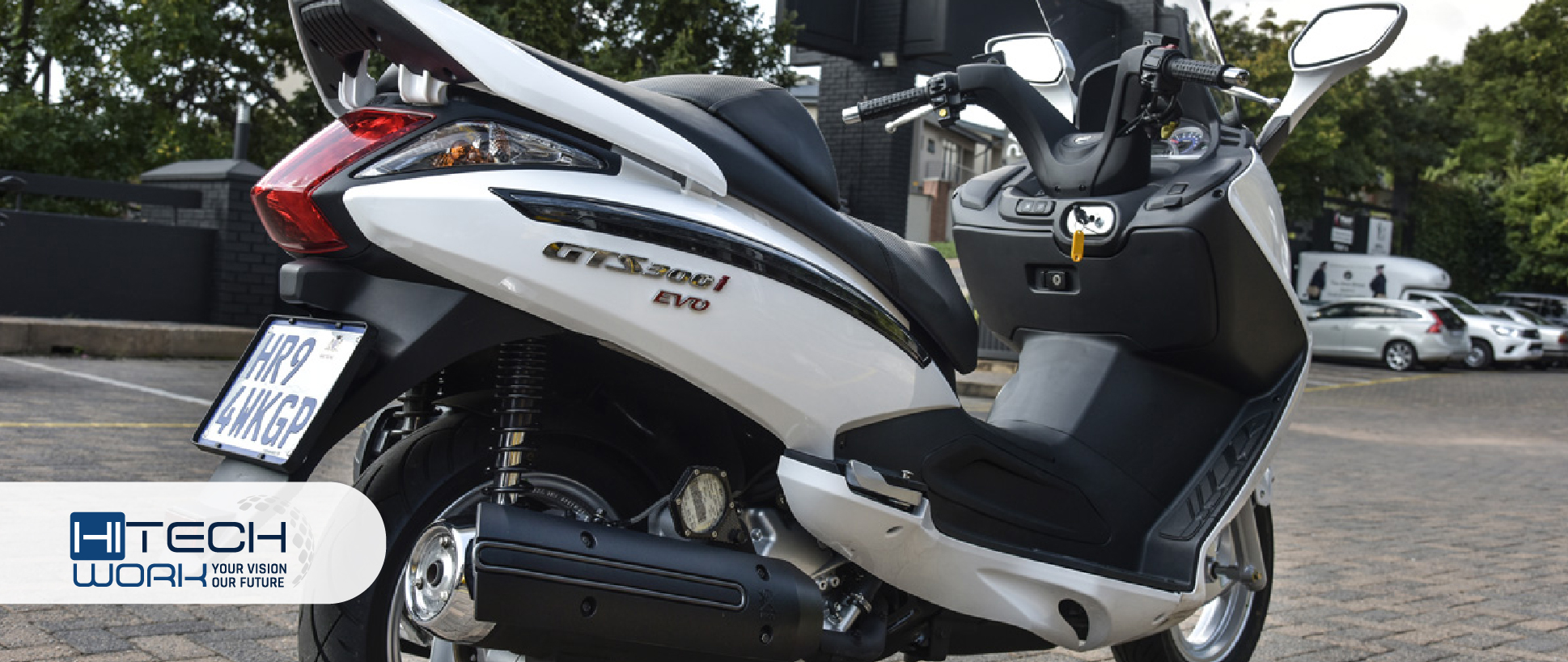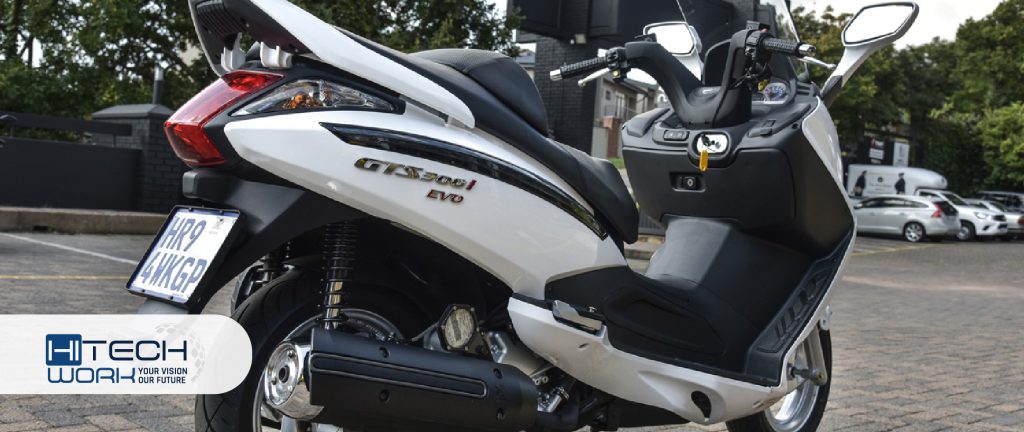 Weighs only 33kg
New, hardcore, durable, wear-resistant off-road tyres
Tyres use anti-skid and shock-absorbing materials to provide a comfortable ride, prevent leaks and damage
New, more durable folding design for better stability
New, more durable kickstand
New, stronger Suspensions – new and improved 2x1000lb spring for better support and navigation on terrain riding
New next Gen Black Motor with 9.5 percent more efficiency
New Sine-wave controller offers better efficiency and less heat, less sound, and more power
GTS produces a 1000W motor power and uses a 13Ah battery
Single motor GTS EVO on-and-off-road road king offers a range of up to 70 km and speeds up to 45kph – on a single charge
Equipped with dual disc brakes for extra safety due to their high top speeds in the city, on long ranges, or off-terrain
Strong braking power of the disc brakes strong grip and responsiveness help ensure rider's safety and protection on every trip
The two top-notch, all premium, superior in performance electric scooters from Mearth easily personifies what many happy and devoted owners of the RS Pro ultimate long-range electric scooters and the GTS MAX EVO 'feel about their prized personal mobility device — and the word 'love' to them connotes admiration, trust, loyalty, satisfaction towards something that gives constancy and reliability. This is in reference to performance — going even beyond one's expectations.
The mature, experienced, discerning rider is overwhelmed with a sense of pleasure and pride for his excellent choice of electric scooter that consistently meets and satisfies his travel needs and preference. (for more information, visit www.mearth.com.au)