Are you ready to take your running game to the next level? Look no further than the Garmin Forerunner 25 running watch and Garmin Vivofit 3. This sleek and lightweight device packs a powerful punch, providing the essential features to track your runs and stay motivated.
With its built-in GPS technology, the Forerunner 25 accurately tracks your time, distance, and pace, allowing you to monitor your progress precisely. Whether pounding the pavement or hitting the trails, this watch has got you covered.
But it doesn't stop there. The Forerunner 25 goes beyond tracking and becomes your personal coach. It sets daily goals based on your activity level and nudges you to push harder, helping you achieve your fitness targets and surpass your limits.
Ready to unleash your running potential? The Garmin Forerunner 25 is here to support and motivate you every step of the way. Strap it on, lace up your shoes, and let's hit the road together.
About Garmin Forerunner 25
The Garmin Forerunner25 running watch is a powerful companion for fitness enthusiasts who crave a reliable, feature-packed device to track their runs. It is designed to provide essential data and motivate athletes, and this GPS-enabled watch is a perfect blend of functionality and simplicity.
With its sleek and lightweight design, the Forerunner 25 offers a comfortable fit that won't weigh you down during workouts. It boasts a high-resolution display that provides crisp and clear information. Ensuring easy readability even in bright sunlight. Whether running on the road or hitting the trails, this watch informs you about your time, distance, pace, and calories burned.
WHAT'S IN THE BOX
| | |
| --- | --- |
| Watch Only | Bundle |
| Forerunner 25 | Forerunner 25 |
| Charging/data cable | Heart rate monitor |
| Manual | Charging/data cable |
| ——- | Manual |
Features of Garmin Forerunner 25
The Garmin Forerunner is a no-frills running watch that's available in black and white color with no heart rate monitoring. But the Forerunner 25 has the right to maintain the best fitness tracker for someone new to running who doesn't want lots of whistles.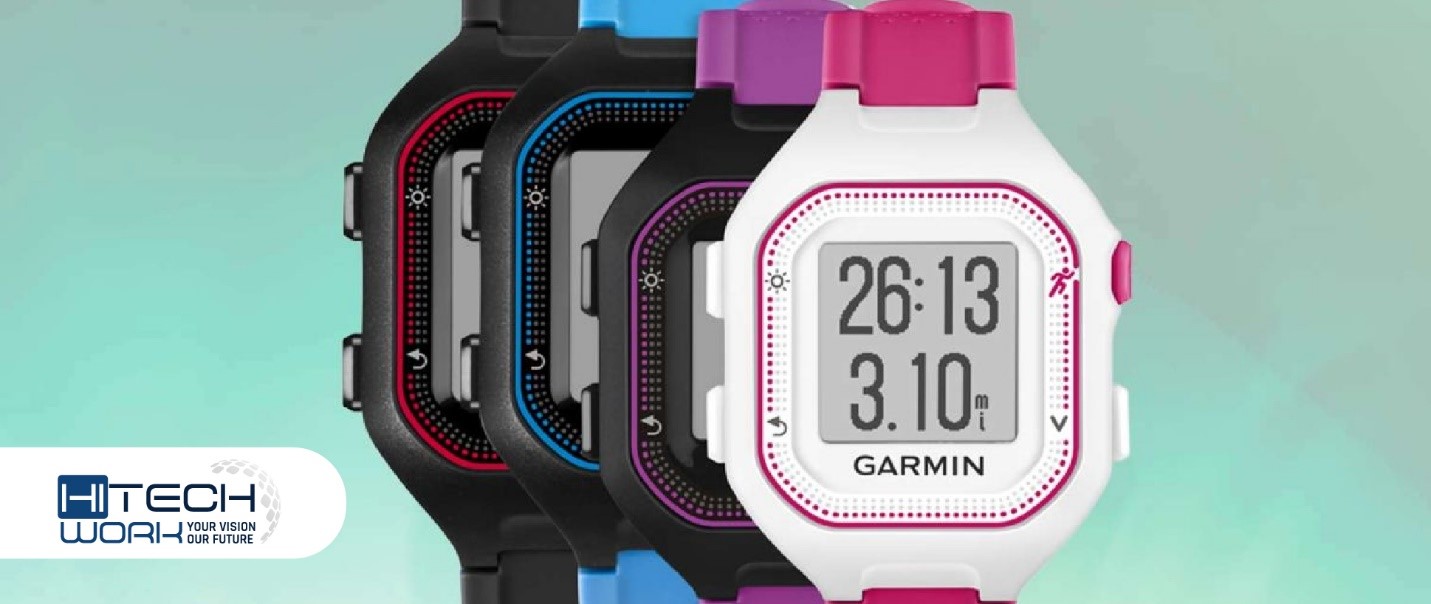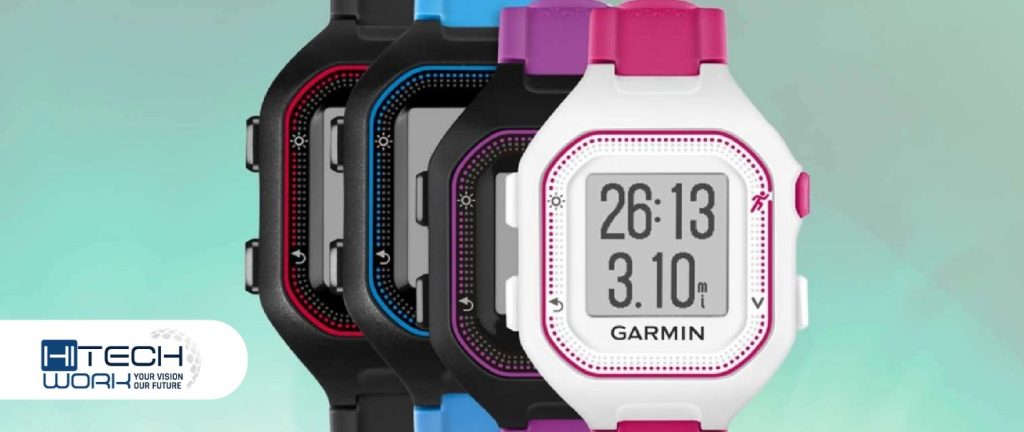 1. Price
| | |
| --- | --- |
| Garmin Forerunner 25 Cost | €133.00 |
| Garmin Forerunner 25 Release Date | August 5, 2015 |
| Garmin Forerunner 25 Charger Cost on Amazon | $3.78 |
| Garmin Forerunner 25 Strap Cost on Strapsco & eBay | $19.99 (Strapsco) & £4.99 (eBay) |
2. Design
The Forerunner 25 is available in 4 colors: white/pink, black/purple, black/blue, and black/red. The black/blue version has a bigger appearance (1.57 x 1.85 inches) than the white/pink and black/purple version. Both watches have minor differences in size, just 0.55 inches thick. The larger watch has a larger battery to consume lately.
The black and red watch is the most muted design watch of the four. It has a top-right activity button and a thin red border around the watch's face. This version looks like a running watch and could be blended into every outfit. The second color appears on the other three designs' band, Activity button, and watch border. Although I tend to dress conservatively, I wouldn't wear any of these with a sport coat.
3. Setup
The Forerunner 25 is easy to set up like other Garmin devices. After connecting with the mobile account, the watch syncs to the app through bluetooth. This is an upgrade version of Forerunner 15, which doesn't offer bluetooth syncing.
With the upgraded watch and after bluetooth syncing, you have to enter your height, weight, and birth date, which is used by Forerunner 25 to estimate the number of calories burned during your workouts.
The Forerunner25 can also be configured to receive smartphone notifications through Garmin Connect. In the Forerunner 15, notifications couldn't be synced because of a lack of Bluetooth connectivity.
4. Compatibility
The watch's compatibility with Garmin Connect opens up a whole new world of possibilities. Sync your runs wirelessly, analyze your data, and join a vibrant community of like-minded individuals. Share your achievements, compete in challenges, and gain insights that will propel your running journey forward.
Comfortable to wear all day, the Forerunner 25 also functions as a regular watch, keeping you on schedule and reminding you to stay active. With long-lasting battery life, you can rely on this watch to accompany you on your fitness adventures without interruption.
5. Interface
If you see a lost-cost running watch, the Forerunner 25 has a basic design. It has an 18 x 128-pixel screen which is black and white, and has many heavy curves, which you can see individually. Moreover, it is quite an upgrade version of the Forerunner 15 55 x 32 Pixel screen, which is smaller than today's fitness trackers.
Unsurprisingly, the Forerunner 25 does not work on the touchscreen model because it has four buttons: An activity button, a down scroll arrow on the right side, a black button, and a backlight button on the left side. It's handy when running but a bit annoying at work when sitting at your desk. The watch beeps whenever you press a button. If you don't want the beeping, you can turn it off.
6. Daily Use
If you spend too much time sitting, the Forerunner 25's Move bar encourages you to get up and walk. It will take about 250 steps to clear the Move bar. Moreover, Your daily activity stats are displayed on the watch's main screen when you press the back button: steps taken, step goal, miles walked or run, and calories burned.
There is no embedded HRM in the Forerunner 25, although it comes with a strap-on HRM that costs $169 with the watch. While less-expensive activity trackers, such as the Huawei Band 2 Pro ($69), do not have HRMs, this lack is understandable.
The Forerunner 25 is a water-resistant watch that we can call 5 atmospheres. However, the watch cannot track your swim steps during workouts. You can wear it while taking a shower without worrying. And last, the only downside is that the watch is not working during your sleeping hours.
7. Activity Use
The Garmin Forerunner 25 is a GPS running watch designed for tracking various activities and providing essential fitness metrics. Here are some common uses and activities for the Forerunner 25:
= Running: The Forerunner 25 is primarily designed for runners. It tracks your distance, pace, speed, and calories burned while running. You can set goals, monitor your progress, and compare your performance over time.
= Walking: The Forerunner 25 is also suitable for tracking walking activities. It provides similar metrics as running, which allow you to monitor your steps, distance, and calories burned while walking.
= Indoor Activities: While primarily a GPS watch, the Forerunner 25 can track indoor activities such as treadmill running or indoor walking. It uses an accelerometer to estimate distance and pace when GPS signals are unavailable.
= Daily Activity Tracking: The Forerunner 25 offers basic activity-tracking features besides workouts. It counts your daily steps, monitors your sleep patterns, and estimates calories burned during daily activities.
= Virtual Pacer: The Forerunner 25 includes a Virtual Pacer feature that allows you to set a target pace for your activities. It provides real-time alerts to help you maintain your desired pace during your runs or walks.
= Personal Records: The Forerunner 25 keeps a record of your personal bests for various distances, such as your fastest 5K or longest run. Tracking your progress and striving for new personal records can be motivating.
= Heart Rate Monitoring: While the Forerunner 25 does not have a built-in heart rate monitor, it is compatible with ANT+ heart rate straps. If you have a compatible strap, you can pair it with the watch to monitor your heart rate during workouts.
8. Battery Life
The black/blue and black/red versions will last 10 hours in GPS mode and 10 weeks in watch mode, while the smaller black/purple and white/pink versions will last up to 8 hours in GPS mode and 8 weeks in watch mode.
If we charge Forerunner, it will take more than an hour. Once it was fully charged, I got nearly 2 weeks of use out of the watch. It includes more than 2 hours of running time. Though it fell short of Garmin's specifications, it was still impressive. Moreover, when charging, the Forerunner 25 sits flat on a shelf due to the separate straps and watch face.
Over the Forerunner 15, battery life is primarily improved in everyday wear. According to Garmin, the Forerunner 15 can track activity for up to five weeks in GPS mode and up to seven hours in activity tracker mode. So, the Forerunner 25 will last about twice as long as the Forerunner 15 in GPS mode but a little longer in everyday activity mode.
Specs of Garmin Forerunner 25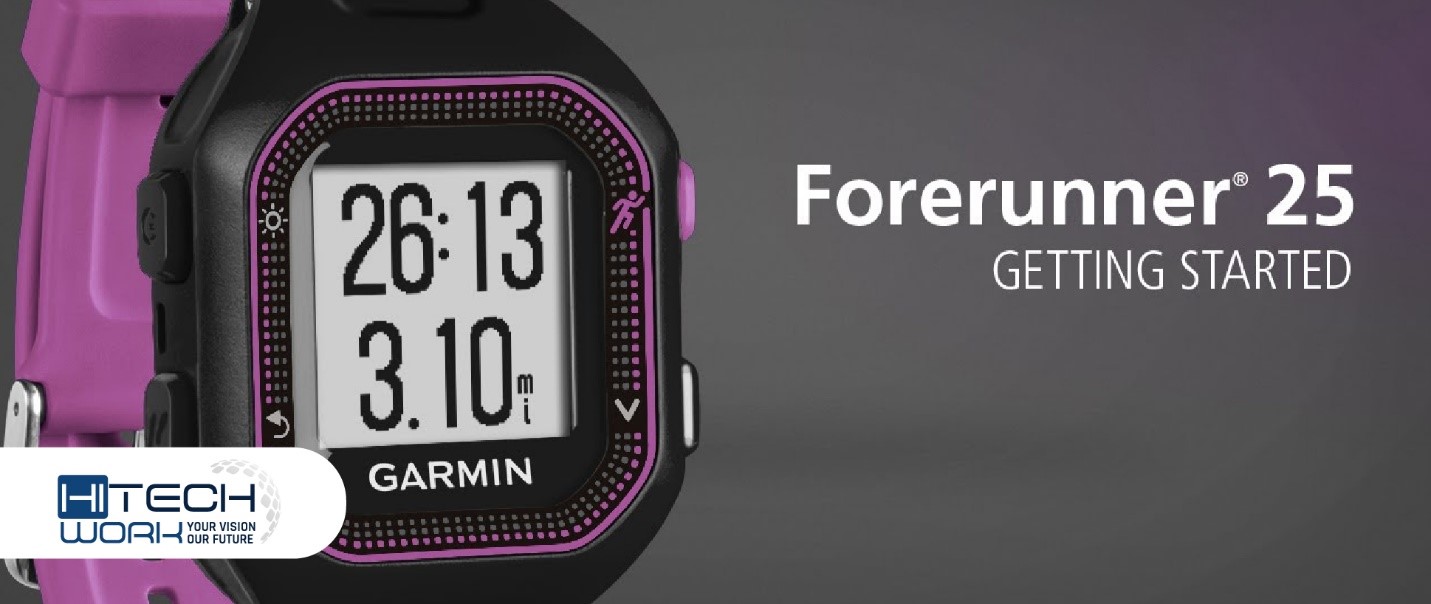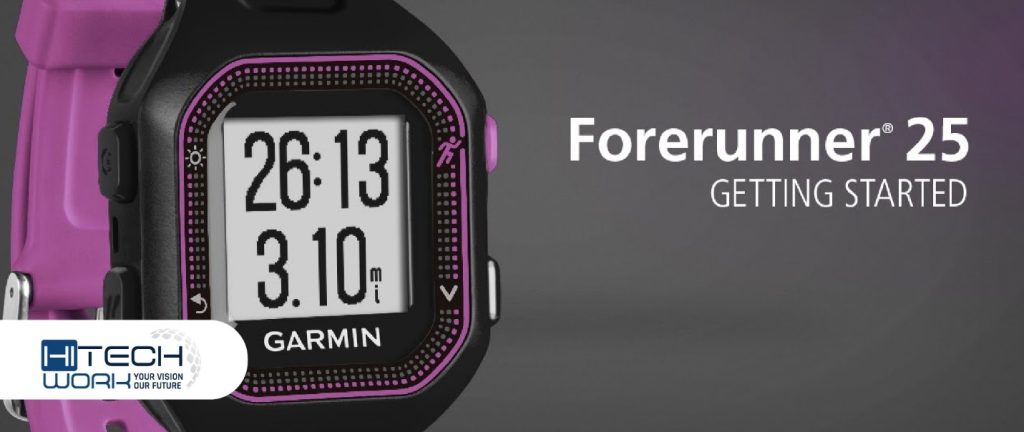 1. General
LENS MATERIAL
acrylic
STRAP MATERIAL
silicone
PHYSICAL SIZE
Small (black/violet and white/pink): 35 x 44 x 13.9 mm
Large (black/blue and black/red): 40 x 47 x 13.9 mm
DISPLAY SIZE
Small: 0.73" x 0.73" (18.5 x 18.5 mm)
Large: 0.91" x 0.91" (23.0 x 23.0 mm)
DISPLAY RESOLUTION
128 x 128 pixels
DISPLAY TYPE
sunlight-visible, transflective memory-in-pixel (MIP)
WEIGHT
Small: 31 g
Large: 39 g
WAter rating
5 ATM
BATTERY LIFE
Small: Watch: Up to 8 weeks; GPS mode: Up to 8 hours
Large: Watch: Up to 10 weeks; GPS mode: Up to 10 hours
MEMORY/HISTORY
7 activities
2. Clock Features
| | |
| --- | --- |
| TIME/DATE | Yes |
| GPS TIME SYNC | Yes |
| AUTOMATIC DAYLIGHT-SAVING TIME | Yes |
| ALARM CLOCK | Yes |
| STOPWATCH | Yes |
3. Sensors
4. Daily Smart Features
| | |
| --- | --- |
| CONNECTIVITY | Yes |
| SMARTPHONE COMPATIBILITY | iPhone, Android™ |
| PAIRS WITH GARMIN CONNECT™ MOBILE | Yes |
5. Safety & Tracking Features
6. Activity Tracking Features
| | |
| --- | --- |
| STEP COUNTER | Yes |
| Move Bar (Displays on Device After a Period of Inactivity; Walk For A Couple Of Minutes To Reset It) | Yes |
| Auto Goal (Learns Your Activity Level and Assigns a Daily Step Goal) | Yes |
| CALORIES BURNED | Yes |
| DISTANCE TRAVELED | Yes |
7. Training, Planning & Analysis Features
| | |
| --- | --- |
| HR ZONES | yes (with Compatible Accessory) |
| HR ALERTS | yes (with Compatible Accessory) |
| HR CALORIES | yes (with Compatible Accessory) |
| GPS SPEED AND DISTANCE | Yes |
| CUSTOMIZABLE DATA PAGES | Yes |
| AUTO PAUSE | Yes |
| AUTO LAP | Yes |
| MANUAL LAP | Yes |
| ACTIVITY HISTORY ON WATCH | Yes |
8. Running Features
| | |
| --- | --- |
| Available Run Profiles | Yes |
| GPS-Based Distance, Time and Pace | Yes |
| Cadence (Provides Real-Time Number of Steps Per Minute) | Yes |
| Foot Pod Capable | Yes |
9. Outdoor Recreation
| | |
| --- | --- |
| Available Outdoor Recreation Profiles | Yes |