If you are a newbie, what would be a better place to sell your products in sale than Shopify? However, amazing things come at a cost.
Likely, Shopify charges some money to the sellers on each transaction done by the customers. These charges contain transaction fees and processing fees implemented on purchases done by credit cards and online transactions.
Furthermore, these charges are decreased with the higher tier plans. Once you discover the platform, you might be confused about how the platform charges money for each sale. Therefore, we come up with each and every detail in this article.
Let's dive into the quick overview of Shopify's most recent updated plans:
Most Recent Shopify's Plans
| | | | | |
| --- | --- | --- | --- | --- |
| Shopify Plan | Monthly Cost | Paid Annually | Saving | Features |
| Shopify Starter | $5 USD | N/A | N/A | Selling on social media – limited features, optimized for mobile. |
| Basic Shopify | $25 USD | $19 USD | 25% | Small businesses or storefronts for existing ones. |
| Shopify | $65 USD | $49 USD | 25% | Larger businesses want more robust tools such as gift cards and cart recovery. |
| Advanced Shopify | $399 USD | $299 USD | 25% | Companies – low transaction rates and priority shipping. |
| Shopify Plus | $2000 USD | N/A | N/A | Enterprise selling for corporations – used by Sony, Unilever, etc. |
Moreover, for transaction fees, Shopify charges a fee of 2.9% + $0.30 per transaction in all online purchases done in the basic plan. While physical purchases charge a 2.7% fee per transaction. If you would like to access any payment gateway rather than Shopify Payments, you will be charged a 2% fee per transaction.
Shopify Selling Fees: How Much Does Shopify Take Per Sale?
Shopify online payments depend on the pricing plan you are using. For example, if you are accessing the Basic plan, you need to pay a 2.9% +$0.30 fee per transaction for each online purchase and a flat 2.7% for in-store purchases while accessing Shopify's POS.
The mid-tier plan, also known as the "Shopify Plan," will be charged 2.6% + $0.30 fee per transaction for each online purchase and a flat 2.5 % for in-store purchases.
"Advanced Plan" is the most expensive plan that will charge 2.4% + $0.30 fee per transaction for each online shopping and a flat 2.4% for in-store purchases.
A Detailed Breakdown of Shopify Pricing Plans
Shopify membership fees are different and totally rely on their plans, which range from Basic to Advanced. All you need to do is choose the right plan that is budget-friendly and up to your requirements. Keep in mind that the company has changed its pricing recently; therefore, have a glance at their latest pricing plans.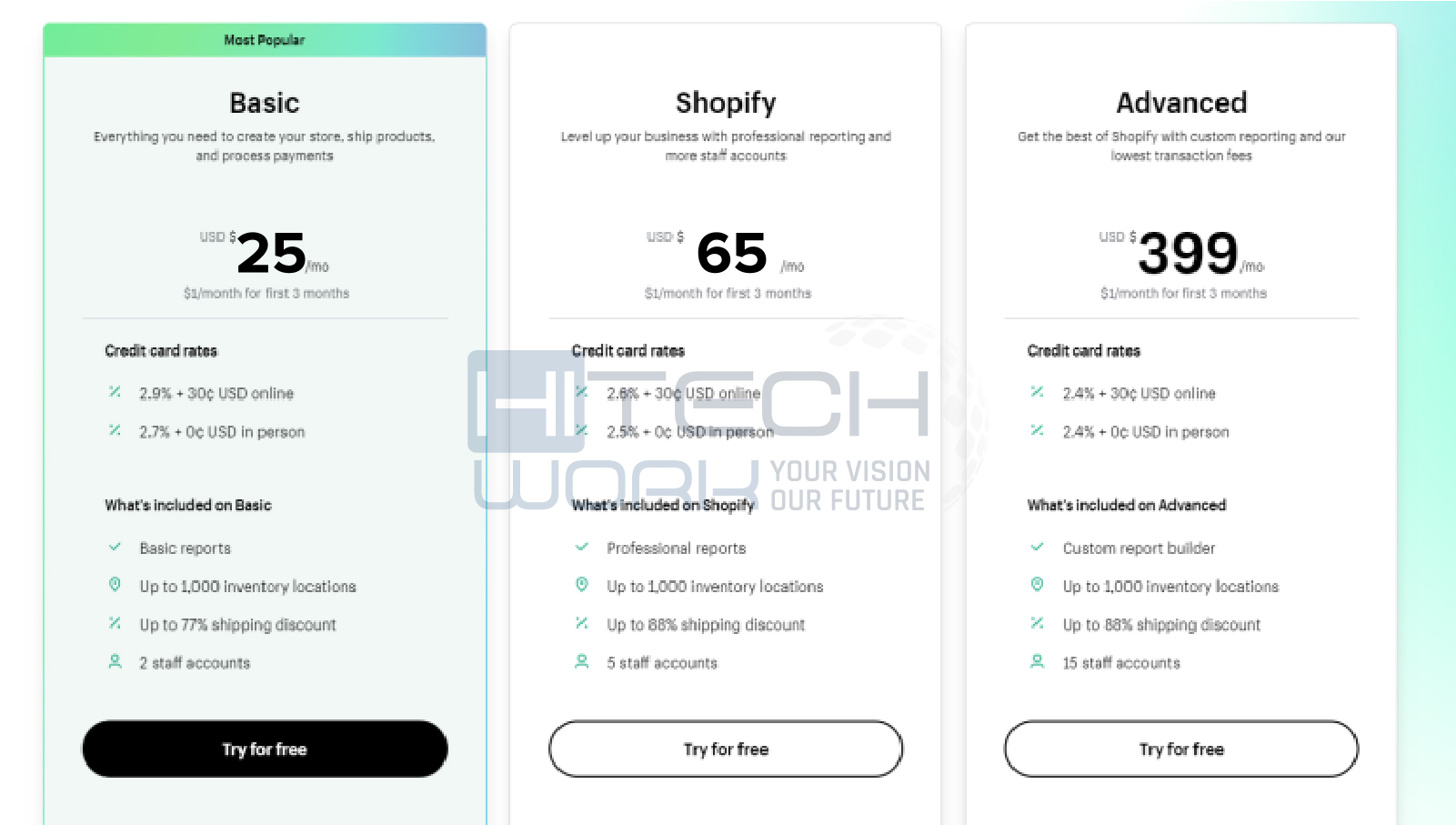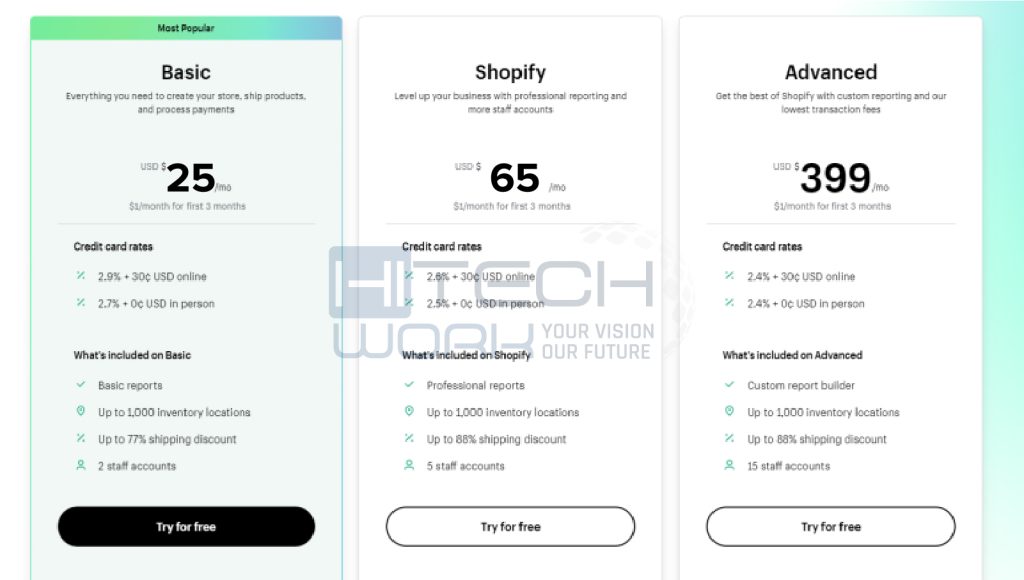 The provider of the Shopify payment is Stripe, through which it can process Shofipy checkouts.
●    Shopify Basic Plan
The Shopify Basic plan is best for new eCommerce businesses that contain few in-person sales. It is the most popular and cheapest plan that charges $25 USD per month while costs $19 USD per year.
The basic plan enables you to create a branded eCommerce website for your store. Apart from its customizable online store, you can also obtain two staff accounts, 24/7 customer support, and unlimited product listings. The Shopify Basic Plan offers the following features:
Free of cost SSL Certificate.
Manual order creation.
Discount codes.
2 staff accounts.
A customizable online store.
Support for sales channels.
Abandoned cart recovery emails.
Furthermore, you can easily manage your physical stores under this plan, even if they are expended across different locations.
On the other hand, the main downfall of this Basic plan is that you cannot get benefits with features like performance reports.
However, it allows enough space for growth and makes it an amazing tool for new businesses. Hence, if you are beginning with a new eCommerce business along with a shoestring budget, the Basic Shopify plan is a perfect match for you.
Have a glance at their pricing details:
| | |
| --- | --- |
| Subscription fee | $25 / month |
| Online credit card rate | 2.9% + 30¢ USD |
| In-person credit card rate | 2.7% + 0¢ USD |
| Additional fees utilizing services rather than Shopify Payments | 2.0% |
●    Shopify Plan
Shopify Plan is the most famous plan that costs $65 USD per month. It contains all the features you would like in order to run your online store seamlessly. The price decreases to $49 USD when you pay it yearly.
The standard Shopify pan is the best fit for businesses with more robust needs.
This plan contains all the Shopify Basic plan features and some additional perks. For instance, you get five staff accounts rather than two. Also, you can assign inventory to multiple retail stores and warehouses up to five.
Dissimilar to the Shopify Basic plan, the Shopify plan has performance reports, which means you can track your website's loading speed and uptime. These performance reports will let you identify potential issues with your store so you can quickly fix them.
Here are some features that the Shopify Plan contains:
Gift card payment.
Shopify POS.
Get an 88% shipping discount.
An abandoned cart recovery feature
The abandoned cart recovery feature is one of the most desired features that make Shopify store owners opt for the standard Shopify plan. Thus, it potentially increases sales and conversions from customers that you might be lost forever.
Look at their pricing plans:
| | |
| --- | --- |
| Subscription fee | $65/month |
| Online credit card rate | 2.6% + 30¢ USD |
| In-person credit card rate | 2.5% + 0¢ USD |
| Additional fees using services as compared to Shopify Payments | 1.0% |
Therefore, the standard Shopify sale plan is the perfect solution for expanding businesses looking to scale their operations quickly. Further, its transaction fees are cheaper and lower than the Basic Shopify plan.
●    Shopify Advanced Plan:
The Advanced plan charges $399 per month and is ideal for larger eCommerce businesses or enterprises. If you access a large inventory and a sizable customer base, this plan is a perfect suit for you. If you pay annually, then it will decrease to $299 USD/ month.
The Advanced plan includes all the features of the Shopify and Basic plans. Additionally, it provides more features, such as extensive reporting and cheaper transaction fees.
Furthermore, the third-party calculated shipping is a remarkable feature that allows you to compare shipping rates from different carriers. Consequently, it will assist you in obtaining the best shipping rates for your customers. It has included the following features:
15 staff accounts.
Assign inventory to 8 retail stores and warehouses.
Unlimited product listings.
Unlimited space for posting videos and images of your product.
Here is the pricing plan:
| | |
| --- | --- |
| Subscription fee | $299 USD / month |
| Online credit card rate | 2.4% + 30¢ USD |
| In-person credit card rate | 2.4% + 0¢ USD |
| Additional fees accessing services other than Shopify Payments | 0.5% |
Therefore, Advanced Shopify is the most reliable enterprise looking for better order fulfillment and store management. The Advanced Shopify plan is remarkable for businesses that make over $10,000 in revenue monthly.
Apart from its significant pricing plans, the platform also offers Shopify Plus and Shopify Starter. These plans are a little bit different from Shopify's main offerings.
●    Shopify Starter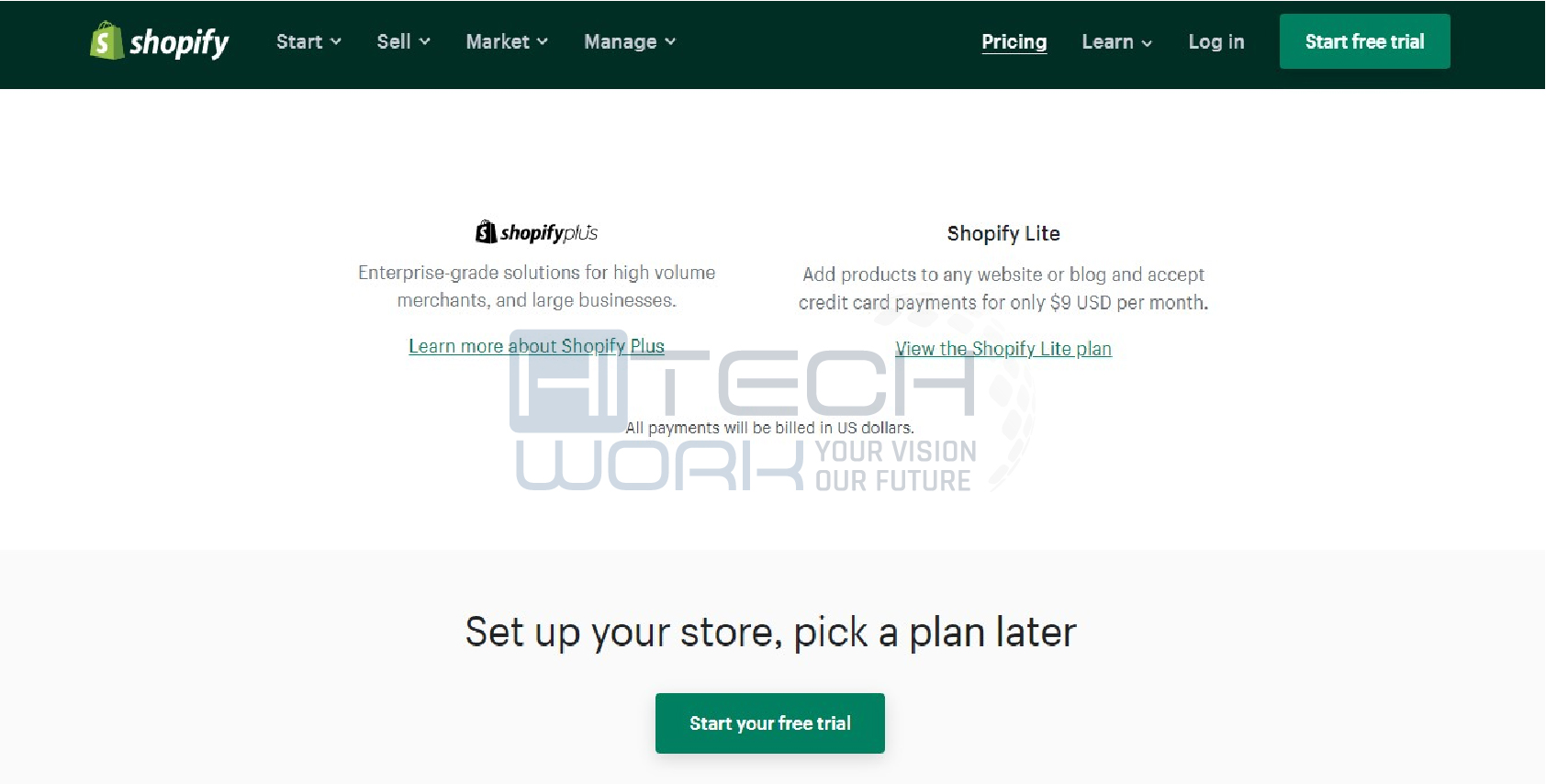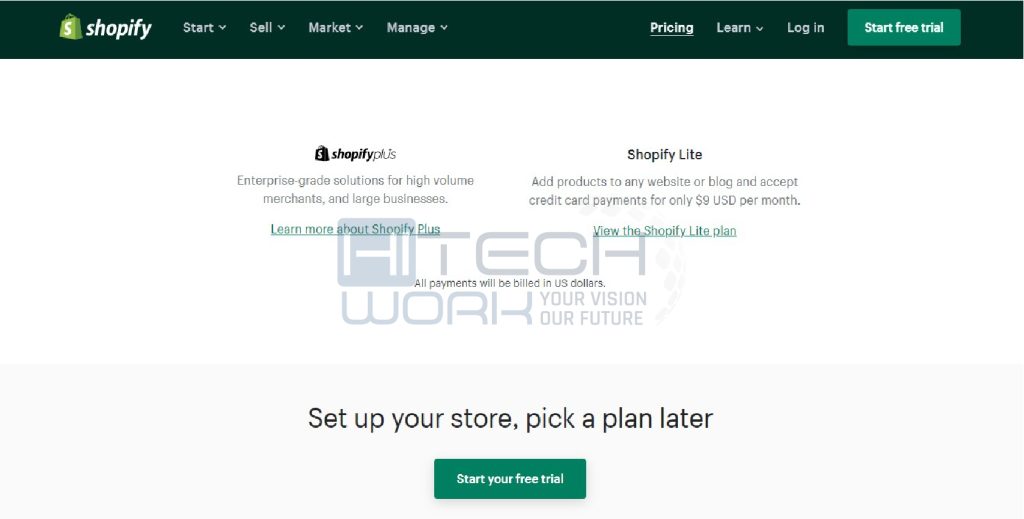 Note: Shopify does not provide the Shopify Lite tier anymore. It is changed the plan with 'Shopify Starter.'
The Shopify Starter sale costs $5 per month. Regardless, it can not allow you to create a website in this plan. This plan is for those who would like to sell through social media platforms, such as Instagram and TikTok. Further, it gives a checkout link to its users and a simple storefront.
The card payments of this plan cost 2.4% per transaction and 2% on the third-party payment gateway when you are not accessing Shopify Payments.
●    Shopify Plus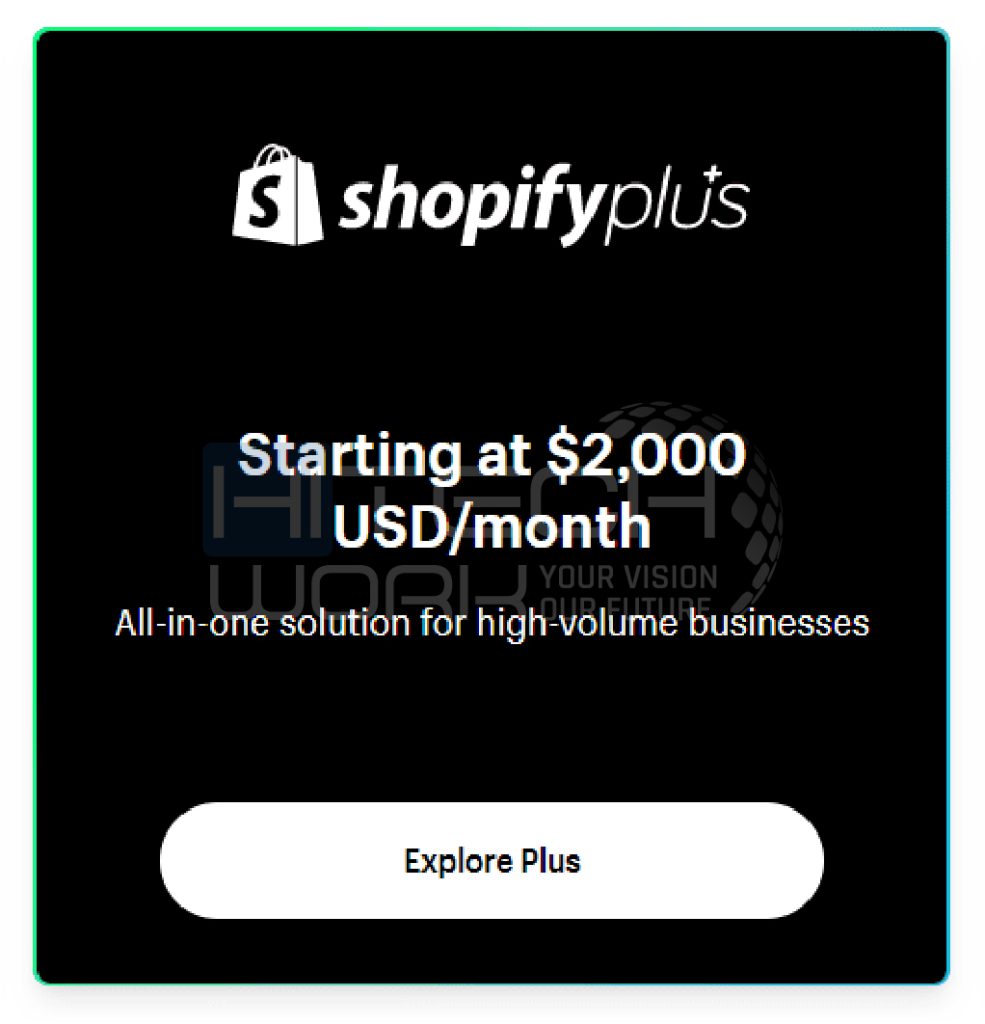 Shopify Plus was created for enterprise-level businesses. It is a premium platform, along with a custom price tag. Shopify cannot list the price of this plan on its website because it is tailored to each business's particular requirement.
As per your expectations from an enterprise-grade eCommerce platform, Shopify Plus has all of Shopify's features as well as some extra perks. One of the best features of this plan is automation.
You can convert your eCommerce processes, such as order management and shipping. It will save you ample time so that you can focus on other aspects of your business.
Additionally, Shopify offers 24/7 support for Shopify Plus customers. You will get a dedicated success manager in order to assist you with anything you want, from technical support to marketing.
Since there are no fixed charges for this plan, you need to contact Shopify to obtain a quote. The plan begins from around $2,000 per month and levels up, depending on your business requirements and the number of customers monthly.
●    Shopify vs. Stripe
Shopify comes with a partnership with Stripe in order to help in Shopify payments and send money to merchants. This long-term partnership has helped both companies vitally. Hence, it is a key method of how Shopify works.
How To Select The Right Shopify Plan?
Now that you have explored our detailed plans and pricing guide available on the platform, you will be couriers to know which plan will be best fit for you.
Our expert team would like to recommend you to go with the Basic plan as a starter. Once you have understood the platform, you are allowed to grow your business and then eventually upgrade to the new plan.
Further, you can enjoy other latest features and lessen transaction costs on the high-tier plans. However, they are only suitable if you want those tools for your business.
Moreover, beginning with the advanced tools and best features on the platform would be complicated. But, it will surely be a good selection once you have spread your business.
I would like to suggest you go with the business plans if you own a brand, startup, or small business.
Conclusion: How Much Does Shopify Take Per Sale?
In a nutshell, Shopify makes a minimum of 2.15% + $0.30 on each sale done by a seller. On the other hand, it can make 5.0% + $0.30 per sale on maximum.
As I have mentioned earlier, these numbers are according to the plan you have selected, the method of payment accessed by the purchaser, and the number of sales you have done.
Hopefully, this blog post gives you an idea of the dollars Shopify makes per sale. You can also check our website for more Shopify-related articles.
Editor's Recommendation: