Are you not willing to pay further for your next month's WW membership regardless of reason, but you are uncertain about how to cancel Weight Watchers? So, no worries; here in this article, you will learn several methods of withdrawing subscriptions. Hence, you can also read the article related to refund policies for purchased apps.
However, Weight Watchers has been one of the leading weight loss industries for decades. The most impressive program of that company includes a Points system for all foods to boost nutrition and decrease calorie intake. For those who want to lose weight to get fit, then you can try out a WW meeting to see their initial plan.
Perhaps the plan will work for you, or maybe not. Still, several people want to be part of the membership. But some people may want to rescind their subscription probably because it is expensive, time-consuming, or not worthwhile. So whatever the reason, you can withdraw the membership for your ease at any time on any device in different ways. So let's move to the next section to see the techniques.
Where to Cancel WW Subscription
The most essential part about canceling a membership is knowing how you purchase the WW subscription. See the methods of purchasing first to see the techniques of withdrawing:
Cancel your membership through the App Store app if you have purchased it from Apple's App Store.
For Android devices, cancel it through the Play Store app if you have purchased it using Google Play Store.
If you log in through the website, then you have to cancel your account by signing up through a web browser.
Canceling your Weight Watchers Membership in Quickest Ways
The company policy regarding cancelation has no awful reputation, and the process is quite smooth. Hence, there are various techniques to withdraw your WW subscription, and all those ways are efficient to apply. But carefully follow the instructions to avoid any inconvenience.
Furthermore, you can submit the request again if you don't get any response. So, pick any of the following ways to withdraw your membership according to your desire:
In-person
Online
Email
Phone
Apple's app
Google Play Store
·  Canceling WW Membership in Person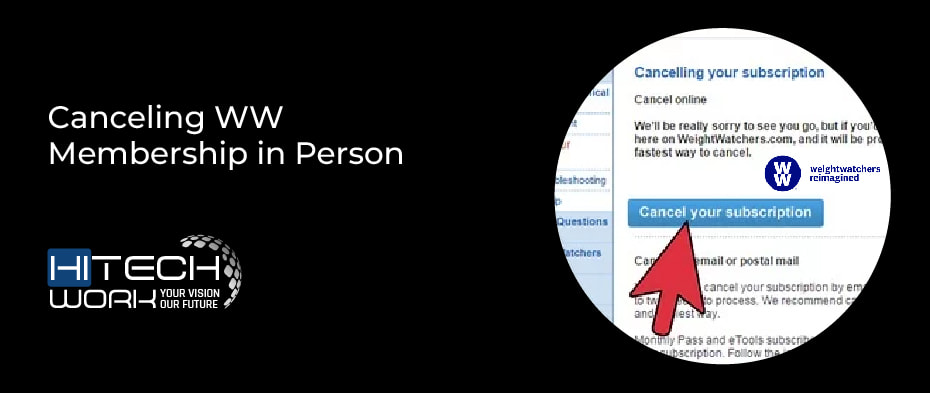 It depends on you which WW plan you are using; sometimes, it is more feasible to cancel your subscription through your meeting leader. Keep in mind that not all plans are entitled to in-person cancelation. So, in the next meeting, check your preferences for ease regarding the offering plan.
Thus, if you paid weekly or monthly memberships, then you can cancel your subscription by informing your plan leader that you don't want to be a part of further attending meetings. Well, all the online plans should be canceled with the following methods.
· Cancel your Weight Watchers Subscription via Online
Considerably, the straightforward and quickest method to terminate WW membership is through the website. The process of canceling will not take much time. You just need to fill out a form and submit your request. Hence, see the downward steps to cancel your membership:
Initially, sign in to your account through your user name and password.
On your profile page, search the Cancel my account.
Skip the alternatives that WW will offer to cancelation and directly click on the Complete cancelation.
Now, fill up the cancelation form on the page.
Hang around until you don't get a notification with complete details about your cancelation.
Now, check your email because you will get a confirmation of successful cancelation membership from Weight Watchers.
Note: As a backup, make screenshots of the notifications which you have received regarding the successful completion. In the worst-case scenario, you may need it as proof for dispute resolution purposes.
· Withdraw your WW Membership via Email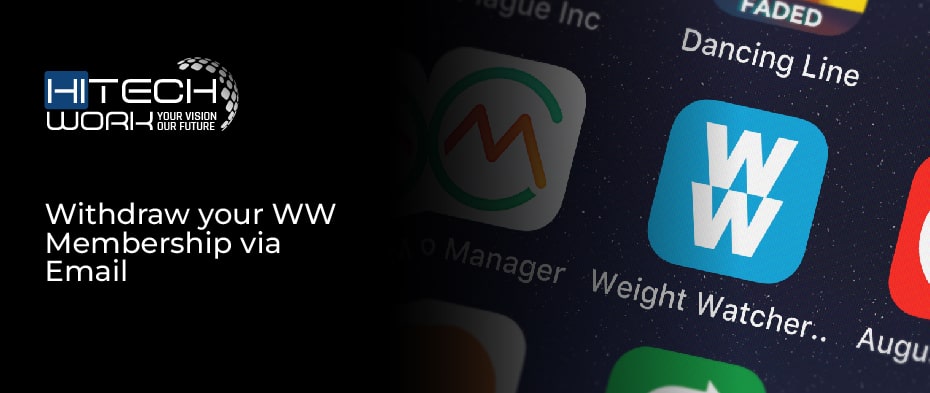 Canceling membership through email still requires filling out the cancellation form step. Hence, you can see the email cancellation form on your profile. When you fill out and submit the form, then focus on the following points:
According to the Weight Watchers website, the cancelation process will be effective in 72 hours.
You must get a confirmation email with all the details regarding your cancelation.
If you don't get the confirmation email within a week, so you need to put forward the request again.
· Cancel your Weight Watchers Subscription via Phone
Even though it sounds pretty straightforward, but actually canceling Weight Watchers is slightly more time-consuming over the phone because you have to wait around half an hour. Still, if you want to use this method for cancelation, then here are the given steps:
Just dial 800-651-6000.
Now, tap 4 as being an already member.
Press 5 and then tap 2. In this way, you will skip the survey part.
Now, wait for the customer representative to pick up the call.
You might know that customer representatives try to convince you not to cancel the membership by offering different packages or plans. So, don't get frustrated.
Furthermore, you should have handy information about the account and billing as you will need it at the time of cancelation. In the end, ensure that you will get the cancelation number before the conversation ends. If the waiting time gets too long, so you can also use the DoNotPay service as an alternative.
· Cancelation Process on iOS Device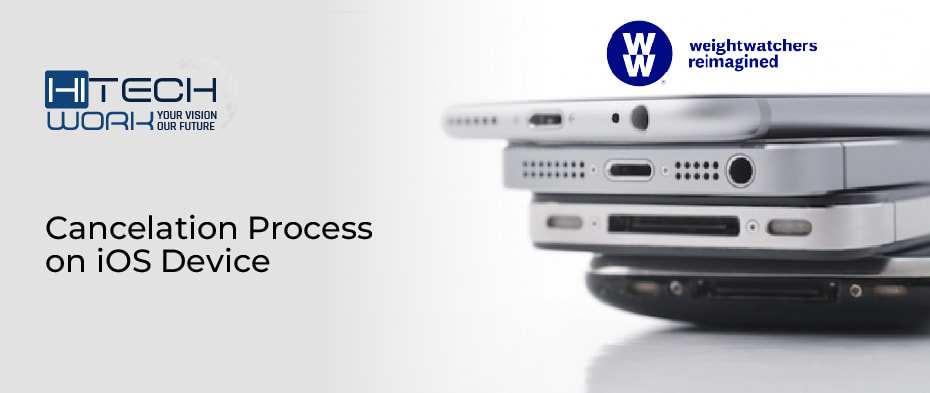 In this method, you can cancel your subscription through the Settings app if you have an iOS device. So, follow the below instructions for canceling:
On your device, move to Settings.
Access your Apple ID.
Click on your name to get all the information regarding the account.
Now, tap the Subscriptions tab, and you will note all your active subscriptions.
Select the app, and you may cancel by choosing the Subscription/ Free trial.
· Cancel Weight Watchers Subscription on Android Device
If you have an Android device, then you may cancel your membership via Google Play Store as described in the above section. Hence, follow the given steps of rescinding:
Initially, open the Google Play Store on your device.
Tap on your Account.
Move to the Payments & subscriptions tab, and after that, the Manage Subscriptions
Now, pick the app and click on the Cancel Subscription Then, Google Play Store asks the reason why you are canceling your subscription. Now, it's up to you to choose a suitable answer or click the Decline to Answer tab.
Finally, tap on the Confirm Cancel Subscription.
Wrap Up
Undoubtedly, Weight Watchers offers an excellent program that leads the weight loss company where it supports numerous people who are struggling with weight issues and eating disorders. Furthermore, it provides a daily Points plan to maintain the diet. Despite the benefits of the program, it is not for everyone.
Hence to quit the membership program, you can easily use the terminating subscription method. Hopefully, all the above techniques are worthwhile for you; just apply them according to your convenience. So, let us know your views about the blog in the comment box.