We've all seen those super cool looping videos on Instagram and Facebook. In this guide, I'm gonna tell you just how you can do the same and make those looping videos without having to install a third-party app. Here we go with the prompt "How to loop a video on iPhone". You can Look at these looping options below in the Table of Content and jump right on the one you want to go with.
Let's first figure out what video you wanna loop.
I'll list them in order from the easiest to the hardest.
How to Loop a Video on iPhone with Live Photos
Here's the first answer to your "How to Loop a Video on iPhone" question. This option is primarily for the iPhone 6s or later models. The live photo has been popular as the feature records 1.5 seconds video before and 1.5 seconds video after you click the capture button. The three seconds video plays whenever you view it in the gallery or share it with another iOS user.
Although the earlier models are incapable of capturing live photos, iOS 12 or above can still play them. They don't move when seen on an android device. With that being said, let's get on it.
If you don't know what live photo is*
Open your camera to take a live photo if you haven't already*
Locate the yellow circular icon on the bar at the top*
Click the "live photo" option, which is that same yellow icon*
Take a picture and come back to your gallery.
Swipe up on your live photo, you'll see the related information.
Locate the Loop option in that data and click on it.
Choose the type of loop from the list.
You have a looped Video!
Loop with Live Photo: But Better and More Seamless
Yup! We noticed that too. The live photo loop ends with a fade. It's not what you want but as promised it was one of the fastest ways to loop a video. If you want to make a more seamless looped video and have an Instagram, I can help you make one in just a few seconds.
We'll be using the Instagram Boomerang feature with a Live Photo.
Follow the steps listed below and you'll be able to use the Instagram boomerang feature to create aperfectly looped video.
Go to your camera and click a live photo.
You can then go open the Instagram app.
Click the camera icon on the top left corner.

Or you can swipe right to get on the camera screen.

When you are in the camera, locate the "loop" like icon.
Click on it and then swipe up to enter Gallery.
Choose the live photo that you want to loop.
Crop, if you must, and other customization options.
When you're done, click the "down arrow" at the bottom.
Your life is now saved as a Looped Video in your Gallery or Photos App.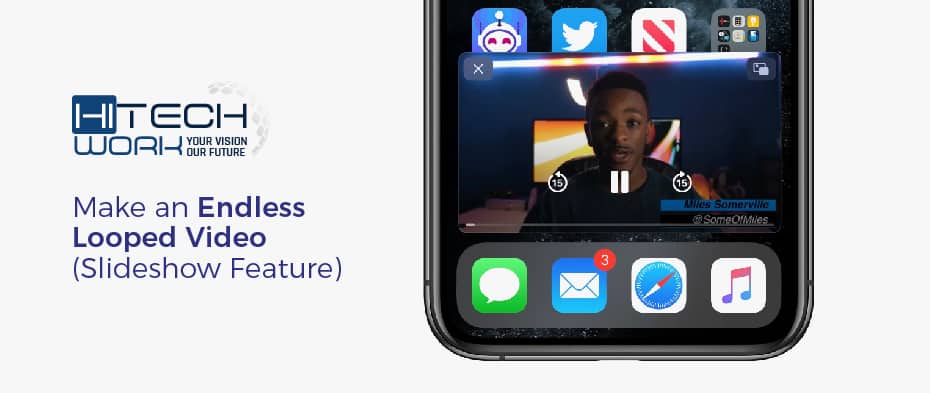 Make an Endless Looped Video (Slideshow Feature)
Who knew you could do that? Not even me, lol (Before I learned about it obviously). The slideshow feature sits right under our nose and we didn't try it. So, here we go with our Slideshow to make a looped video on iPhone.
Open the video that you want to loop.
Swipe up on your video.
The first option will be a "slideshow".
Click on the "Slideshow" option and you'll have a slideshow of your video.
By default, the video will be in portrait mode.
Click on the "options" on the bottom right.
You can change "theme" and "music".
Go on and choose toggle "Endless Loop".
You have an Endless Looped Video
Loop YouTube Videos to Play Endlessly
If you want to listen to YouTube songs endlessly then you have the option to do so. You can play YouTube videos on repeat as a looped video. There wasn't a way earlier but now you sure can play those YouTube Videos on loop on your iPhone. Let's get on with learning how to loop YouTube videos on iPhone.
Open your YouTube app and search for your desired video.
When you have opened the video, look at the options beside the download
Click and hold the "+" button and the option will pop up from the bottom of the screen.
Click "new playlist" and name the playlist.
Go in your "Library" and locate your newly named playlist.
Open the playlist and click the repeat icon on top.
When you play the video in that playlist, you'll have a looped video.
Endless Loop with iTunes (Much Longer Process but Works)
This one is the last one you wanna try because of this option being so long and requiring a laptop or computer. But in this process, you'll have the video downloaded through your iTunes into your Music App on your iPhone. Well, just so we have more options, here we go with the looped video option.
Install, set up, and connect your iTunes with your iPhone beforehand.
Download the video you want to loop and add it to your device using iTunes.
Open your Music App on your iPhone.
Play the video you just transferred.
Swipe up on the video you are playing.
Click on the repeat option, click again.
When it turns pink and shows "1" on it, stop.
You're on loop now!