How to mute someone on Instagram? For those who enjoy viewing photos and watching videos, Instagram is an excellent social media platform. It does, however, have spammers and trolls like any social media platform.
It's good to know that you can block or mute another Instagrammer. On this page of the guide, we show you how.
Muting vs. Blocking on Instagram
Muting and blocking content and users on Instagram provides different solutions to getting rid of annoying content and users.
Using the mute button maybe your best option if you are following someone you know in real life who overposts or shares the content you aren't interested in. As a result, you won't be able to see the photos and videos they post without unfollowing or blocking the profile. If you find someone irritating but do not wish to unfollow them, muting is a softer approach.
You should use the Instagram block option when someone is harassing you, sending spam, or bombarding you with direct messages that you do not want to receive. Remember that blocking someone may cause them to know that you have blocked them.
If you don't want to communicate with a user and wouldn't like to be contacted by them, blocking is probably the best option.
You can easily clean up Instagram without muting or blocking people if you are frustrated with your feed being oversaturated with content, and you want to clean it up.
How to Mute Someone on Instagram
You can hide someone's content from your Instagram feed by muting them on Instagram, but you can still view their profile and remain a follower if you wish to do so. No matter what the account's status is, you will still receive a notification if they tag you in a post.
Muting an Instagram profile's stories will prevent their Stories from showing up at the top of your feed. It is still possible to view their Stories by going to their profile and tapping on their avatar.
You will not be notified when you mute an account. Furthermore, you may unmute the account if you decide you no longer want it muted.
On Instagram, you can mute someone by following these steps:
You can mute a profile by going to its page.
Click the Following button on the right side of their profile.
Select the Mute option.
Toggle the Mute feature on or off for Posts and Stories depending on your preferences.
To see their posts and Stories again, unmute the account by clicking the Following button and turning the toggles off.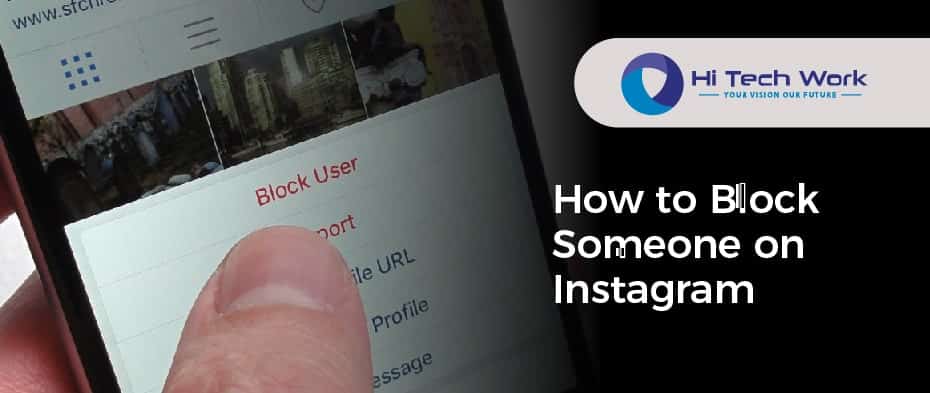 How to Block Someone on Instagram
Blocking someone is a great way to keep your peace. In cases where you are bombarded with messages or if you wish to communicate with the Instagrammer further, you should use the block option.
A person who has blocked you on Instagram will not be able to find your profile, Stories, or posts. You will lose all of their likes and comments from your account, and there will be no way to recover them. The people you block will not know that you have blocked them.
Even if you block an account, they will still see any comments or likes you leave on public and accounts they follow. Before you block them, you will still be able to see the Instagram Direct messages they sent you.
You can block an Instagram account by following these steps:
Go to the profile of the account you wish to block.
On the top right corner, tap the three horizontal dots.
Select Block.
To finalize your decision, tap Block again.
By going back to their profile and tapping on Unblock, you can unblock this Instagram account if you decide you want to interact with them again.
How to mute Instagram Stories
In addition to hiding someone's story posts without having to visit their profile, there is another way to do so.
Go to your Story feed
Tap and hold on a user's avatar
Click "Mute"
You can mute someone's story to send their posts to the bottom of your Story Feed. Videos will not auto-play if their story is muted. By visiting their profile, tapping the "Following" button, and selecting "unmute," you can unmute them anytime.
That's all there is to it! You have learned how to hide someone's Instagram posts or stories from your feed without them even knowing.
How to unmute posts or stories posted by a user
You can unmute an individual's stories or posts by doing the following:
Navigate to the muted user's Instagram account.
Tap below their profile image.
Tap Mute.
Switch the Posts switch back on to unmute posts. The Stories switch must be turned off to unmute stories.
How to See Who You've Muted
Have you forgotten who you muted? In your privacy settings, Instagram keeps track of the users you have muted.
Tap your profile image.
Tap the menu icon in the upper-right corner.
Select Settings.
Select Privacy.
Under Connections, select Muted Accounts.
Follow the steps in the section above to go to any user's Instagram page and unmute them if they are muted.
The stories of muted users can still be viewed at the end of your stories if you tap on the transparent profile image or visit their Instagram profile. Their stories are only hidden from your story feed when muted.
When you mute someone on Instagram, what happens?
If you mute an account, their posts will be hidden from your feed or story, limiting your interaction with them. If you want to see their posts back in your feed, you can unmute any accounts.