Here is the ultimate guide that will help you to find out how to pair Apple TV remote with other devices. Apple TV is certainly one of the most versatile media streaming boxes you can buy. You can stream your favourite content, mirror face time calls, and play games without having to connect your phone, tablet, or PC to your TV. It is like an iPhone interface for your TV-only. It would be best if you had that annoying remote control that comes with it to work properly.
Apple is working on making the remote control easier to use, but it can still cause problems. Fortunately, this guide will show you how to pair your Apple Remote with your Apple TV and use an alternative to the included device.
Apple Remote – Background History:
Apple Remote is a remote-control small device that can pair with Apple TV & other devices, introduced by Apple Inc. in October 2005 for many infrared products. Originally designed to control the iMac G5's front row media centre program, it is compatible with many subsequent Macintosh computers. The Apple Remote was the primary control mechanism for the first three generations of Apple TV. Siri Remote in the 4th Generation is currently replacing it.
The original Apple Remote was designed with six buttons and was made of white plastic. Its shape and layout were similar to the first-generation iPod shuffle. The circular play/pause / select buttons were in the centre of a large circle with four buttons (clockwise): volume up, next / fast forward, volume down, back / back. Another menu button is located below. The price was set at $ 29.00.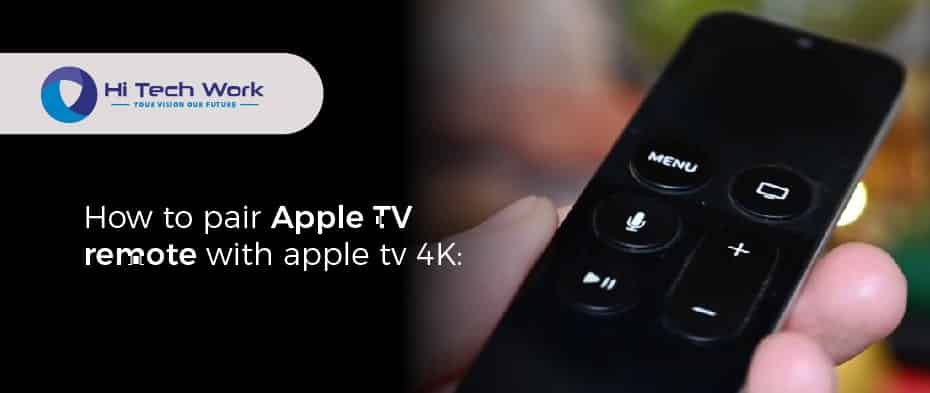 How to pair Apple TV remote with apple tv 4K:
The Apple TV Remote (or Siri Remote) is intended to pair with your Apple TV 4K without user intervention. It is plugged in and played as much as possible. But even Apple's gadgets are not perfect.
Check out the Charging:
If Apple TV does not turn on when you press the menu or home button on the remote control, make sure you do not need to charge the remote control. You may have missed the low battery pop-up on your Apple TV screen because the remote control itself does not have a battery level indicator.
Apple's remote controls use that nasty Lightning-USB. I hope you did not accidentally throw away the cable when upgrading to an iPhone with a USB. Connect to the USB wall charger for at least 30 minutes, then try turning your Apple TV off and then on again with the remote control.
Note that you can always check the battery level of your remote control in your Apple TV settings by following these steps:
The touch surface and press down to open the Settings app.
Select the remote control and device.
Select Remote to see the actual battery percentage.
Reconnect to Pair the Remote with Apple TV:
If the issue is not merely a remote-control failure, try pairing again manually by following the steps below.
Check if your Apple TV is turned on. There should be a small white LED on the front of the screen. If not, unplug the power cord for 6 seconds, then plug it back in. You should now see a white-glow LED.
Make sure your TV is turned on and set to the correct HDMI port, and you will see the Apple TV home screen.
Require at least 3 inches gap between your Apple TV and the point of the remote at the TV, and hold the Menu and Volume (+) buttons for 5 seconds.
When prompted, place the remote control on your Apple TV.
Unplug your Apple TV device, wait 6 seconds, and plug it in again (this is a hard restart).
Repeat steps 2-4.
If you have followed all these steps and your Apple TV remote control still does not control or pair with your Apple TV, it may be defective. Unfortunately, this means calling Apple Support or going to your nearest Apple Store.
Apple TV HD – 4th Generation:
On September 9, 2015, Apple unveiled its 4th Generation Apple TV at the Apple Special Event. The fourth-generation model runs the new TvOS operating system and offers an app store where you can download video, audio, games, and other content from third parties. The 4th Generation includes a 64-bit Apple A8 processor and supports Dolby Digital Plus audio. The form factors of the 2nd and 3rd generation models are similar, but the 4th generation model is taller than the arrow buttons on older remote controls.
The previous-generation remote control for Apple TV HD is similar to the one that came with the fourth-generation Apple 4K TV. Again, the only obvious distinguishing factor is the lack of a white ring around the menu button. However, the procedure to pair Apple TV remote is the same as the other.
Apple TV – 3rd Generation:
Apple launched the 3rd generation Apple TV (Model: A1427) on March 7, 2012, at an Apple event in which new and redesigned products were launched.
The third generation of Apple TVs comes with an aluminium Apple Remote that requires a coin battery that cannot be recharged. Therefore if the Apple TV remote control may stop working, try this before doing anything else. You will need the CR2032 or BR2032 lithium 3V battery that was originally installed on the remote control.
Apple TV – 2nd Generation – Pair with Apple TV Remote:
In September 2010, Apple announced the second-generation Apple TV, which was the first Apple TV to run on the iOS operating system. The device is housed in a small, completely black case that is a quarter of its original size. The 2nd Generation Apple TV uses the same silver Apple Remote as the 3rd generation Apple TV. Follow the same steps as above.
Apple TV – 1st Generation:
The first Apple TV came with a large white plastic Apple Remote. As shown above, the Play / Pause button is inside the crosshair, and the Menu button is below both. This remote control can be removed and replaced in the same manner as the second and third-generation aluminium remote controls.
Add Apple TV Pair Remote to Control Centre:
These controls may not be visible on your device. Try following short steps:
Click & Tap to open the Settings app.
Tap Control Centre.
Tap Customize Control (if visible).
Under Other Controls, tap the green plus button next to Apple TV Remote.
How to Pair Apple TV Siri Remote with a Mac?
In the good old days, Apple had a small remote control on certain Mac models. Not so many, but Mac owners could control the media being played on their computer and control their Keynote presentations. This remote has not been part of the Mac box for a while, but you can use the Apple TV Siri Remote with your Mac to control a lot. In this simple tip, we will show you what you can do with a small third-party app. The pairing of the remote control and Mac is the same.
SiriMote – To Pair with Apple TV Siri Remote:
This tip relies on a free app called SiriMote for Mac. Matthias Gansrigler is the owner of Eternal Storms Software and a Mac and iOS developer. The most recent version of SiriMote requires OS X El Capitan (OS X 10.11) or later, as well as a Mac with Bluetooth 4.0. Apple does not allow this in the Mac App Store because SiriMote uses an API that does not work in the OS X "sandbox." After downloading the app, drag it from the download folder (or any other folder where you save the downloaded file) to your application folder.
Pairing Siri Remote with a Mac:
Sign in as an admin user on your Mac. Very close to a Mac (about 3 or 4 inches away).
Point the remote control at Mac's infrared sensor.
Press and hold the menu button and the next/fast forward button on the remote control at the same time for 5 seconds.
Your Apple Remote is now linked to your computer. The chain-link style lock will appear in the centre of the screen for a while
A disadvantage of Using SiriMote – To Pair with Apple TV Siri Remote:
When pairing SiriRemote with a Mac, it stops working on Apple TV.
On a Mac, go to the Dock and select System Preferences.
Click on the Bluetooth option.
In the list of Bluetooth devices, click the X next to SiriRemote.
Restart your Apple TV.
When the Apple TV home screen appears, press and hold the Siri Remote menu and volume up buttons for 5 seconds.
At this point, the remote control will automatically connect to your Apple TV. You will need to repeat the above steps to fix your Mac remote control.