As the gadgets are unpredictable and can cause any problem at any time, it does not mean that you cannot fix the issue and your device is not worthwhile now. Like you want to reset the PS4 controller as it is not accessible regardless of any reason, but you don't know how you can solve the problem. So, no worries, you can easily reset it with the below-described methods.
Basically, resetting is a simple process where you don't need to buy hardware or send it for repair. However, resetting your controller fixes all pairing and other issues which you are experiencing. Moreover, you will not also lose your games, saved data, and other console files. Hence, two main methods of resetting the DualShock 4 wireless controller are soft and hard reset, which you will learn in this article, along with the reasons and alternatives. So, apply according to your convenience and enjoy the games.
Reasons behind the Malfunctioning of the PS4 Controller
Sometimes it happens when your PS4 controller starts functioning creepily. It means that it is creating an issue, but there might be a solution to the malfunctioning. But the solution depends on the cause of the issue that is occurring. So, here are some of the general problems that your PS4 controller may face:
Battery issue: Maybe the controller's battery is nearly dead; that's why it is not working. As its battery's lifespan is 5-7 years. It means its battery life is temporary, so there is a time when you can't charge it anymore.
Console firmware issue: A power bug and random signal on the console may damage the controller's signal. Another point is that your controller was paired with other devices such as different PS4s or PCs in recent times. Or maybe the distance between the controller and PlayStation is too far and not further connected with Bluetooth.
Console hardware damage problem: Out of order or damaged internals such as hard drive causing issues.
Hardware damage: It includes the most common physical damages such as ribbon flex cable, Micro USB cable, or the faulty PS button on the controller, which needs to be replaced.
Firmware problem: An accidental bug may affect your controller, and the only solution is resetting your controller to fix the problem. Moreover, maybe the Power Save settings on PlayStation were turned off.
Note: Despite any reason, the fast and easy troubleshooting solution is resetting the controller, which does not damage anything.
Is it Unbelievably Possible to Sync a PS4 Controller with Easiest Techniques?
Formerly, when you determine that our controller is not functioning. So, you can apply the solutions to fix the PS4 connections and damages. Thus, the main keys for repairing the controller and the console are a soft reset, and another one is a hard reset on which you restore the factory settings. Thus, move to the next section to seek the techniques of resetting in two ways:
Soft Reset of Your PS4 Controller
Hard Reset of Your PS4 Controller
Fix1: Soft Reset of Your PS4 Controller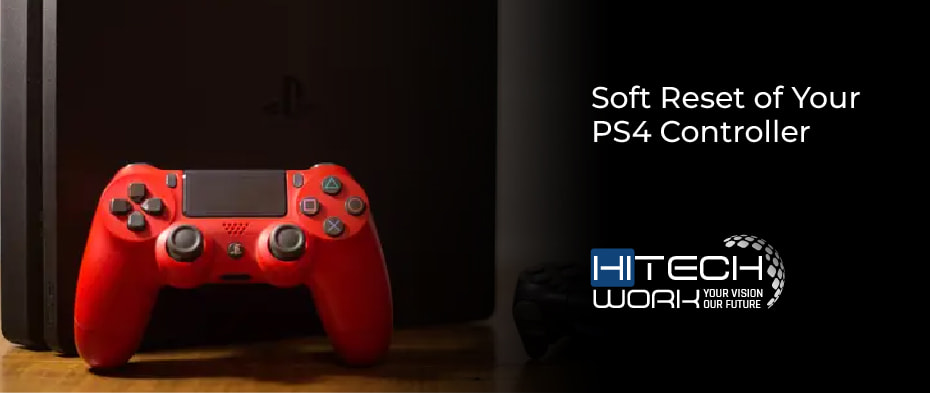 Normally, a soft reset means turning on or off the computer or device again, which washes out memory and solves other issues. Doing soft resetting the PlayStation4 controller means reinitializing all connections between the controller and the console. Though, you can only do this re-enabling if you have another PS4 controller. Thus, apply the below steps of soft reset:
Firstly, on your PS dashboard, move to Settings –> and tap on Devices –> then Bluetooth Devices.
Pick your inactive DualShock 4 controller from the list. It indicates the green dot next to it.
On your working controller, tap the Options button. After that, press the Forget Device It will remove the inactive faulty controller from your PlayStation's system.
Now, tap the PS button on your working controller. Afterward, press Power and then Turn off
When the console is turned off completely, link up your faulty controller to your PS4 through a USB cable, then again turn on the console back.
Again, the PS button on your malfunctioning controller and sign in to your PS4.
Fix2: Hard Reset of Your PS4 Controller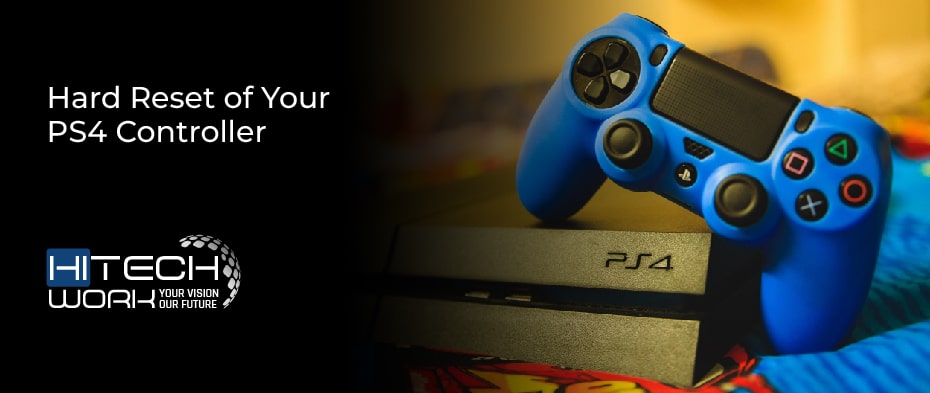 Still, if your controller is causing trouble after a soft reset and will not sync your PlayStation4, then it is a time when the controller needs a hard reset. Basically, when a device goes to its factory, default settings are called hard reset, which means unboxing like a new one.
Hence, this technique is easy to apply, and it will also not affect your saved game data. But you need to use a paper clip or something pointing to reset your PlayStation4. Hence, let's go through the instructions for resetting the factory:
Initially, turn off your PlayStation 4. Moreover, also cut it off from the internet, that makes interference sometimes while setting up controllers.
Then, unplug the controller and turn it over.
Find the recessed reset button while it is upside down near the controller's L2 button in the small hole. Also, use the paper clip or pin to tab and grasp it for a few seconds.
Let's lose the reset button and wait for a few seconds more. After that, use the Micro-USB cable to plug in the controller.
Then, tap the PS button when you observe that the light bar turns blue on the controller. It indicates that it is paired, and you can sign in to your PS4.
Thus, you can also read the article on the compatibility of PS4 with PS5.
Alternate Methods of Troubleshooting a PS4 Controller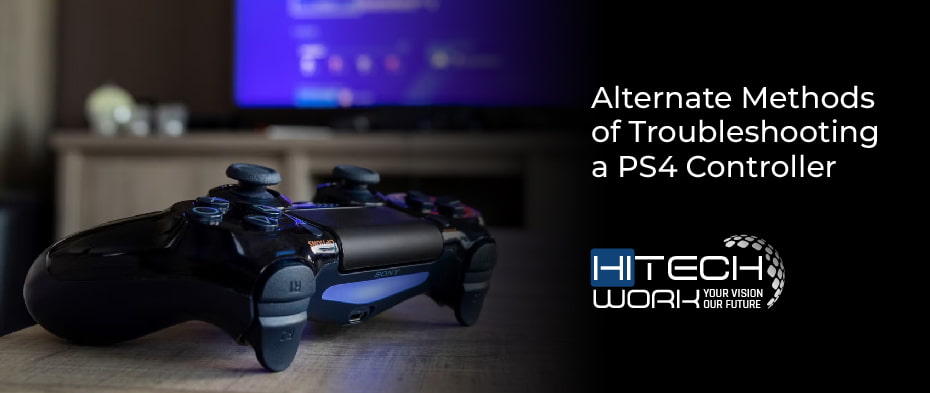 If the above techniques of resetting Dual Shock 4controller will not work, then you may apply other alternatives to re-sync your gadget, such as connecting a different USB cable or accessing in a wired model if you have a 2016 model. Hence, here are the following other troubleshooting methods:
1. Switch off & Charge the Controller
Usually, a PS4 controller works on a single charge for 8 hours, but sometimes its battery drains much faster. Then, plug your controller into a Micro USB cable and wait to restore power. Make sure the PS controller has to be turned off while not using. So, let's see the switching off method of the PS controller:
Turn off through the controller:
Just press and hold the PS button for at least 10 seconds, and your controller will turn off instantly.
Turn off through the PlayStation dashboard:
Initially, press and hold the PS button for a few seconds until a Quick Menu
Now, select Sound or Devices and then press Turn Off Device. After that, pick your controller from the list.
Moreover, you can also set a time limit in the Quick Menu for your controller so it will automatically turn off. Just press the tab Set Time Until Controllers Turn OFF and choose an option: After 10 minutes, After 30 minutes, or After 60 Minutes.
2. Revive your Modem or WIFI Router
Your internet connection may cause an issue for your controller. So, turn off these devices and try a hard reset on your PS4 controller. Then, you can easily play games without WIFI when successfully syncing to your PS.
3. Try the PS4 with another Device
Check your PS4 controller with other devices such as a PC or a friend's PS. Now, observe if the same issues are occurring again, then try to connect their controller with your console to test whether it is working correctly. If not, turn on your console, plug in the USB cable, and push the PS button.
Wrapping Up
Sometimes the device might stop working due to built-in software or hardware issues. It doesn't matter; it can be easily resolved if you know the techniques. Likewise the PS4 controller, you may simply fix the problem and can access your device without buying a new one or sending it to the gadget's repairing center.
So, hopefully, the above-all described methods, including alternatives, are pretty handy to apply. Also, share your views in the comment box on how much the blog is worthy for you.