Do you know it is not easy to design a device? Devices are designed with some principles, ensuring safety, unique features, and cost-effectiveness and making them handy. Android first created the first wireless charging gadget. Later on, Apple has introduced its iPhone 11 wireless charging series. On the invention of the iPhone11 series. Apple has launched its wireless charging device with the "Qi" standard. "Qi" certified enabled devices have the feature to transfer energy from one device to another. Furthermore, the point to notice wireless charging is that having a fast charging facility makes a significant difference that your cell phone will charge in half an hour rather than two hours. A cost-effective feature and convenient use make it handy for the user.
As all iPhones do not have the same wireless charging capability. This article will describe a brief explanation of iPhone wireless charging, its features, and notable tips for better performance in the following section.
What is Wireless Charging in iPhone11?
Wireless charging means charging the device to re-chargeable your iPhone without using a physical cable. Wireless charging comprises a built-in sensor with an induction coil, which generates a magnetic field around the charger when it contacts the power source.
Its internal construction is based on silver-plated copper or aluminum coil in the charging pad and your iPhone. The feature of  iPhone11 Wireless charging consists of a thick pad that your iPhone by width places on it to charge quickly.
Wireless charging works on the method of "Qi". The main thing is that it should maintain the processes related to "Qi" and the Wireless Power Consortium (WPC) standards to operate more effectively and safely. Later on, the term "Qi" will be described in the next section.
Why is "Qi" essential for iPhone 11 wireless charging?
"Qi" (Chee) is the Chinese word that means "Vital Energy". It is a method that implies energy transfer is possible from one device to another without a physical cable. The logo "Qi" shows that every charging device is compatible with having this logo with other iPhones.
Why Are You Using Wireless Charging for iPhone 11?
Because it reduces the chances of damaging the charging port, let's take an example, on the connection of the charging plug with your iPhone 11, suddenly, you have to rush out of the house and plug out your iPhone 11, which could damage the charging port or cable pin. So it is more convenient to use wireless charging.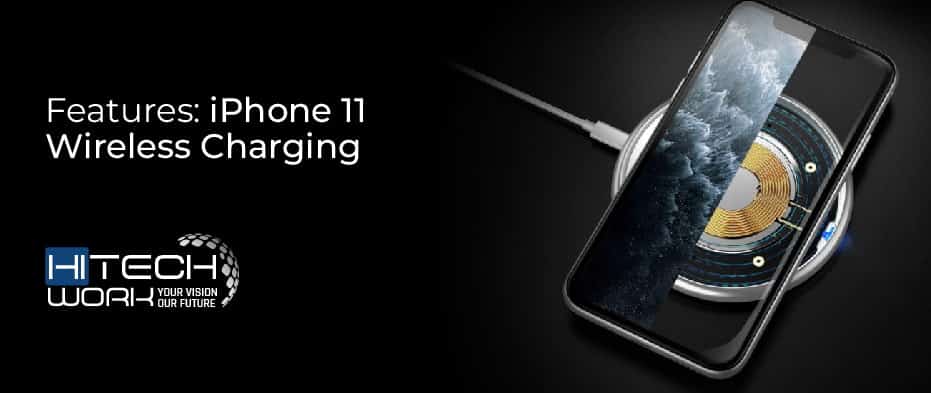 Features: iPhone 11 Wireless Charging
The wireless charging device has multiple efficient and handy elements, making it prominent. Some of the unique features of wireless charging are as follows.
Designs for Easy and Convenient Charging
The wireless charger is designed to make charging more manageable, convenient, and safer without affecting its charging speed.
Multiple Protection Barriers
iPhone 11 has voltage resistance, having integrated short circuits, overheating, and current protection.
Automatically Switch Off after Fully Charged
There is no need to worry about turning off the iPhone during charging; the wireless chargers have a feature to switch off being fully charged automatically.
Fast Wireless Charging Capability  in iPhone 11
The wireless charger of the iPhone11 has a low temperature, fast charging speed, better light quality, and cautious voltage.
Wireless Charging Limitation for iPhone 11
The maximum charging limit of the iPhone is 7.5 watts; above the power limit, it is not beneficial for it. However, All iOS devices have a limit from 5watts to 15 watts.
Efficient with Qi-Enabled Wireless Charging Devices
Different modes of fast chargers are available compatible with all Qi-enabled devices with high efficiency of 73% at an output power of 10 watts and 5v with 57% efficiency.
Sensing Distance in Wireless Charging Devices
The transmission distance of wireless charging is 8mm or less than it usually is for the cell phone, and recommended the thickness of the cell phone not to exceed 8mm.
Built-in Magsafe Technology
You don't need an Apple Magsafe (Magnetic Technology) Charger as it is a built-in iPhone.Just place it on a charging pad.
Precautions For iPhone 11 Wireless Charging device
Get some tips and tricks for better performance of the iPhone 11 wireless charger.
Avoid the thick case or RFID (Radio Frequency Identification) chips material like credit cards, security badges, and passports between iPhone 11 and wireless charging.
Better to use soft or light covers at the back of your iPhone 11 for safety.
Try to face up the screen of the iPhone11 in contact with the charging pad. Wait a few seconds to start charging.
Do not connect with a physical cable or USB to a computer or laptop while charging wirelessly.
Enable the "Do Not Disturb" option to avoid unnecessary notifications, alerts, and text as it will disturb its charging power.
While wireless charging, avoid thrash around the charging case.
Suppose the alignment of the iPhone 11 logo is not straight with the wireless charger. Then it does not power up your iPhone.
Apple suggests that, on getting warmer iOS devices, Apple indicates putting at a cool place for better performance.
FAQs
How do I enable wireless charging on my iPhone 11?
Connect your charger with the power source. Facing up the screen of your iPhone11 towards up and place it in the center of the charging pad or advised by the manufacturer.
Is it essential to use a Qi-certified wireless charging device?
Yes, to work appropriately with your phone, ensure Qi is certified. It provides the Wireless Power Consortium (WPC).
How much time does a wireless charge take on the iPhone?
With the fast charging speed of the wireless charger, it takes 30 minutes to charge up to 50%. Otherwise, it takes 3 hours.
Conclusion
iPhone 11 wireless chargers are standard and in-demand gadgets for iPhone users. However, you may also know about its exciting features like fast charging speed, no voltage issues, sensing distance, and other compatible wireless chargers for other iPhones. Wireless charging takes more time than plug-in chargers, but users prefer it to avoid damage to plugs. You can easily get your compatible wireless charger for your iPhone from  Apple.