Microsoft Edge vs Chrome is a challenge after Microsoft switched to a Chromium base for Edge in 2020.  It was completely changed the capabilities and performance of the browser.
Google Chrome is a cross-platform web browser that the Google Company developed. It was first published in 2008 for Microsoft Windows. It was built using free software components from Apple WebKit and Mozilla Firefox. It was later transferred to Linux, macOS, iOS, and Android, where it is now the default browser. Its features include syncing with Google account & services, tab-browsing, automatic translation, and spell-checking of web pages.
Microsoft Edge is the latest version of the internet browser and released in January 2020, based on Chromium. The new version is lighter than the original Edge browser. It has improved performance. Since based on Chromium, like the Google Chrome browser. It has similar functions and menu options to Chrome. It is also available for use on Windows 7, Windows 8, and Windows 10 computers.
Is Microsoft edge a superior alternative to Chrome?- Microsoft Edge vs Chrome:
It has been two years since the Microsoft Edge Chromium browser was released. They have constantly made changes to the cross-platform browser. Now that Microsoft uses the Chrome engine as the foundation for its Edge browser. We can identify the key differences. Before setting up a battle between these two browsers. We must understand how they differ from each other.
Many web browsers offer unique features that set them apart from the competition. Google Chrome has done that to some extent. Yet, Microsoft had problems with the functioning of features in the browser.
Microsoft Edge vs Chrome – Which is the Best website browser:
On a serious note, Google Chrome is still the king of web browsers, with a market share of around 66% (as of September 2020). Microsoft's latest Edge browser, which uses the open-source Chromium engine. It is down about 10%, which is impressive after one year. Microsoft is now bringing the new Edge to all Windows 10 desktops. It is replacing the older version of Windows 10 and giving Edge a built-in edge.
However, which browser should you use? Let's divide this down into individual metrics.
Which browser has the best speed & performance?:
The similarities continue in performance. Microsoft Edge vs Chrome is both very fast browsers. Of course, Chrome beats Edge in the Kraken and Jetstream benchmarks, but it's not enough to detect it in everyday use.
Particularly, Microsoft Edge has a significant performance advantage over Chrome: memory usage. Essentially, Edge uses fewer resources. Chrome is known for how little RAM was used, but it's bloated these days. Edge uses 665 MB of RAM with six pages loaded, while Chrome uses 1.4 GB. It is a significant difference, especially on systems with limited memory.
If you are someone who cares how much the Google Chrome browser has become a memory hog. Microsoft Edge is the clear winner in that regard.
When testing WebXPRT 3, Chrome and Edge underwent six tests that replicated real-world conditions. It specifically tests browsers' HTML5 and JavaScript performance. Edge earned less than 76 points against Chromes 73. This earning point was due to the fact that Edge won the OCR Scan and Encrypted Notes tests.
Website speeds often vary from browser to browser. BrowserStack SpeedLab allows you to test website speed on real browsers and devices. Check how fast a website loads under real-world conditions.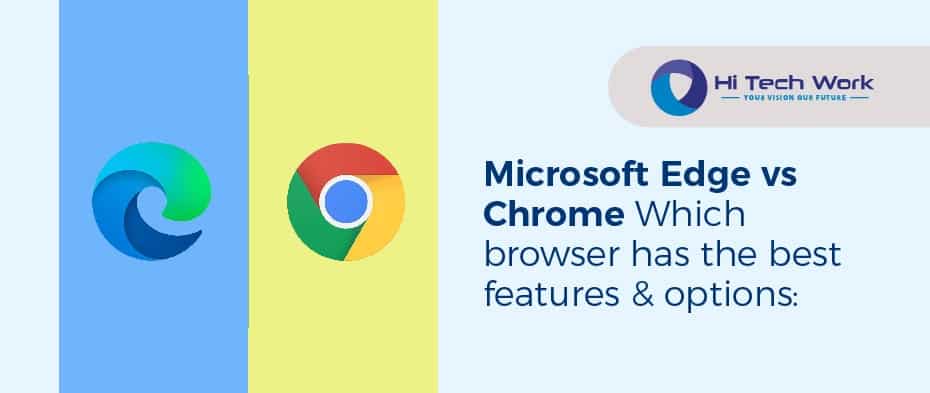 Microsoft Edge vs Chrome – Which browser has the best features & options:
The part of Windows 10, Edge has an advantage over Chrome when it takes into consideration of features and options provided. Both browsers (Microsoft Edge vs Chrome) are under the same framework, but Microsoft's unique features made it win in this Microsoft Edge vs. Google Chrome.
Particularly, Google Chrome is not much different from Microsoft Edge, but the overall integration of its apps is well defined. Google Drive, Google Docs, and Google Translate greatly improve the user experience.
Most of the features or apps on both are similar in functionality. Edge has built-in a unique feature called Read Out Loud that can emphasize text words and read them aloud. All applications for web extensions are allowed in both application stores.
Microsoft Edge has an advantage over Chrome. When you consider the provided features and options. The same framework binds both browsers, but Microsoft's unique features helped it win this Microsoft Edge against Google Chrome.
Which browser has the best privacy & security: 
We are going to discuss here Microsoft Edge vs Chrome that which web browser has the best privacy and security tool. Edge has more privacy settings than Chrome, and it is much easier to locate. For example, Edge can block trackers for websites you have visited and those you have not visited. It can also reduce the likelihood that your personalized information will be shared on websites. You can choose from one of three tracking prevention levels. Just to make it easy for you to set your comfort level. Edge also uses Microsoft Defender Smart Screen to protect against malicious websites and suspicious downloads.
Meanwhile, Chrome is limited to blocking third-party cookies. The browser has made significant efforts to secure browsing. It is includes identifying dangerous extensions, downloads, and websites. However, you must find out the exact setting that you want to change. In Chrome and Edge, you can determine which websites have permissions on your devices. You can install an ad blocker or other extensions.
Microsoft Edge vs Chrome – Which browser has the best platform compatibility:
Google Chrome has been around for more than a decade. So it is no surprise that Chrome supports a much wider range of platforms. Chrome is the default online browser and search engine. It is for all Android smartphones and Chromebooks. Apart from Windows and macOS, Google Chrome supports iOS and Linux distributions such as Debian, Fedora, and Ubuntu.
On the other side, Microsoft Edge is compatible with Windows 7 and higher, android, iOS, and macOS. Edge now supports Linux as well, but it seems unclear that Microsoft will support Chrome OS.
Which browser has the best device accessibility? :
Chrome runs on almost all platforms, including Chromebooks and Android. It can also be installed on Windows, Linux, macOS, iPad OS, and iOS operating systems.
The Edge is also available on various devices, including Windows by default. macOS, iOS, iPad OS, and Android through installation. Linux support is coming soon. While you cannot install natively on Chrome OS, you can install the Android version in a pinch.
Microsoft Edge vs Chrome – Which browser has the best syncing:
Google's Chrome can sync almost every aspect of the browser across all systems. The list is comprehensive and includes everything from passwords to bookmarks, history, and much more. Just look at the number of things that can be synced.
Chrome handles syncing very well. It is allowing for near-perfect functionality between your phone, laptop, and iPad. Or whatever Chrome can install.
Additionally, Edge is still in an early stage of development. The limited device syncing has always been the main missing feature. You can sync passwords, bookmarks, and more from one device to another, but it is not perfect.
Edge lists history and open tabs as two main sync features that are still in development. These are quite important, especially if you change devices frequently. While it is almost certain to hit Edge at some point, it is a great reason to stick with Chrome for now.
In between Microsoft Edge vs Chrome, Chrome got a high score in the browser syncing because Google Chrome can sync almost every aspect of the browser all over the system.
Microsoft Edge vs Chrome – Which browser has the best extension support: 
They both do not have good extension systems but the Chromium-based architecture allowed the extensions to the Edge to provide extensive support. The expansion catalog of the Microsoft Store is growing impressively. Also, if an Edge user wants to download an extension that is only available in the Chrome Web Store. They can download it and add it to Edge in a few easy steps.
Yet, edge extensions still struggle with compatibility issues. Despite having these improvements and are less convenient to use than Chrome extensions. In this case, Chrome is still in the lead.