Since we all know that presenting during an online conference can be very hard, the stress of presenting in front of a group of people is already a lot. But the absence of the right tools makes the whole process a lot harder. To help you in this regard, SOOMUS offers you a platform to help edit your presentation to make it more engaging.
Using SOOMUS, you can present your ideas to your audience more easily and conveniently. SOOMUS is also a recording tool that is built for your convenience to record an amazing video presentation. This presentation software is very easy to use. You can use all of its amazing features for free.
SOOMUS – The Best Video Maker
As you download the software, you need to make an account on it. You will be asked if you either want to create a new video or import your presentation. You can select any one of the options as per your requirement. As you import your presentation, you will see a wide range of various templates that you can use to make your presentation even more interesting, unique, and eye-catching.
There are also so many backgrounds that you can add to your display while recording your presentation or while presenting it live. You can select any of the images available on the SOOMUS for this purpose. You can also upload any image from your own library to add to the background. Without any visual aid, talking about an idea or a subject seems boring and uninteresting.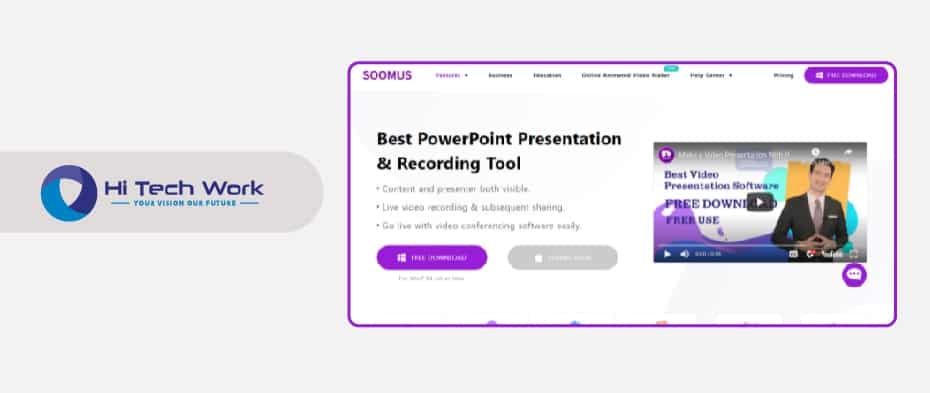 To prevent such circumstances, you can use SOOMUS helps you to make video with Powerpoint look more attractive and appealing to the audience.  
Major Features You Can Find Across SOOMUS
There are a lot of features of SOOMUS that can help you during your presentation. To use all of its amazing features, all you need to do is to visit their website and download the software for free. Some of the remarkable features of SOOMUS are mentioned below.
Live Presentation During a Video Conference
If you are attending an online business meeting and you want to discuss your ideas with your team. You should definitely use SOOMUS for this purpose. You can link your presentation to any platform you are using for your online meeting, such as Zoom, Discord, etc. It will surely be impressive for your audience.
Record your Video Presentation
In case you are not comfortable with presenting live, you can also record powerpoint presentation before your meeting. You can record all your great ideas or anything you would like to share with your audience. This recording can be easily shared anywhere, anytime. You can also make many adjustments for your speaker and the quality of video presentation.
Add More Content to your Presentation.
You can also add more content to your presentation using SOOMUS. You can also see the preview on the screen as to how the text will appear on the presentation. Apart from written texts, you can also add more images to your slides. SOOMUS is a video presentation that can help you enhance your presentations.
Adjustment Settings for Recording
You get a series of various options during recording. You can either choose to select the whole screen displaying you while you talk about the topic. Or you can also adjust the screen partially or completely accommodated with the slides of the selected presentation. You can also customize the available template. (https://drvallecillos.com/)
How is SOOMUS helping the Business and Education Sector?
SOOMUS is a video presentation tool that provides startling services to various fields. SOOMUS can help you connect to a lot of people to share your ideas with them. It has significantly helped the education and business sector too. Some of its services related to these fields are mentioned below.
To work in an environment that is relaxing and creative tends to be more efficient. To ensure that you work in such an environment, SOOMUS gives you an option to communicate with visual aids. While you communicate with your team, you can use visuals and content in a unique way. This can help you to make the process of spreading information more efficient and quick.
You should use SOOMUS if you want to show your product to your clients. You can explain to them about the products more in-depth. Your video presentation should contain all the necessary information about the product to discuss with the clients. This effective communication can help the clients know about your product with more ease without traveling, and so they can be more confident to do business with you.  
Online classrooms can be very boring and dull. Such an environment cannot be very effective for your students to learn. Hence, it is important to make such a video presentation for your students that helps them feel connected to the subject. These visual aids can help them to understand the topic more easily and clearly. Teachers can use SOOMUS to interact with their students in a unique manner.
SOOMUS also helps students to make good presentations. SOOMUS can help them to complement all the hard work they have done on the research for presenting their project. It can also help the students to prepare for their examinations. Teachers can provide these presentations to their students to help them learn.
Wrapping Up
With so many customizable layouts available, you can select any of them for your presentation. You can also upload your video presentation to any social media platform too. All of its tools are incredibly easy to use. It is highly recommended that everyone should use SOOMUS for their presentations.
SOOMUS can make your work so much easier in many ways. It makes your presentation clearer to the audience. Hence, it is easier for you to explain your ideas to them. It brings the discussed topic to life.