Are you unable to connect to EA servers?
Are you facing problems with your EA servers while gaming or excessive traffic on websites?
Well, I think you are in the right place because this article will help you resolve the disturbance regarding being Unable to connect to EA servers.
As soon as you go through the solutions, you can resume your gaming in no time.
Let's move forward;
It has been witnessed that sports lovers and game addicts use the EA servers for their heavy operating games, which help them to proceed with heavy traffic.
However, sometimes you are unable to connect to EA servers because your games' servers are down.
What are EA servers?
Back in 2011, the EA announced its Origin back. And the gamers needed to install another DRM.
It was an improvised version, and highly exclusive Apex legends and many other people are expecting these days.
However, despite the improvements, it still has the issue regarding being unable to connect to EA servers.
What Importance does EA Serves Have?
EA creates and distributes games, content, and online services for Internet-connected consoles, mobile devices, and personal computers.
EA's games span several genres and game kinds. Madden NFL and FIFA are part of EA Sports, perhaps the company's most delicate segment.
Why do you see 'Unable to connect to EA Servers'?
There can be plenty of reasons that you see a dialog box written 'Unable to connect to EA servers'
Trying to access the game online
While attempting to enter the game from Origin
Antivirus blocking specific apps from working
Poor internet connection
Issue with account
EA's servers may be unavailable for restoration.
The above mentioned are why you are unable to connect to EA servers. This error will disrupt your access to online gaming. Meanwhile, the single-payer option will still be available.
Several games, primarily those always online, will not function until the problem is resolved.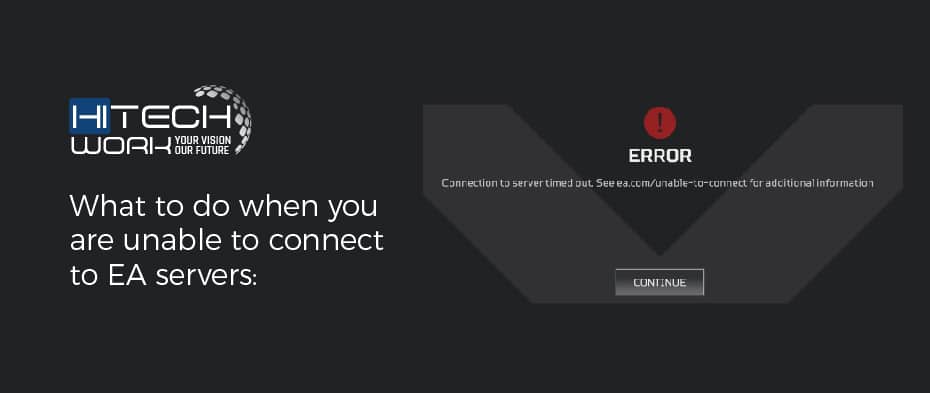 What to do when you are unable to connect to EA servers:
Mostly frequent games complain about pop-up dialog box of unable to connect to EA servers while playing or in the middle of the game.
The three main reasons behind this issue could be:
To fix your internet connection:You can check your internet stability and try restarting the WIFI router.
Try restarting your PC or game:
You can restart your game or PC, which might resolve the issue.
To 'WAIT' if the server is down due to maintenance:
The EA servers got traffic due to many users, and sometimes they shut down the system for maintenance. So, in such cases, you have to wait till the server is back on.
After making the above suggestions, if you are still witnessing the issue, you might try fixing your server.
Following are the steps you could follow if you are unable to connect to EA servers:
1. Disabling antivirus:
Sometimes, the antivirus of our PC protects us from viruses and third-party programs. So it is possible when you are unable to connect to EA servers that are not added in the trusted programs in the antivirus application.
However, it is hardly suggested to disable your antivirus, but you can enable it after the issue is fixed.
Follow these steps to easily know how to disable
Go to the control panel
Visit there in the option of System and Security
Search and select Windows Defender Firewall.
Click on 'Turn Windows Defender Firewall on or off
Click 'OK' to turn off Windows Firewall for private and public connections.
Go into the mode of Run Administrator:
You can try running the game as an administrator; this way, it can get windows' permission and resolve your issue.
Below are the steps to run the game as an administrator:
Right-click on the game's shortcut.
Select Run as administrator.
Nevertheless, providing administrator rights by allowing the rights may readily resolve this problem.
3. Perform a Clean Boot of Your PC:
Cleaning the boot of your PC might help you resolve your issue. Because sometimes, the applications running in the background disturb the servers to connect.
This way, you can also clean up your RAM, and your games can perform smoothly.
Follow the steps below to clean the boot of your PC:
Go to system configuration
After that, go to the top bar and choose Services
To hide All services of Microsoft check the box coming right next to it
Click Disable all
Next, open task manager
Disable all the applications running in the background
Click OK on the System Configuration page
Restart your PC
Try Moving Your Router Close to the Console
The 'unable to connect to EA servers' also arise due to dull internet connectivity. So, if your internet speed is sluggish and continually disconnecting then this issue may come up.
You can click on the main button of power on the internet router and detach it from the system. After a brief time of 20 to 30 seconds, re-plug and switch on.
Another option can also be put up to use. Which is putting the router of the internet close to the console. Speaker and other things can act as a wall between the signal of WIFI and your console. (scoopsindia.com) So, put it closer to the console for better results.
Once you did this, you will get to see the uptick in signal visible in your console from your router. So, it will lower the chances of getting disconnected.
Conclusion
In this article, the dialog box regarding being unable to connect to EA servers is a nuisance for video game enthusiasts, which may affect their online gaming. After reading this article, you accomplish resolved your issue and enabled your EA servers for smooth running gaming.