Windows 10 Home vs Pro: What's the Difference, and which one is better for you?  Microsoft launched Windows 10 in 2 versions: Professional and Home. It's simple to understand on a conceptual level what this implies. Home is for personal computer and Pro is for those who are using Windows at work.
Acknowledging your necessities for an operating system helps in your choice between Windows 10 Home vs Pro. If you are a house user, the Home version of Windows 10 will take care of your computing requirements.
If you want complex features like a network domain or the ability to manage organization policies on different machines (such as a base office), the Pro version of Windows 10 has these advanced features to make management simple and centralized.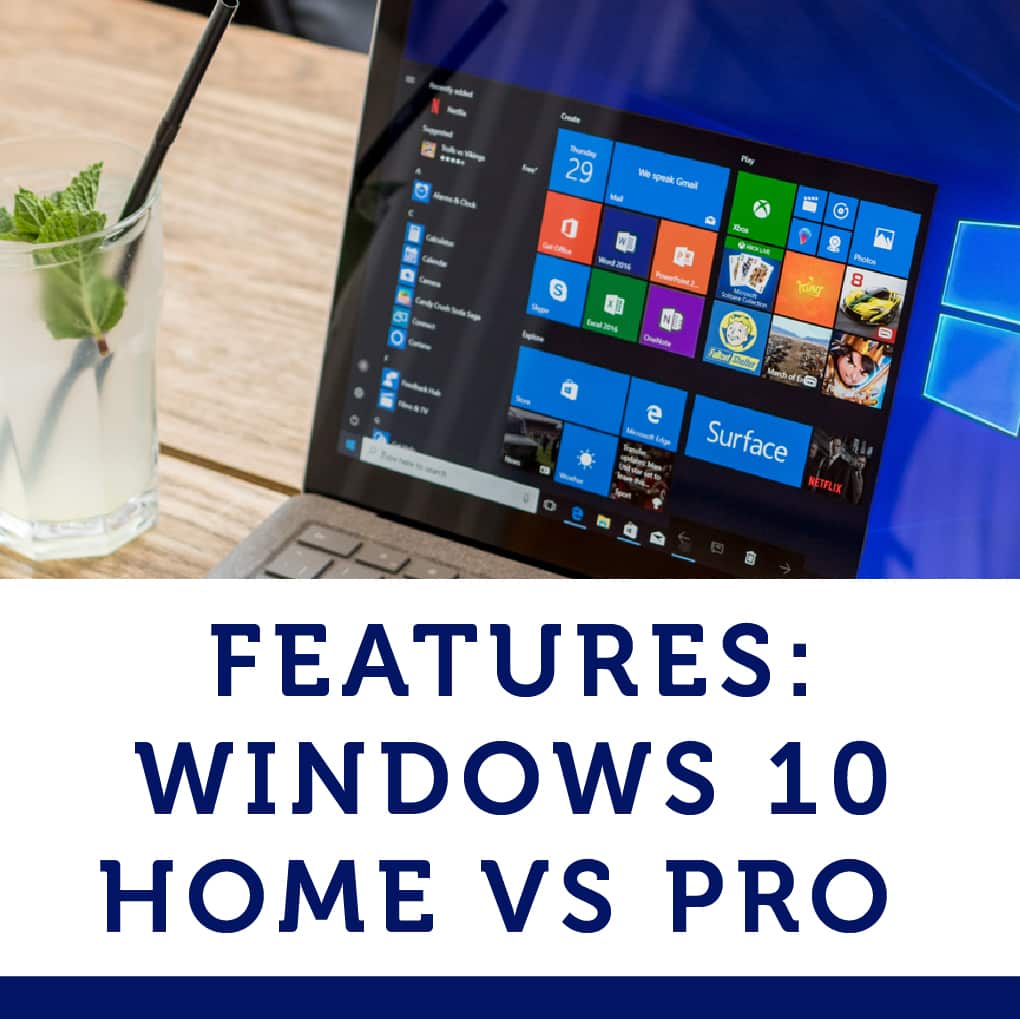 Features: Windows 10 Home vs Pro  
Remote Desktop 
By using Windows 10 Home, you can start Remote Desktop Protocol (RDP) sessions, but you can't remotely control your computer from a different device on your network natively. Luckily, there are several free options like TeamViewer and TigerVNC that provide the same feature and even some additional functionalities that RDP doesn't allow. You could also use RDP Wrapper as a free option.
Privacy Features
Windows 10 Pro has a lot of advanced privacy features, which the Home edition of Windows 10 does not have. The feature of Pro version Domain Joins, which permits users to generate a remote connection to a work domain. There's also Group Policy Management, which allows Active Directory administrators to manage Group Policy objects from a particular device.
Windows 10 Pro also arises with Assigned Access 8.1, Remote Desktop, and Enterprise Mode Internet Explorer which allows a business to restrict users from using a single Windows software from one Microsoft account.
Management Features
Both the Home and Pro versions of Windows 10 are quickly upgradable to the Windows 10 Education Edition but only the Pro version can be updated to the Enterprise Edition of Windows 10. Windows 10 Pro also affords the capacity to connect the Azure Active Directory and access several cloud-hosted business and management software.
In the future, Microsoft also intends to add a Windows Store for Business in the Pro version of Windows, Education. And Enterprise Windows Store for Business will be an app store pointed at enterprise users with assistance for business payment processes and more.
Bitlocker
If you are worried about security and need to guard your data from intruders, or you're coming from macOS and need something similar to Apple's Filevault, you'll need to spend the extra money on Pro. Bitlocker gives full disk encryption so you can grip your data secure from hackers. The latest repetition of Bitlocker also enables the encryption of personal files for more versatility than the all-or-nothing method of earlier versions. Again, other software can perform related encryption, but it's not built into the operating system. Make sure to get an SSD (or HDD even) that supports the required hardware dispatch for Bitlocker if you don't lack to lose performance.
Trusted Boot
Trusted Boot defends your computer from rootkits and works in combination with Secure Boot to support keep your system malware-free and in your control by examining every component of the start-up process before loading it. While it may give peace of soul to any user, it's a different feature intended for businesses where security is a top preference.
Update via the Cloud
A benefit of Windows 10 Pro is functionality that manages updates via the cloud. This means you can update many computers and laptops in a domain at the same time, from a central Computer. That's really simple and saves time. Notably because of this feature, many organizations favor the Pro version over the Home version of Windows 10.
Windows Sandbox
Usually, we'd just assume don't run any unusual files, but some people are questioning. Does that anonymous download that challenges to fix execution actually work? Or is it malware pretending as a useful application? You could install a virtualization extract and run the application in a sandbox so it won't truly cause harm, or if you have Windows 10 Pro version you get that feature as part of the operating system.
Assigned Access
Assigned Access is an extra Pro feature that you won't get on the Home edition. It allows you to set up a kiosk processor with access to specific software and environments only. The user cannot use anything beyond what is allowed on the computer. Basically, the user won't be able to communicate with the taskbar, start menu, Windows settings, or anything that you have restricted.
For instance, this feature can help companies while hiring workers. You can assign a certain software to the user and one cannot use anything apart from that software. Simply put, if you run a company then opting for the Pro edition over the Home edition would be a favorite.
Hyper-V
Hyper-V is a Windows-only hypervisor worked for controlling virtual machines on CPUs that maintain virtualization. If you plan on working with VMs, this feature might be worth the cost of Pro, but if virtualization is all you require, there is free software like Virtualbox that gives more features and work with many OS. While Hyper-V is involved with your Windows 10 Pro license, it requires to be downloaded and installed singly.
FAQs
Q: Is Windows 10 Home better than Pro?
A: The main difference between Windows 10 Pro and Windows 10 Home is the protection of the OS. Windows 10 Pro more protected when it comes to defending your computer and protecting data. Based on that index, Windows makes a set of features open in the operating system. The features normal users require are present in the Home edition.
Q: Why is Windows 10 Home cheaper than Pro?
A: The Pro edition of Windows 10 gives more than its Windows 10 Home version, which is why it's more costly. There's nothing Windows 10 Home can do that Pro edition can't.
Q: Which Windows 10 version is fastest?
A: Windows 10 S is the quickest edition of Windows. From moving and loading software to boot up, it's noticeably faster than either the Home or Pro version of Windows operating on the same hardware.
Conclusion
If you think to use the PC for business goals at some point, or if you're not worried about cost, go with Windows 10 Pro. Though, if you don't think you require the enterprise features of Pro, your most reliable bet is to get Windows 10 Home.